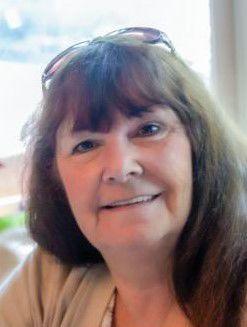 Cindy (DeLancey) Harris passed away on January 9, 2020.
After being diagnosed with a terminal illness in October 2019, she lived life to the fullest, making wonderful memories during the short time she knew was left.
She was born a whirlwind of force to David and Betty DeLancey on August 21, 1953. She graduated from West High in Waterloo, Iowa.
In 1970 she married Steven Sampica and moved to California where she loved the ocean so much sharks couldn't keep her out of the water.
You have free articles remaining.
Fate eventually led her to Texas where her life got bigger and better. She started a career at GTE/Verizon, retiring after 25 years. In 2003 she married her Texan, Roger Harris, who loved and cared for her until her last breath.
Cindy was wild, fun-loving and adventurous—she even climbed the Brandon water tower in her youth. She was the cool grandma who just might plant a bit of rebellion in her grandchildren's heads, or slightly embarrass them as she danced '60s style to "These Boots are Made for Walking," sometimes even on a table. She was a great big sister. Family events always involved hysterical bouts of laughter. She was constantly reading a book or two—true crime fascinated her the most. She was undeterred by the smoke-ridden casino and could spend entire nights having fun while family members had to retire to hotel rooms for fresh air. She always wore red on Friday in support of our troops. She was Cindy, and we will always love and miss her.
Cindy is survived by her loving, caring husband, Roger; daughters, Tina Chaffin (Von) of Austin, Texas, Tracy (Scott) McWane of Iowa City, Iowa, Amanda Sampica (Miles) of Plano, Texas; stepdaughter, DeAnna (Ben) of Rowlett,Texas, stepson, Chris Harris of Houston, Texas; grandchildren, Embher, (Kaylen), Trevor, Blake (Breianna), Dylan, Steven, Ariel, Ashton, Jaeden, Mia, Coy, Campbell, Olivia, Corbin; great grandson, Hayden; sister, Sharla DeLancey of Virginia Beach; brother, Robert DeLancey of Clive, Iowa, sister-in-law, Sandy (Robert) Schow and family of Conroe, Texas; brother-in-law, Jonathan Harris and family of Forney, Texas; father-in-law, Jimmy Harris of Forney, Texas; former sister-in-law, Carolyn (Myron) Strain of Altoona, Iowa; former husband, Steven (Suzie) Sampica of St. Ansgar, Iowa; nephews, Christopher (David), Brandon (Laura), Justin (Ashlie); grand nieces and nephews, Kadance, Norah, Ace; nieces, Samantha, Lori; and several cousins.
She was preceded in death by her parents, her mother-in-law, Opal Marie Harris and granddaughter, Cassie McWane.
At Cindy's request there will be a private celebration of life at a later date.
Our family would like to thank everyone who helped us through this difficult time. Your kindness, prayers, calls and messages have meant the world to us.
To plant a tree in memory of Cindy Harris as a living tribute, please visit Tribute Store.