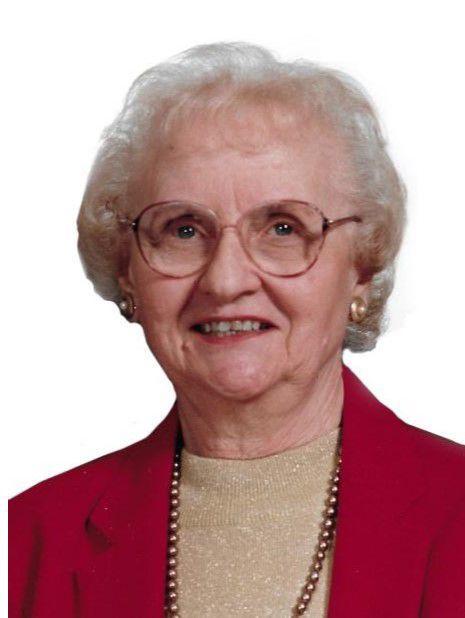 WATERLOO, IA: Celia J. (Nechanicky) Scott, age 94, of Lakeview Lodge at Friendship Village, died Friday, December 13, 2019, at Unity Point Health-Allen Hospital in Waterloo, IA.
She was born on May 15, 1925 at her family's farm.The daughter of William B. Nechanicky and Marie (Stodola) Nechanicky, she was raised in Geneseo Township, Tama County, Iowa. She married the love of her life, William J. Scott, on August 30, 1949 at St. Paul's Church in Traer, Iowa and they had 69 years together.
Celia graduated from Geneseo Consolidated High School in 1942 and Gates Business College in Waterloo in 1943. She was employed at Penn Mutual Life Insurance Company and Waterloo Steel and Equipment Company, Farmer's Saving Bank in Traer, and National Lock Company in Rockford, Illinois. After the birth of their daughter Patricia, she became a homemaker and volunteer for many organizations. She served on the Homemaker Extension Association of DeKalb County, Illinois and St. Mary's Catholic Church choir and its committees in Sycamore, Illinois for many decades. During her married life she lived in Rockford, Petersburg, and Sycamore (60 years), Illinois, returning to Waterloo, Iowa in 2013.
Celia had a curious mind and many pursuits, including music, sewing, cooking, travel, gardening, house plant propagation, bird and butterfly watching, and genealogy. This and her attention to local and national events made her an enthusiastic conversationalist. She was always devoted to her family, taking a genuine interest in the activitiesof everyone. This unflagging attention to the family's endeavors was a defining characteristic and deeply appreciated by her family.She also was a remarkable seamstress.
At the urging of her cousin, she organized the first of many Nechanicky family reunions held every two years, going on to write a Nechanicky Family History book in 1981 and updating it three times in the 1990's.The book tells the story of the family's original immigration from Bohemia to Iowa and documents the original six immigrants and five generations of their descendants.
Celia and her husband Bill loved to travel and visited all 50 states, the British Isles, the Czech Republic, Slovakia, France, Germany, Italy, Switzerland, Austria, Monaco, Luxembourg, Liechtenstein, Australia, New Zealand, and Fiji. She made multiple visits to the Czech Republic, meeting her last living first cousin and many other relatives, visiting her mother's birthplace and her maternal grandparents' home and historic flour mill.
Survivors include her older sister Mildred Nechanicky of Traer, Iowa; daughter Patricia A. Scott of Seattle, Washington; son Gary D. Scott (Marena Tunkin) of West Des Moines, Iowa; grandchildren Alan Silverman(Kara) of Glenside, Pennsylvania, Devon Scott-Tunkin of Chicago, Illinois, and Zane Scott-Tunkin of Denver, Colorado; great-grandchildren Luke, Adam, and Jake Silverman; and numerous nieces and nephews.
Preceded in death by her parents, her husband William, and her brothers Marcel, William, and Robert Nechanickyand their spouses.
Services: Family services will be held with inurnment at St. Paul's Catholic Cemetery, Traer, Iowa. There will be no funeral or visitation.
To plant a tree in memory of Celia Scott as a living tribute, please visit Tribute Store.