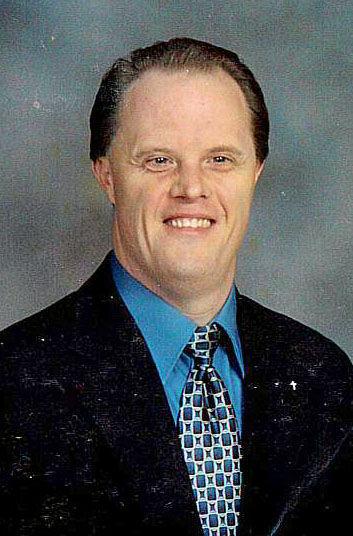 WAVERLY — Brent Russell Westmeyer, 55, died from complications of Parkinson's disease Monday, Jan. 7, at Bartels Lutheran Retirement Community, Waverly.
He was born Sept. 11, 1963, in Waterloo, son of Russell and Betty Westmeyer. Brent lived a life as a person with Down syndrome. He moved into supported living in 1992 in Waverly.
Brent graduated from River Hills, Cedar Falls, on May 25, 1984. He worked at North Star Community Services, a sheltered workshop in Waverly, in addition to several jobs in the community including Classic Cleaners, Star Clipper Dinner Train, Walmart, Wartburg Food Service and Brandenburg Restaurant. He was confirmed at St. Paul's Lutheran Church on Oct. 30, 1977.
Survived by: his parents of Waverly; a sister and brother-in-law, Andrea Westmeyer and Tim Downing of Des Moines; an aunt and uncle, Glenn and Gladys Reif of Muscatine; an aunt, Dorothy Baker of Kingman, Ariz.; an uncle, Don Westmeyer of Cedar Falls; and numerous cousins.
Preceded in death by: a sister in infancy, Vicky Westmeyer; a brother in infancy, Jeffrey Westmeyer; his grandparents, Adolph and Malinda Homan and Joe and Velma Westmeyer; uncles and aunts, Herb and Lucille Buhr, Howard and Bernita Holm, Jim Baker and Lola Westmeyer.
Services: 10:30 a.m. Thursday, Jan. 10, at St. Paul's Lutheran Church and School, with burial in Harlington Cemetery, both in Waverly. Visitation is 4 to 7 p.m. today, Jan. 9, at Kaiser-Corson Funeral Home in Waverly and also an hour before services Thursday at the church.
Memorials: may be directed to North Star Community Services-Waverly Center, St. Paul's Lutheran Church, Bartels Lutheran Home or Cedar Valley Hospice.
He was extremely proud when he secured his learner's permit and enjoyed taking his Dad for drives. Brent never missed a family vacation and he always met people with a smile and wore his beloved cross until his death.