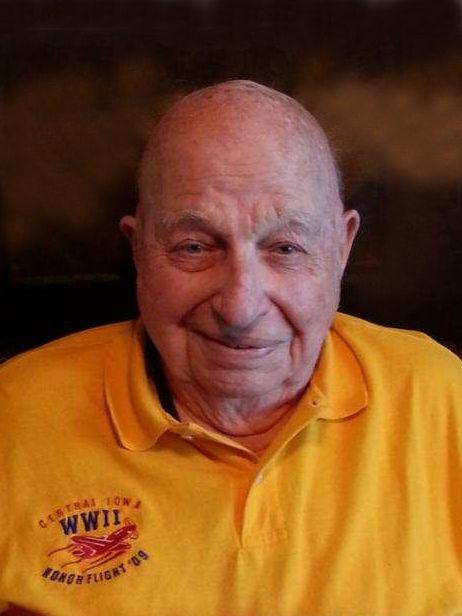 WAVERLY — Beryl David Peck, 94, of Waverly, died Tuesday, Jan. 8, at Waverly Health Center.
He was born Feb. 21, 1924, southwest of Britt, son of Bruce H. and Dora A. (Wagner) Peck. In October 1949, he married Mabel Lou Alexander in Webster City. In 1962, he married Peggy Eggers.
Beryl attended country schools in several areas of Iowa where he graduated from the eighth grade. He worked as a farm hand from 1937 to 1943 and then with his father on a farm east of Klemme. He served in the U.S. Army and Army Air Force during World War II and the Korean War. Until his retirement in January 1965, he continued serving with the Reserves. Beryl then settled in Garner, where he worked for the John Deere Implement. In 1974, he started working with his brother, Terry, at his John Deere Implement in Waverly. Beryl retired in 1985 and then assisted his friend, Evelyn Stafford, with her child care business.
He was a member of St. Mary Catholic Church in Waverly, Waverly AMVETS Post 79, Waverly VFW Post 2208, Berlin Airlift Veterans Association, Berlin Airlift Historical Foundation, 8th Air Force Association, Fraternal Order of the Moose, Charles City, Waverly CAM Car Club, John Deere Two Cylinder Club World Wide, John Deere Two Cylinder Club of Northeast Iowa, Ground Observer Corps and Civil Air Patrol.
Survived by: a son, Stephen Peck of Salina, Okla.; a grandson, Kevin Brown; a great-granddaughter, Kyleigh Brown; five stepdaughters, Linda (Gary) Linton-Marlin, Edna Mae (Kenny) Hundley of Sumter, S.C., Debra (Ron) Peck of Sherman, Texas, Joan (Mike) Mills of Foristell, Mo., and Cindy (Terry) West of Janesville; two stepsons, Larry (Carolyn) Donlon of Cedar Falls, and Earl (Diana) Stafford of St. Cloud, Fla.; nine stepgrandchildren; 13 stepgreat-grandchildren; two sisters, Thelma (Arnold) Prohaska of Clear Lake and Doris (Robert) Prohaska of Garner; two sisters-in-law, Sally Peck of Bountiful, Utah, and Jan Peck of San Bernardino, Calif.; and many nieces and nephews.
Preceded in death by: his parents; his wife, Peggy; friend, Evelyn Stafford; four brothers, Terry, Merle, Charles and Burdette Peck; and three sisters, Irene Wordehoff, Charlotte Peck and Dorothy Keeling; and his daughter-in-law Rhonda Peck.
Services: 11 a.m. Monday, Jan. 14, at Kaiser-Corson Funeral Home, Waverly, with private burial in Elmwood Cemetery in Mason City. Visitation is for an hour before services at the funeral home.
Memorials: may be directed to St. Jude's Children's Hospital or the Waverly Area Veterans Post (WAVP).
His enjoyments included the many friends he met through the years of Polka dancing, collecting cars and toy tractors. Beryl loved the outdoors and often would be found tending to his yard and that of many of his friends.