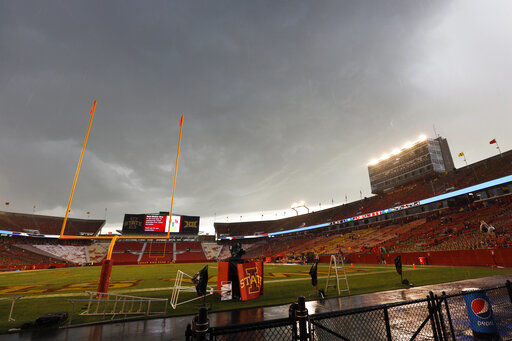 DAVENPORT -- Final plans remain undetermined, but football season ticket holders at Iowa and Iowa State are beginning to get an idea of what the 2020 season may look like on game day this fall.
Iowa announced last week that it was pausing sales of Hawkeye season tickets beginning today and Iowa State reached out to fans last week painting a preliminary picture of how things will be once games kick off because of changes related to the COVID-19 pandemic.
"I think at the end of the day, we want people to be comfortable with the decisions they make and we understand that these are unique times,'' said Matt Henderson, Iowa senior associate athletic director for external relations.
"It's tough. I've talked with people who have had season tickets for 35, 40 years who are thinking about what to do. If people choose to sit this one out, that doesn't make them any less of a fan and we'll be ready to welcome them back to Kinnick in 2021.''
Henderson said Iowa has sold around 40,000 season tickets, including an 85-percent renewal rate from the general public who purchased season tickets for the 2019 season.
Iowa indicated last week it expects a reduced capacity at the 69,250-seat Kinnick Stadium this fall, but director of athletics Gary Barta indicated it will likely be late July before officials know just what that capacity may be.
Iowa State announced last week that all available tickets for the 2020 season have been sold and that capacity at 61,500-seat Jack Trice Stadium will be limited to 50 percent to adhere to state regulations for large public gatherings.
"Our department continues to work with NCAA, Big 12 and university officials to finalize a comprehensive list of mitigation measures for our athletics venues,'' ISU director of athletics Jamie Pollard wrote in a message sent to Cyclone fans last week.
Pollard indicated Iowa State parking lots will be opened for a reduced amount of time for tailgating and that fans will see changes in stadium entrance procedures, concessions operations as well as an expanded number of hand sanitization stations.
Like Iowa, ISU will move to all-digital ticketing for the 2020 season and fans at Iowa State will also be required to wear face coverings to enter the stadium.
"A complete list of mitigation strategies for each athletics venue will be distributed prior to opening any facilities this season,'' Pollard wrote. "The department also plans to make available an overview seating chart of Jack Trice Stadium so you can know in advance how many other fans renewed seating tickets in your section.''
Pollard said season ticket holders who view that seating chart and want to temporarily relocate to a less-populated section of the stadium for 2020 would be given the chance to do so or request a refund if they are not comfortable attending games.
Concerns about health and finances, both related to the coronavirus situation, were frequently mentioned as Iowa officials communicated with Hawkeye fans.
"Everybody has been impacted in one way or another,'' Henderson said. "We try to be as receptive as we can and as we work with folks, we know we have an obligation to try to find the right things to do.''
For fans who choose to attend games this fall, Henderson noted Iowa's objective will be making them feel as comfortable as possible when they come through the gates.
"We want the experience to be a good one. That hasn't changed,'' Henderson said.
Be the first to know
Get local news delivered to your inbox!