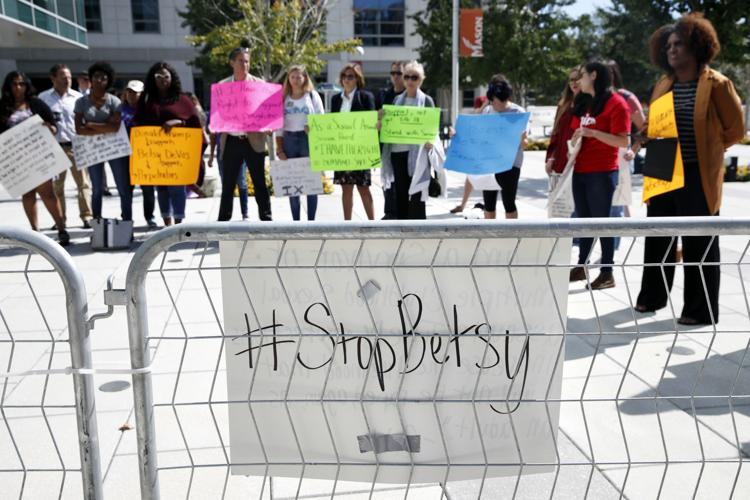 President Donald Trump's comments about groping women (and alleged actions) and questions about Education Secretary Betsy DeVos' competence have created concern about her decision to revisit Obama administration Title IX edicts on sexual harassment.
DeVos displayed her ignorance of public education during Senate hearings and championed Michigan's charter schools, although 70 percent occupied the bottom half of the state's 2016 rankings, according to the nonpartisan Education Trust-Midwest.
Title IX of the Education Amendments of 1972 prohibited sexual discrimination in programs receiving federal aid and have been a boon to women in academics and athletics.
But Obama administration directives — beginning in 2011 with a "Dear Colleague" letter intended to force colleges to deal with a plague of sexual violence — were a heavy-handed overreaction.
Colleges were told to use the lowest possible burden of proof, a "preponderance of evidence" or a 50.1 percent likelihood of guilt. They were encouraged to use a "single investigator" model — a staff member investigating, prosecuting and adjudicating. The accused was restricted from questioning the victim's account and, frequently, from having legal representation.
Sexual violence included "rape, sexual assault, sexual battery and sexual coercion," with no definition for the latter. Sexual harassment was "any unwelcome conduct of a sexual nature," including remarks.
It opened a Pandora's box of problems. In the past year, the American Association of University Professors called for universities to return to the previous standard of "clear and convincing" evidence, which was endorsed by the American College of Trial Lawyers and professors at both Harvard and the University of Pennsylvania law schools.
The Atlantic Monthly recently reviewed cases where colleges made a mockery of common sense and civil liberties using those directives:
Matt Boermeester, a kicker for the University of Southern California's football, was expelled after a neighbor thought he was hurting his girlfriend, Zoe Katz, a tennis player. The accusation made it to her coach, a mandatory reporter required to tell the Title IX office. Katz insisted she and Boermeester — then her boyfriend of one year and still together now — were playing. He was expelled and is suing USC.
"Matt Boermeester did nothing improper against me, ever. I would not stand for it," Katz wrote the Los Angeles Times. "Nor will I stand for watching him be maligned and lied about."
She said Title IX investigators ignored her statements as a "battered" woman.
A University of California student fooling around in bed with his girlfriend in his dorm room, but not having intercourse, was reported by others who felt the couple was too intoxicated for informed consent. The girlfriend denied anything happened, but he was suspended for a semester and required to attend therapy sessions.
Harvard University School of Law professor Janet Halley wrote about an Oregon college student who was instructed to stay away from a female and move from his dorm without being told why until learning he resembled a man who raped her "months before and thousands of miles away." Although found innocent, the no-contact order wasn't lifted.
Kwadwo "Kojo" Bonsu, 23, a black student at the University of Massachusetts at Amherst, and a white female student didn't engage in intercourse after smoking marijuana together at a fraternity, but she initiated oral sex. She told an investigator, "(My friend) knows I was with Kojo. She probably told all the brothers in the room, and they're gonna hate me when they find out … I can never come back here."
"As my (residence hall adviser) training kicked in, I realized I'd been sexually assaulted," she stated, adding, "I want to fully own my participation in what happened, but at the same time recognize that I felt violated and that I owe it to myself and others to hold him accountable for something I felt in my bones wasn't right."
Bonsu was eventually expelled. He sued the college and reached a settlement.
According to the Atlantic, 170 suits have been filed regarding unfair treatment. The colleges now have lost 60 — more than they've won.
The National Center for Higher Education Risk Management, which specializes in Title IX cases, wrote in a white paper, "Due Process and the Sex Police," blasting some college for an "overzealousness to impose sexual correctness."
Professors must be wary, too.
Northwestern University's Title IX office investigated feminist film professor Laura Kipnis after she wrote about "sexual paranoia" on campus. When Faculty Senate head Stephen Eisenman called the probe a threat to academic freedom, he faced Title IX charges.
Emory (Ga.) University administrators made author David Samuel Levinson, a visiting fellow, raise a female student's grade from B-plus to A-minus after she accused him of sexual harassment. He's gay.
DeVos may be wrong on many issues, but she is right to pursue reform on this one.