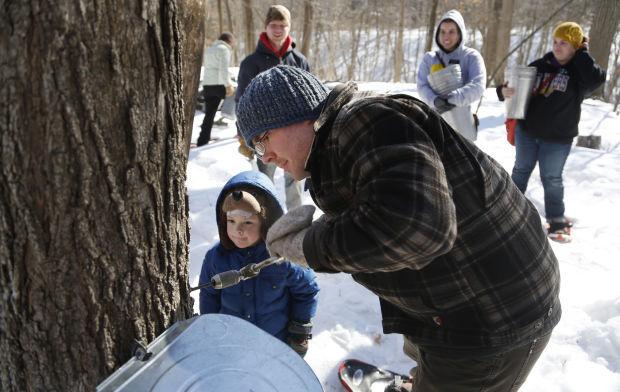 CEDAR FALLS | For decades, Hartman Reserve Nature Center has been a wooded oasis in the heart of metropolitan Black Hawk County.
Originating in 1938 when John C. Hartman of the Waterloo Daily Courier helped the local YMCA purchase 56 acres of wooded land, Camp Hartman Reserve was used for camping and programming into the 1970s. In 1976, the Black Hawk County Conservation Board purchased the land with the vision of turning it into an environmental education center.
The now 340-acre site is home to interpretive and program centers and numerous connected paths and trails, and the reserve has been designated an Iowa Watchable Wildlife Site and Important Bird Area and is certified by the Iowa DNR Preserve Board. It features the Cedar Valley Paddlers trail through the lakes of Hartman, and a connection to the American Discovery Trail is nearby.
Visitors can interact with the environment and enjoy the wildlife, including animals ranging from deer and turkeys to foxes and bald eagles.
Hartman also is the site of numerous events throughout the year, including Earth Fair, Halloween Hikes and the ever-popular Maple Syrup Festival, which is preceded by volunteers tapping the reserve's maple trees and collecting the sap and culminates with an all-you-can-eat pancake breakfast attended by thousands.
Hartman recently announced plans for a $2.2 million renovation and expansion of the interpretive center, which include a ground-level entrance for easier accessibility, a bottom-floor classroom and library, a remodeled upstairs event area with a full wall of windows overlooking the reserve, a four-seasons room with a deck and outdoor-accessible restrooms.
Hartman Reserve Nature Center is located at the Waterloo-Cedar Falls border, three blocks north of the intersection of Rainbow Drive and Laurie Avenue. The Interpretive Center and the Acorn Gift Shop are open from 8 a.m. to 4:30 p.m. Monday through Friday and 1 to 5 p.m. Sunday. The trail system is open every day from sunrise to sunset.