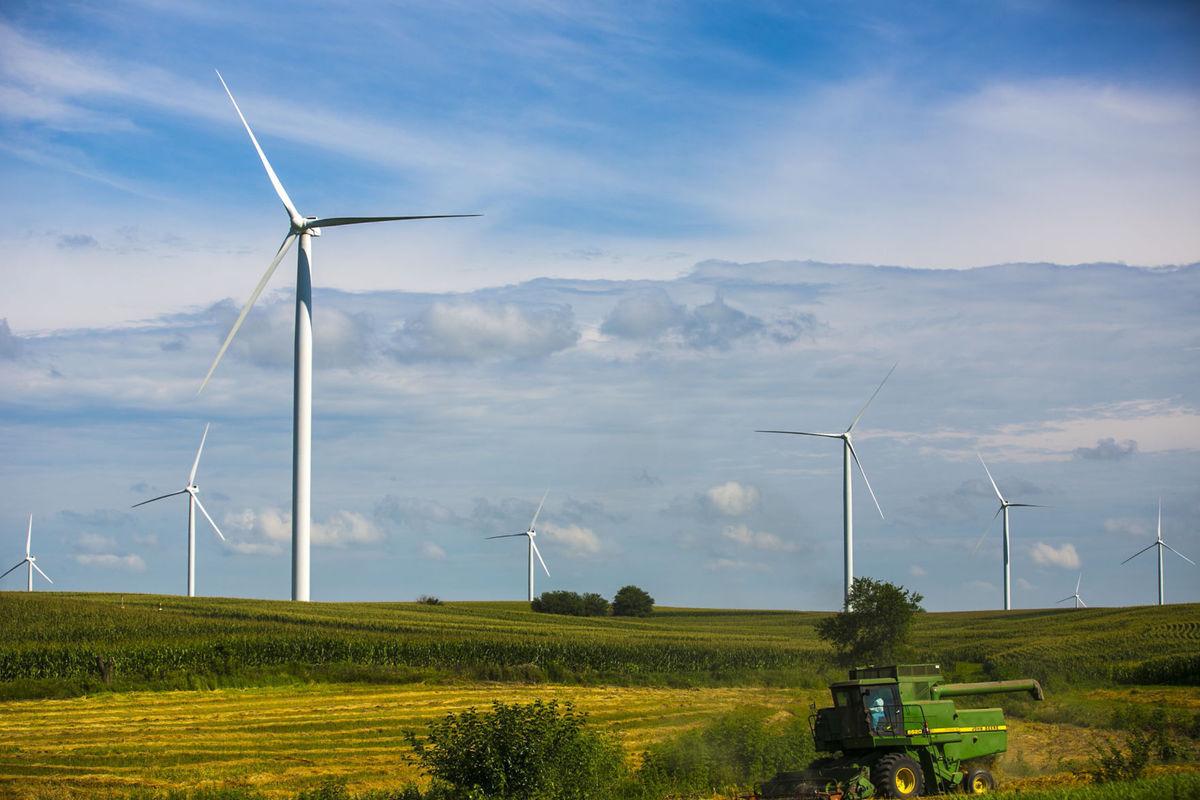 HAMPTON — Alliant Energy officials met with landowners in Franklin County last week to answer questions about a $1 billion wind farm project.
The project is a westward expansion of Whispering Willow Wind Farm south of Hampton. Alliant announced the project in July and has since gained approval from the Iowa Utilities Board.
"Our industry is changing drastically in how we're generating energy for our customers," Alliant spokesperson Justin Foss said. The expansion looks to generate 500 megawatts of energy.
Construction is slated to begin in spring 2018 with the wind farm operational in early 2019.
Ninety percent of necessary landowners have signed on for the project, according to Ben Lipari, director of project development for Alliant.
"We have 10 percent waiting on decisions," Lipari said, noting the company is working closely with landowners.
Part of the goal is to minimize Alliant's footprint in these areas when it comes to access roads and facilities.
Over the years, more information has been available about wind energy.
"Landowners are more educated than before," Lipari said. "They do better understand wind energy."
Lipari said transparency is key in building relationships with communities they work in.
Alliant Energy is based in Cedar Rapids and provides electric service to 487,000 customers and natural gas service to 226,000 customers in more than 600 communities, including North Iowa.
The initial phase would include building 80 wind turbines to produce about 200 megawatts of energy. The entire five-year plan is expected to include approximately 200 turbines to produce the total 500 megawatts of energy.
"We're still assessing," Lipari said.
Those turbines would not all be located within Franklin County but in locations in central, north central and northwest Iowa, Lipari said.
The project will mean increased employment throughout those regions. At the peak of construction, Alliant will need 1,500 workers to complete the project, Foss said.
Once construction is completed, Alliant estimated it could staff approximately 10 workers for maintenance.
Whispering Willow Wind Farm currently spans 33,000 acres with 121 turbines. The wind farm began commercial operation in late 2009 and has a capacity to generate 200 megawatts, or enough to power about 50,000 homes.
Foss said wind energy is important to the company as Alliant plans to reduce its carbon dioxide emissions by 40 percent by 2030.
This is one of several major expansions of wind energy in Iowa announced this year.
In April, MidAmerican Energy announced a $3.6 billion plan to add 1,000 wind turbines in Iowa.
More recently, Chicago-based wind developer Invenergy announced plans to spread 100 wind turbines between Freeborn County, Minn., and in Worth County.
The company is speaking with Worth County landowners to secure leases for a proposed $320 million wind farm.
The proposed project would provide power to Xcel Energy customers in Minnesota.