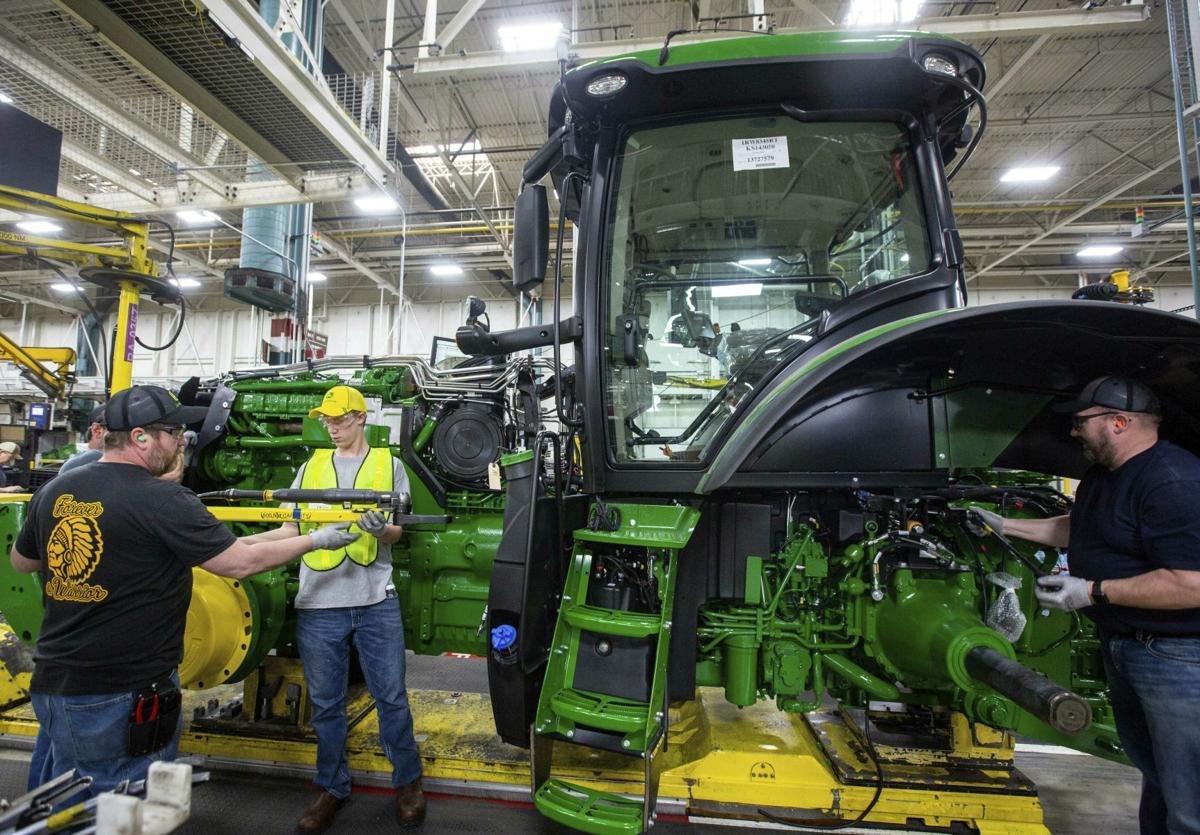 MOLINE, Ill. — The international trade war is continuing to spell trouble for Moline, Ill.-based Deere & Co.
Echoing recent quarterly earnings reports, Deere posted a net income of $722 million for the fourth quarter that ended Nov. 3, or $2.27 per share, compared with net income of $785 million, or $2.42 per share, for last year's fourth quarter that ended Oct. 28.
Overall, Deere & Co. had a fiscal year 2019 net income of $3.253 billion, or $10.15 per share, compared with $2.368 billion, or $7.24 per share, in 2018.
Deere & Co. will further cut costs, announcing Wednesday morning it would initiate a companywide voluntary employee separation program, or buyouts. Further details were not immediately clear.
Farmers have had to weather a year that featured heavy rains that delayed planting, followed by a stretch of no precipitation and then more rain in the fall. Stretches of clear days in recent weeks have allowed farmers to get through much of the harvest season, but drying facilities are being used by some farmers to dry out corn.
You have free articles remaining.
The trade dispute is making American goods more expensive to buy overseas, and China's devaluing of its own currency makes its goods cheaper globally, further adding to the uncertainty for the agricultural manufacturer.
Deere & Co. officials said cost reduction plans were being formulated at the time of the 2019 third quarter earnings release. That ultimately meant, for the Quad-Cities, a loss of more than 160 production employees via layoffs at Harvester Works and Davenport Works.
Worldwide net sales and revenues increased 5 percent in both the fourth quarter and full year of 2019 to $9.896 billion and $39.258 billion, for the respective periods. Net sales of the equipment operations were $8.703 billion for the quarter and $34.886 billion for the year, compared with respective totals of $8.343 billion and $33.351 billion in 2018.
John May, Deere & Company's new chief executive officer, said in a Wednesday morning news release that Deere's performance was a reflection of the continued uncertainties in the agricultural sector.
"Lingering trade tensions coupled with a year of difficult growing and harvesting conditions have caused many farmers to become cautious about making major investments in new equipment. Additionally, financial services results have come under pressure due to operating-lease losses," May said.
"At the same time, general economic conditions have remained favorable. This has supported demand for smaller equipment and led to solid results for Deere's construction and forestry business, which had a record year for sales and operating profit."
Deere & Co. is forecasting a net income between $2.7 billion to $3.1 billion for fiscal 2020 as May said the "longer-term outlook for our businesses remains healthy and points to a promising future for Deere."