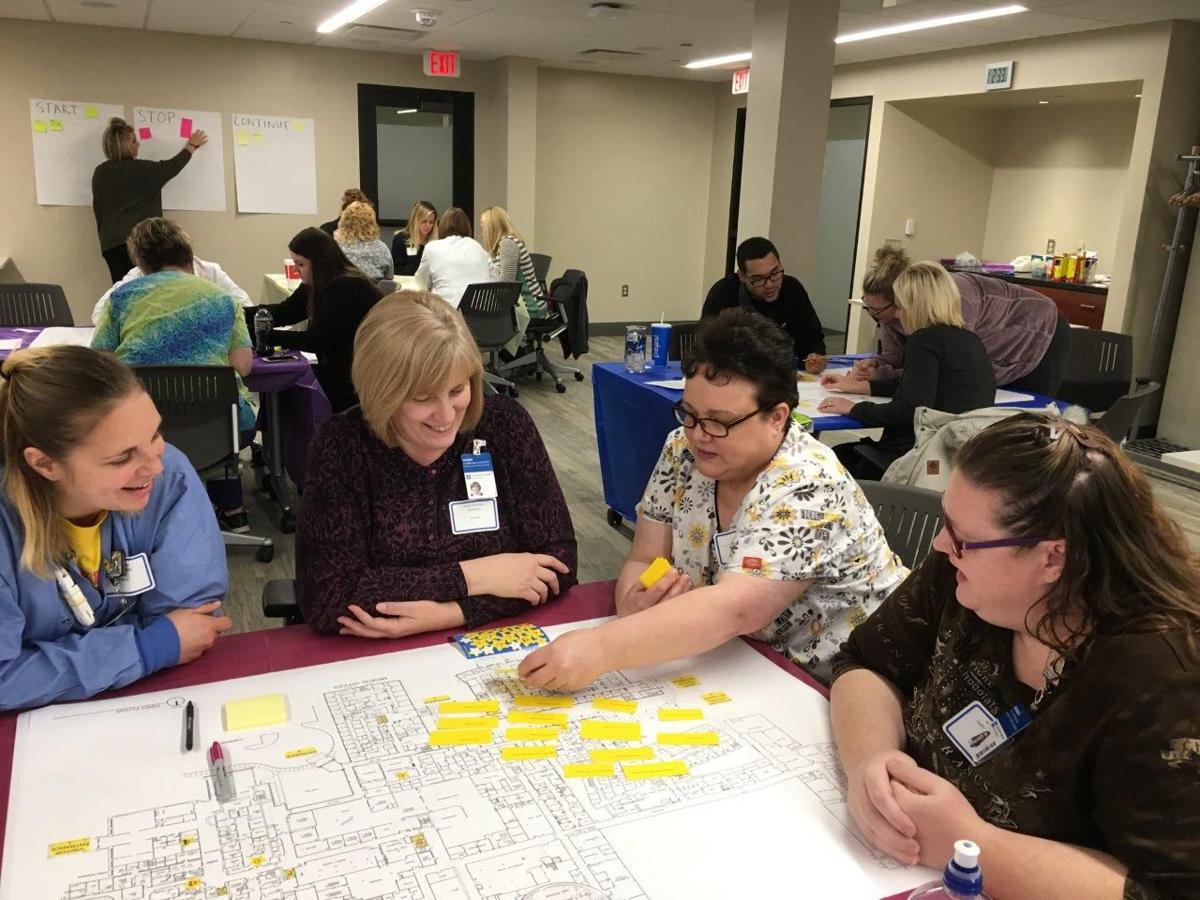 WATERLOO — In 36 years, Kim Lodge has seen UnityPoint Health-Allen Hospital from many angles.
"I would say UnityPoint-Allen Hospital is the best because of the way the team members are treated: respectfully and (with) high esteem," she said. "It is difficult work, and we are given the tools we need to provide ideal patient care."
Kim French agrees. She has logged 26 years and believes UPH-Allen cares about employees and families — and co-workers support each other.
"A family where both spouses work at UnityPoint recently had a house fire, and everyone came together to help them out," said French. "It was inspiring."
Clear focus and direction creates trust, said Lodge.
"Pam, our leader, provides a vision of where we are going and how we are going to get there," she explained. "Daily, she lets us know what she expects in our culture by how she treats us, and she's a role model for how we should treat others."
CEO Pam Delagardelle is grateful that UPH-Allen team members have received the message she and other leaders have sent. She's also "humbled, grateful and proud" that employees regularly nominate the facility as an Employer of Choice.
"Our people are amazing; they keep me energized," she said. "Health care is stressful. This is an incredibly complex industry. But our team is often at our best under pressure."
In July, when a tornado touched down at a sister hospital in Marshalltown, Delagardelle saw employees demonstrate their commitment to service.
"I am so proud of how our team members from Marshalltown, Waterloo and Grundy Center pulled together to take care of a community in crisis. We had to encourage each other to take time to rest; everyone wanted to be sure we were there for patients who needed us. … We take care of each other and we get through those stressful days together."
That's at the heart of what makes UPH-Allen, she added. The entire health system emphasizes clearly defined core values.
"We work hard to live our 'FOCUS' values every day," explained Delagardelle. "Our values are the foundation for the culture we've built here. We have people who truly care about the patients, families and guests they serve."
"FOCUS" describes key values of UPH employees. F stands for "foster unity"; O, "own the moment"; C, "champion excellence"; U, "unity begins with you"; and S, "seize opportunities." 
"People stop me in the grocery store (and) at church and tell me how much our team members impacted them during a health care visit or inpatient stay," said Delagardelle. "Sometimes, our team members literally give the shirt off their back or the shoes they're wearing to a patient in need. One of our people worked with a young man who couldn't drive and personally took him to get his license."
Employees lead most initiatives to connect and enhance experiences, said Delagardelle.
Examples include the Employee Engagement committee, led by highly involved leaders from across the facility. The group developed an employee engagement initiative called "Put a Ring on It."
"Our leaders worked with their teams to identify opportunities," said Delagardelle. "We believe that goes far beyond pizza and cupcakes but really focuses on enabling our people to do their best work."
To further drive employee satisfaction, UPH-Allen builds upon competitive compensation, health, wellness and other benefits by offering additional programs, said Delagardelle.
On the job, employees have multiple opportunities to provide feedback.
"As a young professional, I am routinely updated by leadership on where the organization is headed, and I am encouraged to bring my ideas to the table," said Erin Koenigsfeld.