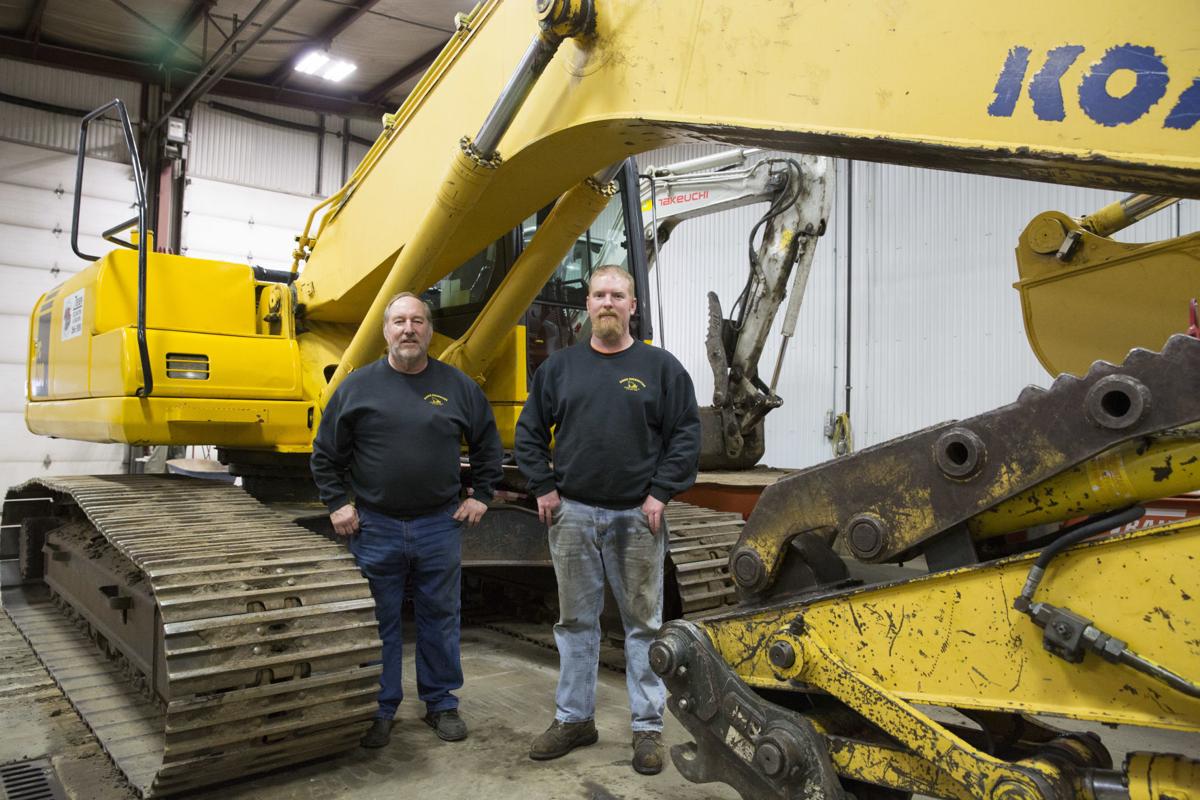 CEDAR FALLS — Four decades ago, Dave Zeien took over the excavating business started by his father.
Now he's passing on the rural Cedar Falls company to the next generation. Stepson Jordan Judas, who worked for Zeien Excavating years ago, returned to the business last fall. He has taken over managing operations as the new owner and president of the 72-year-old company.
"I started slowing up in 2009 and worked by myself," said Zeien, prior to handing over the reins. "I just decided I wanted to step out."
Judas, of Denver, noted his stepfather will continue helping with estimating the cost for jobs and operating machinery. The excavating and earth-moving business largely focuses on commercial and farm-related work.
"As far as the day-to-day, it's just Dave and I right now," said Judas. They sometimes get help from Zeien's brother when the work load is higher for the company at 4622 W. Cedar-Wapsie Road. They also hire a couple part-time truck drivers as needed.
Judas already had 12 years of experience working with his stepfather before returning to lead the company.
"I worked here all the way through high school and then two years through Hawkeye Community College," he said. Judas earned an associate's degree in architecture and construction before going to work for a truss manufacturer. But spending 40 hours per week on a computer doing design work wasn't for him.
So, he returned to Zeien's company and later got a job as a heavy equipment operator for the Black Hawk County road department. He left that position at the end September after 11 years.
Zeien's father, Henry, grew up on a farm near Ionia in Chickasaw County and came to Waterloo in 1943. He had already worked with trucks and other large equipment, hauling material for road construction at Ft. Leonard Wood in Missouri. During World War II, he enlisted in the Army and after being injured in combat was stationed in the Aleutian Islands, where he ran heavy equipment building runways and roads.
Following the war, he returned to Waterloo and briefly worked for John Deere before purchasing a dump truck. Henry Zeien Excavating was established in 1948, the same year he married his wife, Lottie. Together they ran the business until retiring in 1980.
"My mom, she was the first woman truck driver in Waterloo," said Zeien. She carried a 35 millimeter camera and "took tons of pictures as they worked different jobs." She also did bookkeeping for the business.
The company primarily excavated residential basements, did demolition work, graded new streets, and dug ponds and waterways for farmers. Zeien noted the company was heavily involved with building the area west of the Cadillac Lanes bowling alley between LaPorte Road and Kimball Avenue.
"That was all farm fields behind Cadillac Lanes and almost clear to Kimball," said Zeien. "He dug most of those basements." In addition, the company graded most of the streets around Columbus Catholic High School after it was built along West Ninth Street.
Henry and Lottie also raised nine children, some of whom participated in the family business. Their oldest child, Vern, was killed at age 11 in a work-related accident. Sons Peter and Alan still work in the construction industry.
Zeien and another brother, John, took over the business from their parents when they retired. John later went to work for Peterson Construction. Zeien became the sole operator of the business, but Henry continued driving equipment for his son.
Judas joked that Zeien was trying to compete with his father by continuing on after handing over the business. But Zeien indicated he's not likely to stick around the decades it would take to surpass his father's record.
Henry, who died at age 97 in 2013, worked for the company until he was 92.
Photos: Fire at Maples Lanes, Feb. 4, 2020