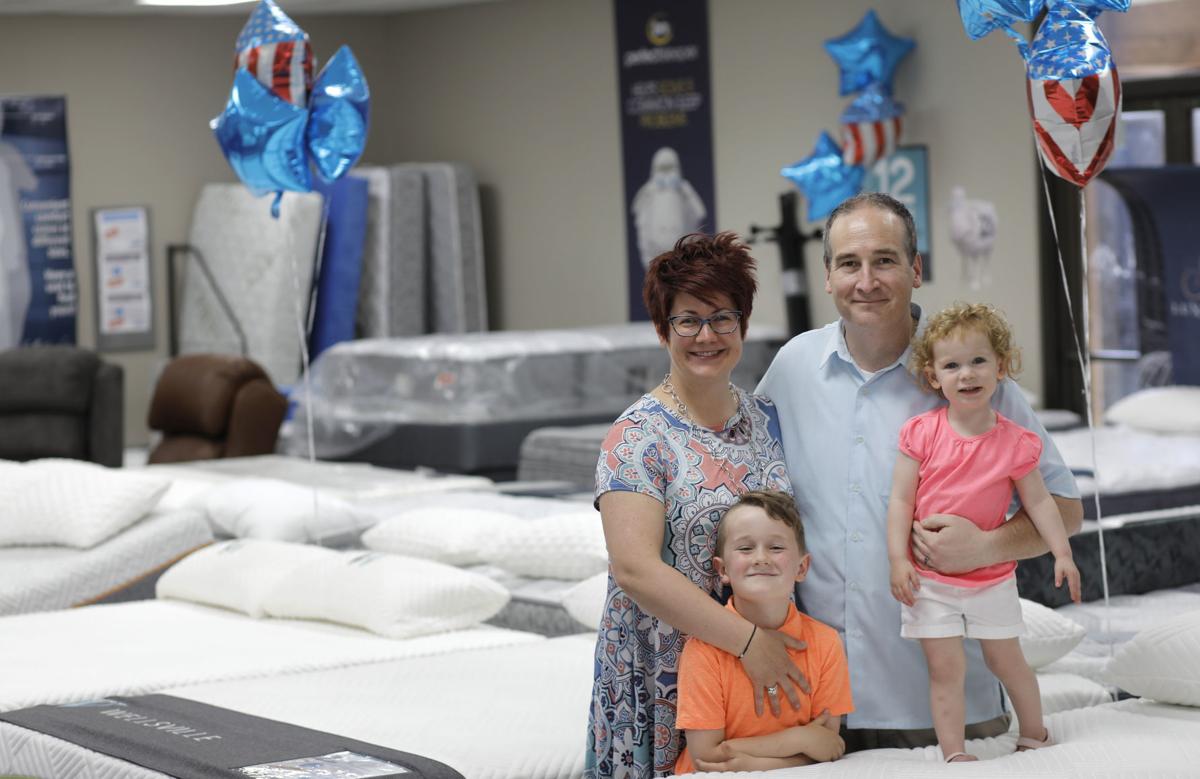 WATERLOO — To say mattresses have been an integral part of Sarah and Charles Foster's lives would be an understatement. In fact, it actually was a mattress that brought the couple together.
When Sarah, a Cedar Falls native, and her mother went bed shopping while Sarah lived in Phoenix, it was Charles who delivered her mattress. He asked the ladies to dinner that night and the pair has been together ever since.
The couple moved back to the Cedar Valley in 2009, opened Fosters Mattress, currently located at 3840 University Ave., and started a family. They have two children, Hudson, 6, and Bailey, 2.
But the Foster family isn't the only thing that has grown. The couple's business has taken off and has outgrown its current site. It will move to a new location later this month in the former Famous Footwear site at 5911 University Ave., Ste. 350, in Cedar Falls, next to Kohl's.
The new location, currently undergoing renovations, will include a back room for storage, an office area, a loading dock and an expanded showroom — 1,000 square feet larger than the store's current space.
The Fosters are in the process of getting rid of their remaining stock in order to have all new floor models in the new space.
While the business focuses on mattresses, adjustable bases and other sleep products, they also feature sleeping and lift chairs.
"We learned that 25 million people are sleeping in their recliners," Charles said. "These are designed for sleep, they are designed for up to 18 hours of use and are great for people with limited mobility who have difficulty getting in and out of a bed."
Fosters initially carried three models of the sleep chairs — which are available with heat and massage features. They now carry six different models and will increase that to 10 to 12 in the new location.
"We are doing quite well with them," Charles said of the chairs. "They've become a big part of our business."
Charles seems in his element in the store.
"He was here every single day for the first year we were open," Sarah said. "He's a super big bed nerd."
"Sleep is important," Charles said. "We want people to sleep well."
He went on to explain the benefits of a good night's sleep and how an adjustable base can help with everything from snoring and acid reflux to restless leg syndrome.
The family even appears in the store's commercials, and Hudson has decided to retire his line, "Because every night is important," and come up with a new one.
"We have fun with it," Sarah said. "One of the things we want to convey is it is a family business. Our name is on the store. It is a labor of love. We want to instill a sense of family.
"The kids don't have chores here yet, but they will."
Sarah said they all are excited to move to the new location.
"Right now we're shooting for June 20," she said, "but it's a work in progress."
The Fosters said they are grateful for the support of the community in making their business a success.
"And it's not just the Cedar Valley," Sarah said. "We get customers from all over Northeast Iowa."
The Fosters find numerous ways to pay back that support.
Sarah works full time for the American Cancer Society and is heavily involved with the Cedar Falls Food Co-op. The couple has supported many organizations since their return to the Cedar Valley, including House of Hope, Gallagher-Bluedorn Performing Arts Center, local schools and youth athletics programs, the Y, Lions Club and area youth music groups.
"We love this community," Sarah said.
"We are proud to be Cedar Valley residents," Charles said.