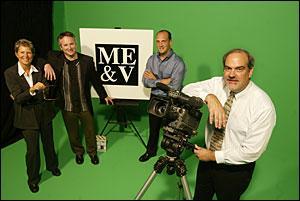 CEDAR FALLS -- The owners of one of the Cedar Valley's more prominent advertising agencies have added a little more electricity for their clients to plug into.
On Friday, Mathis, Earnest & Vandeventer "officially" joined forces with 23rd Century Productions. The move coincided with the marketing company's eighth anniversary.
Officials with both companies hesitate to call it a merger. That's because 23rd Century Productions has been housed with ME&V since the agency moved to the Cedar Falls Industrial Park in 1999.
ME&V now has 23rd Century Production's film, video and animation capabilities under its corporate umbrella, and owner Jim Infelt becomes the fourth partner of the agency, joining founders Dee Vandeventer, Bryan Earnest and Mark Mathis.
"We toyed with the idea for the last three years of making the triangle a square," said Vandeventer.
23rd Century Productions offers video services, animation, special effect creations and multimedia production. In 2003, the company added film capabilities by purchasing a French-made Aaton camera like those used by major motion picture studios. The company has used film capabilities to shoot commercials for the University of Northern Iowa football team and for the Gallagher-Bluedorn Performing Arts Center.
Those capabilities will add to ME&V's buffet of services, which include consulting, newspaper and magazine advertising, Internet Web site strategy and design, development of company intranet and extranet communications networks, medial training and direct mail.
"As we look ahead to growing to the level our clients are, and working with an expanded market base, we need to make sure we have the resources and the people working together," said Earnest. "By adding Jim's creative talents, his knowledge and expertise to our partnership will make us stronger than the original."
Adding services, said Vandeventer, is counter to the industry trend of agencies divesting themselves of divisions and outsourcing capabilities. The trend has accelerated in the past few years as the economy has eroded the advertising budgets of many companies.
"Because we have so many things under one roof now, we don't have to sell (clients) something they don't need," she said.
The addition of 23rd Century Productions isn't the only change for the agency. It also formed a division that will focus on its growing health-care clientele and work to expand those services beyond the Cedar Valley. ME&V's first client, Allen Hospital, is still with the agency, and it has also worked on marketing plans for United Medical Park, Cedar Valley Medical Specialists and Cedar Valley Hospice.
"We see that as a market that will be there forever," said Earnest. "Health-care providers, for the longest time, didn't need to market their services. Now that you have consumer choice, they need to market more, and do it in a way that they don't come off too slick."
About 25 percent of its customers are nonprofits, and ME&V has done pro bono work for about 100 organizations.
The agency was founded in 1996 by Mathis, Earnest and Vandeventer, all former executives at KWWL-TV. It employs about 50. The company sports an electricity theme designed to encourage clients to "plug into" its expertise and for the agency to be an "extension" of their clients' business.
ME&V was awarded the Ernst & Young Iowa/Nebraska Entrepreneur of the Year in 2002, and for the past two years has been included in Inc. magazine's list of the 500 fastest growing private companies. Between 1998 and 2002, the company's revenues grew 439 percent to just over $7 million.
The business news you need
With a weekly newsletter looking back at local history.