WATERLOO – Area residents can fend off the robot invasion — or side with the robots — at Waterloo's historic bowling alley.
Omega Strike opened earlier this month at Cadillac Lanes Xtreme Bowling Center, 650 La Porte Road, debuting as one of the most sophisticated laser tag arenas in the country.
"For a brief moment, before somebody else one-ups us, we've got a few features that are new to the industry," said Rich Eighme, managing partner for The Bowlers Group, which operates Cadillac and Maples Lanes on University Avenue.
The 3,000-plus-square-foot course is the latest stage in Cadillac's transformation from a traditional bowling alley to a family fun center. In 2017, the building closed off 14 of its 50 lanes and added video and redemption games to add variety. Omega Strike laser tag sits behind the arcade.
WATERLOO – What was once Iowa's largest bowling alley has been transformed to add skee ball,…
"Everybody I've talked to said the Cedar Valley needs something different. The youth need something to do, and we are really trying to do that here between the bowling, the arcade. But the level of excitement for this just tops the level of excitement we've seen for anything else in this center," said his wife, Kathy Eighme.
The concept for the Omega Strike arena is an urban battleground where surviving humans are resisting a robot coup — kind of like the back story to the "Terminator" series.
"You've got the fallen Statue of Liberty over here, and the idea was to make it a post-apocalyptic rendition of New York City," Rich Eighme said.
There is also a mini Times Square. The robot base is a fighter hovercraft elevated at one end of the course, and the humans have a fortified subway car at the other end for their base.
"When you attack the base, if you don't attack it enough to shut it down, it will actually fire upon you," Rich Eighme said.
There are also mini targets in other areas that players can tag for extra points and an interactive robot figure guarding the path to the machines' base.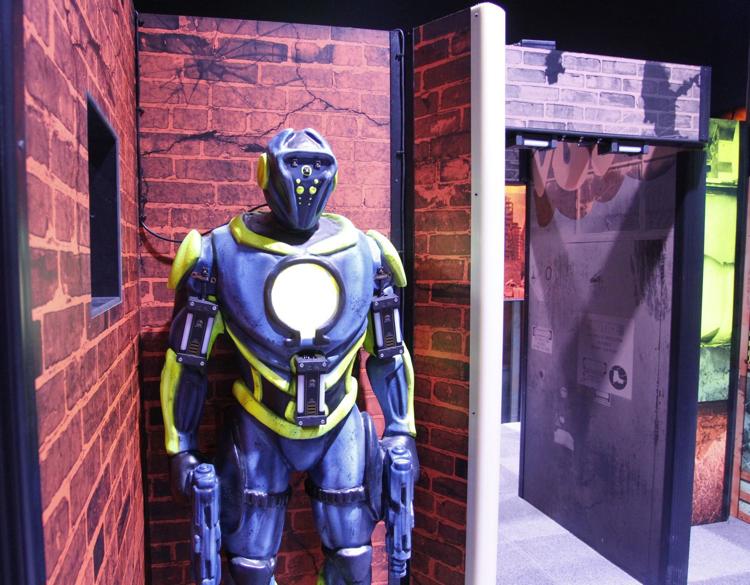 You have free articles remaining.
"If you don't hit him enough to take him out, he will attack you back," Rich Eighme said. "Most laser tag arenas have never done something like this."
Rich Eighme said the setting was chosen because the fantasy element is a step back from concerns about real-world gun violence.
"We were conscious from the standpoint, we have the same concerns about society right now, and we are hoping this is more of an immersion into the theme, and it is very fantasy instead of very realistic," Rich Eighme said.
To this end, the weapons look like sci-fi laser guns and not realistic firearms, and shots go to points on an opponent's vest and not sensors on the head.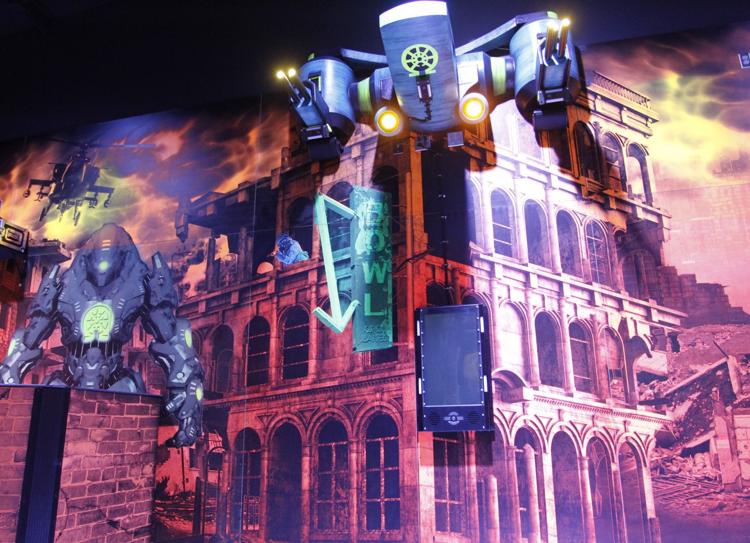 The laser tag system can be set up to play more than 30 different games. In addition to team play, there is also a free-for-all mode with all of the players against each other, and a "zombie" version, where a lone player tags others to infect them and the last person standing wins the match. A computer system keeps track of players' hits, accuracy and other statistics.
Panels on the base have a quiz bowl feature that allows for multiple choice tests. Questions come up on the screen, and players tag what they think is the correct answer.
"This is a neat feature for groups, churches, team building," Kathy Eighme said.
Omega Strike is open 4 p.m. to 9 p.m. Monday through Thursday; 4 p.m. to 10 p.m. Friday; 11 a.m. to 10 p.m. Saturday; and 1 p.m. to 9 p.m. Sunday. Cost is $8 per 20-minute game, two games for $15 and three games for $21, and the course can also be rented by groups and for special events.
The Bowlers Group is made up of Rich and Kathy Eighme, Rich's father, Fran Eighme, and Zach and Jessica Beschorner.
The addition of Omega Strike makes Cadillac the only laser tag arena in the Waterloo-Cedar Falls area. Adrenaline X laser tag closed its University Avenue location last year, but it still offers mobile laser tag rentals.