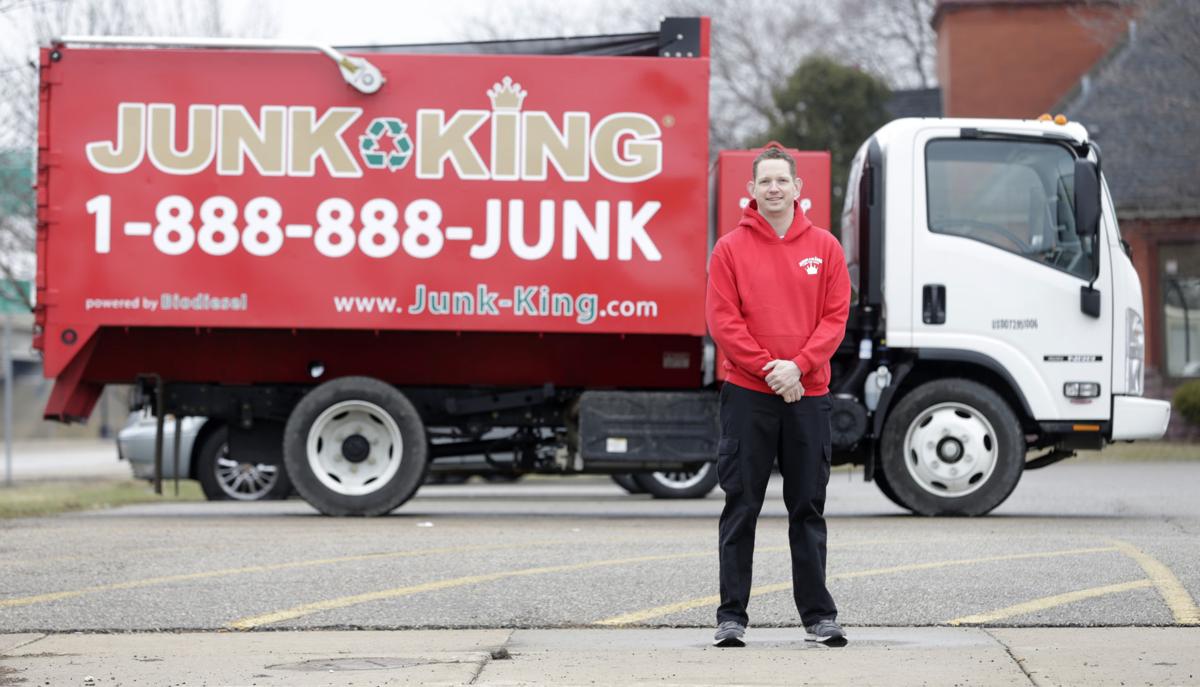 WATERLOO — Jim and Jennifer Marlin are hoping to turn other people's junk into their treasure.
The Marlins are the eastern Iowa franchisees for Junk King, a San Francisco-based company that works with anyone from hoarders to homeowners to clear their homes of one-time keepsakes that have coagulated into collections of clutter. They also purchased the franchise rights to the Des Moines area and plan to open a location there.
Their Waterloo location is at 321 W. Fourth St. in a leased portion of the Pioneer Graphics building. While that's a base of operations, no "junk" Junk King collects will stay there long. It will go to nonprofits and other organizations. Nationally only about 40 percent of the items collected are landfilled.
"We're a full-service junk removal hauling company," Jim Marlin said. There's about 80 franchises around the country. "We'll do residential or business." Costs are based on volume of material collected. "Our market is Waterloo-Cedar Falls, Cedar Rapids, Iowa City. The biggest challenge is just educating people" about the service.
The company touts its environmental friendliness. "There's a strong emphasis on recycling, repurposing, donating and reselling," but its primary income is from collection charges, he said. "Our main concern is keeping it out of the landfill."
The enterprise has been up and running about five weeks; business has ebbed and flowed. It is anticipated to pick up in the spring, with spring cleaning and moving season. "We had 11 jobs in two days," at one point, he said, and has already had work in Iowa City, Cedar Rapids and Des Moines in addition to Waterloo-Cedar Falls.
Customers' needs and circumstances can vary. "We do a lot of people downsizing, people are selling their houses and have had stuff in the basement for years, spring cleaners, business with contractors getting rid of debris, landlords. A lot of it's just de-cluttering. It tends to be a slightly older customer; people that don't have the desire or ability to deal with stuff anymore."
Junk King has been featured on the A&E network program, "Hoarders."
"We haven't had anything too crazy yet. I'm sure it's coming," Marlin said. He told a story of a friend who purchased a house at a sheriff's sale a couple of years ago, only to find they couldn't get the door open from items packed against the door. "He said, 'We coulda used you two years ago.' It's a real thing."
In another situation, they helped an elderly woman with mobility issues who had sold her house and had to get items out of the basement. "We took a full truck of stuff out of the basement. She had no idea," Marlin said.
They have worked with the Salvation Army and Habitat for Humanity's Restore operation to find homes for lightly used furniture and other items and anticipate working with more.
"We're insured and licensed" for nonhazardous materials. "We're going to dispose of stuff properly, and beyond that, be good stewards with it and donate what we can, keep stuff out of the landfill." He hopes to have a Des Moines location opened by next year, with an additional truck and staffing in Waterloo-Cedar Falls.
More information may be obtained by calling locally at 250-2225 or toll free at (888) 888-5865 (JUNK).