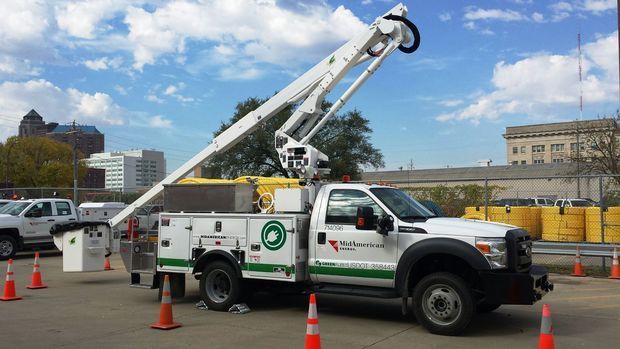 DES MOINES | The newest additions to MidAmerican Energy's fleet of service vehicles aren't the familiar blue-and-white trucks customers are used to seeing at work in their communities. These new trucks are green – not just in color, but also in the way they operate.
MidAmerican Energy's new Green Fleet service trucks are equipped with a conventional engine, plus a large battery pack that operates the boom and other vehicle features. This dual system eliminates the need to have the engine idling at the jobsite, which saves fuel, reduces engine emissions, minimizes jobsite noise and reduces the need for engine maintenance. The result is a service vehicle that is cleaner, quieter and less costly to operate, said Brian Knights, fleet program manager for MidAmerican Energy.
The JEMS AT40G – the official model name of MidAmerican Energy's Green Fleet vehicles – is manufactured by Altec. JEMS stands for Jobsite Energy Management System, an idle elimination system developed by Altec that uses an electrified power takeoff (ePTO) to operate the boom. In conventional service trucks, the boom that raises and lowers the bucket is powered by the vehicle's engine, which means the vehicle has to idle the entire time the bucket is in use at the jobsite.
Once the work shift is over, the Green Fleet vehicles are plugged in for eight hours of continuous charging so they're ready to go the next day. The trucks also are equipped with a second alternator that provides partial charging as the vehicles are driven between jobsites.