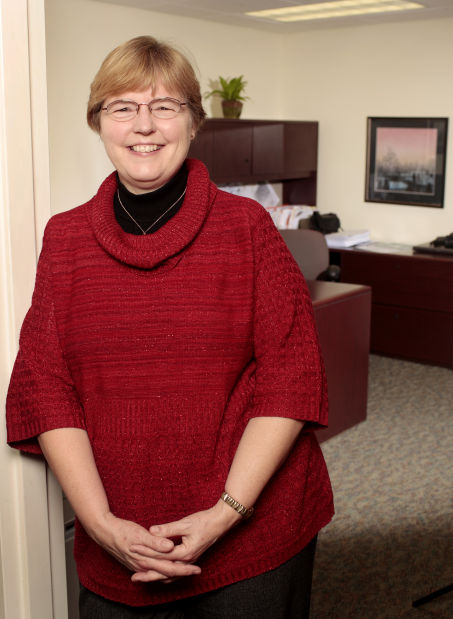 Part 2 of 5 in series focusing on The Courier's Finance Leadership Award winners for 2013.
WATERLOO, Iowa — Lisa Gates said her job revolves around the well-being of nearly 700 residents at Friendship Village and Landmark Commons as well as 70 residents at Rosewood Estate, which Friendship Village manages.
If winning The Courier's Finance Leadership Award in 2013 serves as a reminder that her priorities are in order, then it's all the better, she said.
"It was an acknowledgement that I'm doing the right thing for the residents. It's an acknowledgement of my career path," she said. "It's humbling."
Gates, 56, has been chief financial officer and assistant administrator at Friendship Village since May 1, 2000, but she has served the organization longer than that.
She had been on Friendship Village's board of directors since 1993 and resigned as board president to take on her current responsibilities.
"I'm proud of what I do and how I try to make their lives better," Gates said, referring to residents of the facilities.
Gates is a native of Santa Fe, N.M., and lived for a time in Honolulu, but for the last 39 years has called the Cedar Valley home, when she married her husband, Dan, who is from Waterloo. The couple have two daughters — Suzie, 36, and Katie, 34.
Principles Gates has applied to her job have gotten widespread application at home, she said.
"It's a commitment to do what is right and a value system that guides me," she said.
Gates earned a bachelor's degree in accounting in 1989 from the University of Northern Iowa. She also attended Des Moines Area Community College and secured a nursing administrative license in 2005.
Gates enjoys working with other directors at Friendship Village on initiatives that focus on budgeting and overall fiscal responsibility.
"I'm proud that I have a part in keeping the viability of Friendship Village strong, because it's all about the residents and their futures," Gates said.
It's also about staying one step ahead of the increasing demands of the health-care industry.
"My emphasis has to be seeing how the health care changes affect our residents," she said. "I need to stay abreast of what transpires there and how we're going to deal with those things in the future."
They are changes Gates can handle with aplomb, said Velda Phillips, a 41-year Friendship Village employee and 21-year administrator, who nominated Gates for the Finance Leadership Award.
"Lisa's leadership has moved the financial reporting from bookkeeping to accounting by implementing professional practices, monitoring and controlling the growth, as well as maintaining compliance with the new and changing requirements of nonprofit reporting and transparency," Phillips said on her nomination form. "Lisa's accounting credentials have allowed her to prepare many of the audit work papers for the annual certified financial audit, thereby lessening the burden on the outside audit firm."
Phillips also noted Gates began the process of training and assisting department managers to prepare their own preliminary budgets and then helping them analyze their monthly reports to enable them to track and modify performance.
Jane Shea, activity and event coordinator, also nominated Gates for the award.
"She is supportive of the other accounting people under her, and many of them have been here for several years also," Shea said. "She has been instrumental in hiring people to fill the other accounting needs that are also very knowledgeable in their areas. She is willing to work with all staff to understand their financial needs. She is supervisor over our switchboard employees also."
The business news you need
With a weekly newsletter looking back at local history.