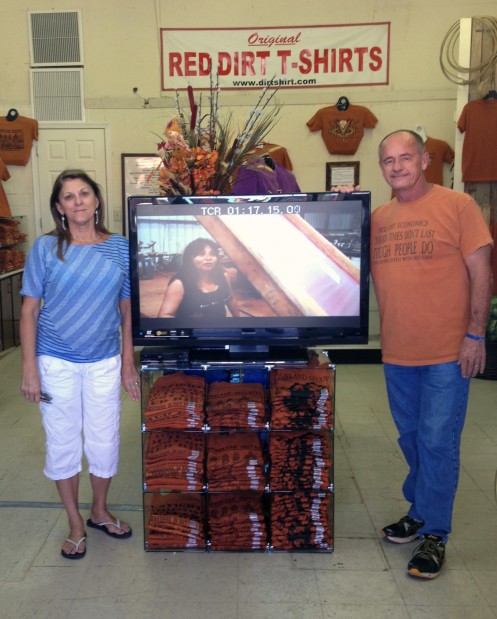 CEDAR FALLS, Iowa — When Randy Williams tells people what he does for a living, he gets some strange reactions.
"I dye stuff with dirt, but I do it really well. If I tell somebody that, it doesn't immediately ring that it's smart or successful. They're like, 'Why?'" said Williams, a Cedar Falls native, president of Paradise Sportswear and owner of the Original Red Dirt Shirt company.
The business began on Sept. 11, 1992, after Hurricane Iniki hit a screen-print T-shirt business on the Hawaiian island of Kauai and stained shirts with red dirt. The owner liked the effect and started dirt-dyeing shirts.
Williams, who graduated from Cedar Falls High School in 1972, had dabbled in different business ventures until beginning a T-shirt company in 1985.
In the late 1990s, he began traveling to Hawaii, where he met the owner of the Original Red Dirt Shirt.
"He told me about dirt-dyeing shirts after the 1992 hurricane. I teased him and said, 'It's because you're cheap, you're dyeing things with dirt.' Then after 9/11, tourism got so bad. He owed me some money, so I made a good deal with him and became major owner of the company," he said.
Williams has a facility in Mesa, Ariz., in addition to a manufacturing plant and retail store in Eleele, Kaui.
"We give tours, show the dirt-dyeing process. We give all our customers shaved ice and a shirt," he said.
The dyeing process involves putting white T-shirts in washing machines, shoveling in red dirt containing oxidized iron and adding vinegar. After the shirts are dyed, they have designs printed on them.
The Kauai factory produces about 10,000 shirts each month; the Mesa factory produces about 100,000 each month.
"We go for the handmade look. When you look at it, it's clearly not factory milled. That's what people want when buying souvenirs, a taste of or connection to the area," Williams said.
In 2009, the Discovery Channel featured Williams' business on "Dirty Jobs." Host Mike Rowe traveled to Hawaii to learn about the dirt-dyeing and screen-printing process.
"I thought he was a total TV guy, but he's a businessman. He thought our company would be an excellent company to do T-shirts for him. After the show, Mike said, 'Can we talk about this deal?'" Williams said.
"Last November he does a video and puts it on YouTube and has major hits. We know when he does it because we fill up with orders."
Retail stores are located in Hawaii; Scottsdale and Sedona, Ariz.; Durango, Colo.; and Moab, Utah. The newest store, in Tombstone, Ariz., opened in early October.
The business news you need
With a weekly newsletter looking back at local history.