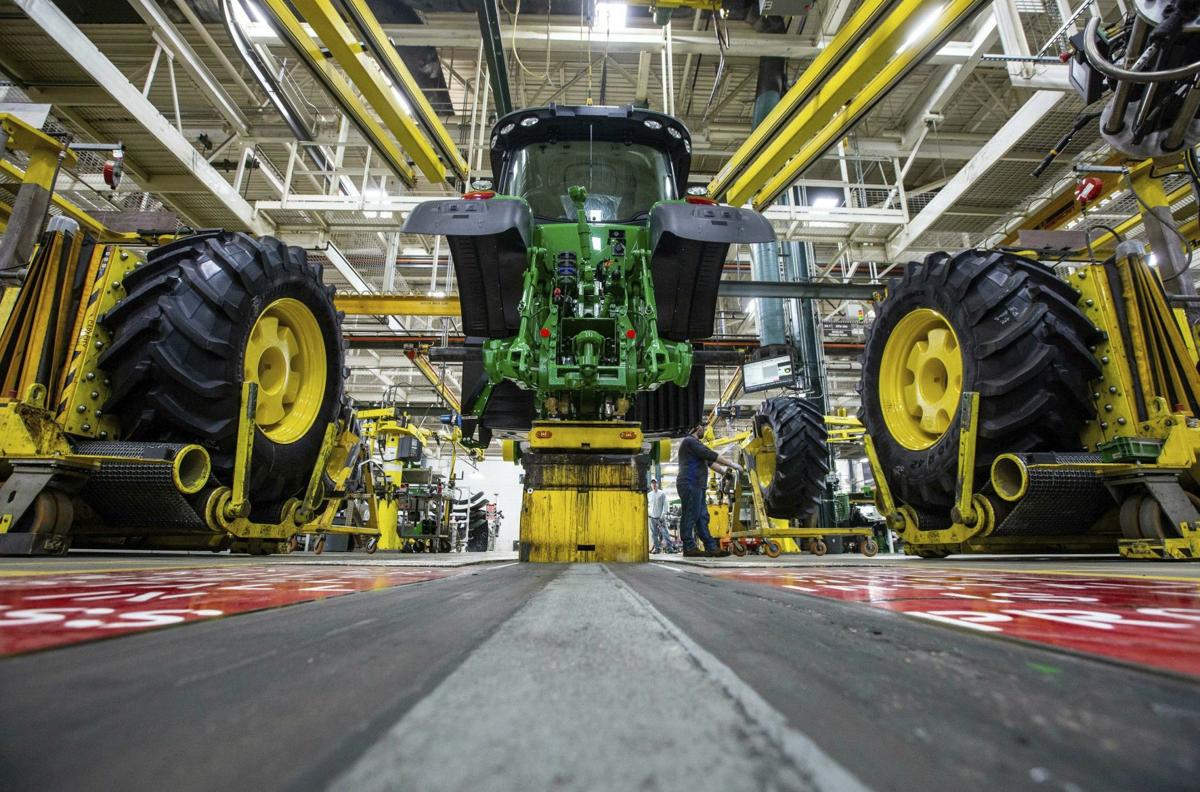 MOLINE, Ill. — Moline-based Deere & Co. rolled out a volunteer employee buyout program Wednesday.
The program was launched ahead of the company's fourth-quarter 2019 earnings call.
Ken Golden, Deere's director of global public relations, said the voluntary separation program is being offered to certain segments of Deere & Co.'s U.S. salaried employees. "Some employees working in precision technologies and other new product programs are examples of those who are not eligible. However, for those who are eligible, the program is offered to employees of all tenures of service," he said.
"Deere is deploying this voluntary separation program to create a leaner, more focused organization that is more agile and has the skills and competencies needed for the future."
Deere officials declined to comment on how many workers were offered the program or if there is a goal of how many employees will participate in it, Golden said.
Employees who received the offer can accept it until the end of the company's first quarter in fiscal year 2020, which began Nov. 1.
The buyout program is an extension of an earlier offering that happened for certain departments during the fourth quarter of fiscal 2019.
Deere last offered a buyout this broad in 2016, Golden said.
"Even though we're making adjustments for the future, this is the second-best net income in history," Golden said, noting the earnings from Deere's call Wednesday morning.
"That's quite an accomplishment in a year where we had so many uncertainties."
Mark Grywacheski, investor adviser with Quad-Cities Investment Group, said the combination of the production layoffs in October and the just-announced buyout package is a way Deere can control its costs.
"You have to look at what John Deere has been facing for over a year and a half now. With the U.S.-China trade dispute ... John Deere faces U.S. tariffs on imported steel and aluminum which increases its manufacturing costs," he said.
"Chinese tariffs on American goods make its equipment more expensive to buy in China thus reduces demands. Chinese traffic on American goods gives farmers less money to buy their equipment. (Deere is) trying to maintain a tighter cost structure."
Grywacheski, echoing Golden, said Deere's fourth-quarter earnings beat expectations, and the Moline-based global company reduced its forward guidance on what it expects for fiscal year 2020. That is likely due to the ongoing international trade war between the U.S. and China, as Deere's two core segments, agriculture and construction equipment, are affected.
"It's the higher cost John Deere faces and the impact on the agricultural industry," Grywacheski said.
The business news you need
With a weekly newsletter looking back at local history.