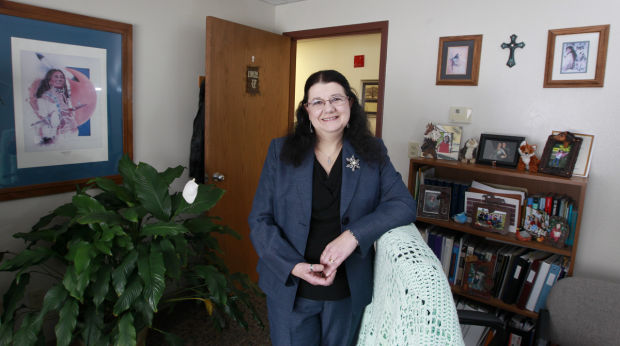 WATERLOO | For more than 20 years, as chief financial officer at Exceptional Persons Inc., Deb Jungling has felt a double dose of pressure.
There's the responsibility of managing tens of millions of dollars each year through reams of regulations, as well as seeing to the needs of clients over a multi-county area.
She does all that with ease, said Chris Sparks, EPI's chief executive officer, who nominated Jungling for The Courier's Finance Leadership Award.
"Deb has been the CFO of EPI for over 20 years and is a well-known and highly respected leader in the agency," Sparks said. "Deb constructs the annual budget -- with involvement by all supervisors -- for their respective departments and she actively manages our over 100 cost centers."
Jungling, 54, a native of Waterloo, manages a $20 million yearly budget, as well as a staff of 420 employees.
That's a lot at stake in one job, Sparks said.
"We need to make sure that all employees are sensitized to providing great service, as well as being fully accountable with taxpayer dollars," Sparks said.
The job also requires that Jungling ensures that others under her supervision know their roles well, Sparks said.
"Deb works with supervisors to help them understand the finances of the programs they manage so they might be empowered to more successfully do so," Sparks said. "When asked about agency finances, she often puts people at ease with the saying, 'the only stupid questions are the ones you don't ask,' and she gives of her time generously to all who ask for help."
Medicaid is EPI's primary funding source, and there are complex and restrictive cost-reporting rules that come with it. Jungling wades through all of that, Sparks said.
"Deb has made herself into an expert in the process, which has helped EPI to be successful financially and made her sought after as a participant in statewide work groups on funding and cost reporting," Sparks said. " As a nonprofit, our financial success allows us to remain competitive in compensating our 270 direct support workers, and Deb is a consistent and vocal advocate as we work to increase the pay for these vital workers. This has been invaluable in our recruitment and retention efforts."
The balancing act goes beyond EPI. Jungling earned a master's degree in business administration from the University of Northern Iowa, where, for the last eight years, she also has taught a course in managerial accounting. She also earned a bachelor's degree in accounting at UNI.
She says her job requires considerable passion and a capacity to several responsibilities at once.
"Of course, it's more about the service, but we need to be financially responsible," she said. "We've been here 57 years and need to be here another and beyond. We have to balance all that out. We have to be responsive to our customers, day care providers and parents. We need to be responsible to our employees. We recognized they need to be paid well. It's not just monetary resources, it's technology and employees. We need to pull in teamwork and collaborate with others so we make the most out of all the resources and focus on that quality."