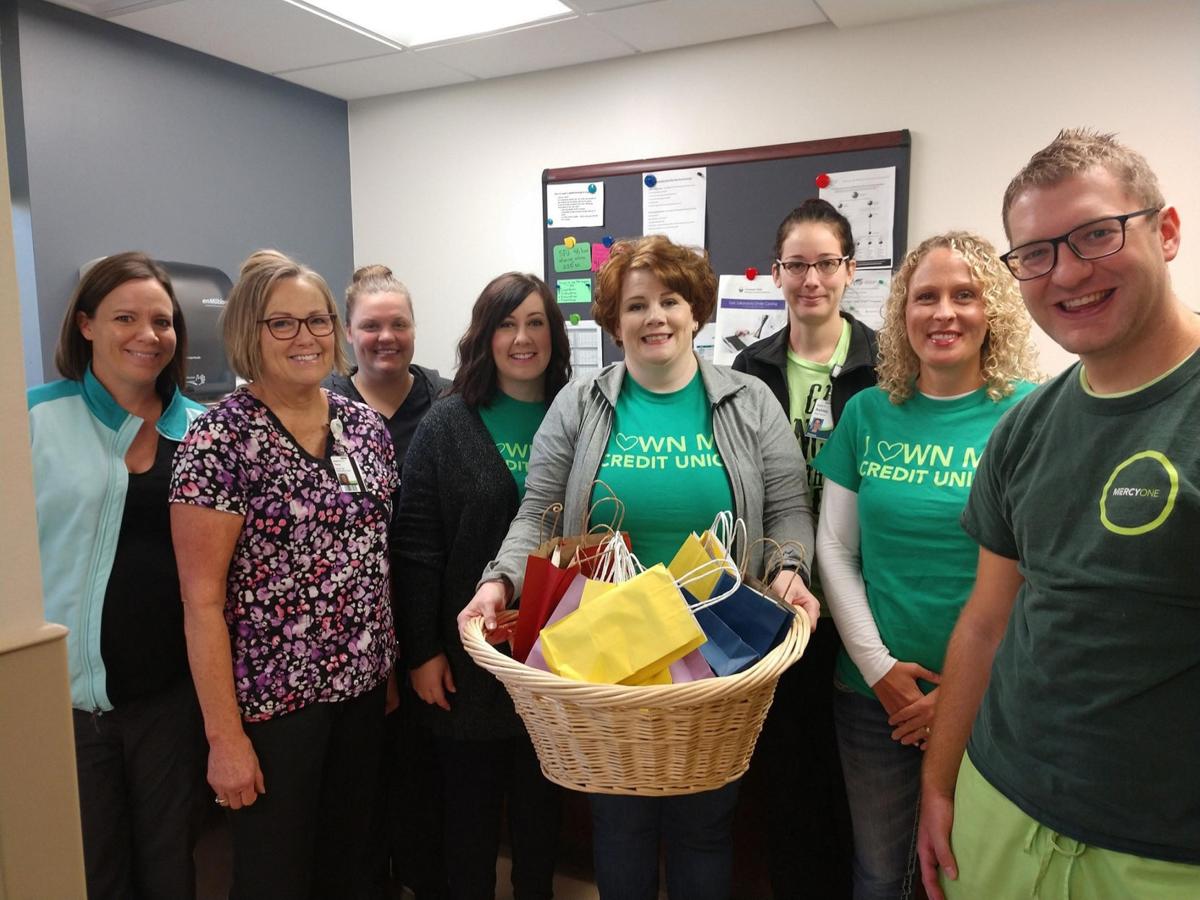 WATERLOO — Before new Veridian Credit Union employees learn their jobs, they're immersed in the financial institution's culture.
It's called the Veridian Experience. The two-day program emphasizes Veridian's mission, vision and values; the international credit union motto of "people helping people"; the difference between credit unions and banks; and more.
Betsy Meehan developed the program to help give new employees a baseline understanding of why Veridian's staffers are passionate about the credit union.
"This is an organization with heart and the desire to positively contribute to each of the 900 staff members, along with the communities in which they live, work and serve," says Meehan, manager of personnel and recruitment.
Sessions take place in Cedar Falls and Ankeny, providing participants with shared experiences, networking opportunities, institutional knowledge and connections to long-time staff. In addition, Veridian chief officers have lunch with new employees to get to know them and share information about themselves.
Monte Berg retired in July after five years as CEO and 30 working for the credit union. Longtime Chief Administrative Officer Renee Christoffer was tapped to replace him. She brings more than 25 years experience at Veridian to the role.
The transition took place while more than 500 of Veridian's 900 employees continued to work from home due to the ongoing COVID-19 public health crisis.
"Managing the credit union's response to the pandemic has really been a full-time job," says Christoffer. "We have had weekly management team meetings to get updates and monitor the situation. We also send daily emails to let staff know we're thinking about them and trying to keep them safe."
Members of Veridian's strategic team sent handwritten notes to employees, she adds, and staff also received contactless goodie boxes. Chief officers visited branches on Friday afternoons to display "thank you" signs to connect and keep in touch with staff members.
"At the forefront is a desire to have a personal touch," Christoffer explains.
Veridian employees are used to making direct connections with each other and members, Berg adds. Credit union managers have tried to find ways to fill voids left by social distancing and other precautions necessitated by the ongoing pandemic.
"Veridian has a workforce that's used to a high level of community engagement," Berg says. "With many of our projects, we tend to have many more volunteers step forward than we can accommodate. This year, the hands-on volunteer work isn't going to be possible — the annual Thanksgiving Dinner, Shred Days and other events."
The credit union's commitment to "people helping people" was especially evident during the pandemic, says Shawna Matz, vice president of talent development.
"Veridian has always been a wonderful organization that puts our members, employees and communities we serve first," says Matz, who has worked at Veridian for 24 years. "The quick action taken by our leaders to keep everyone's safety in the forefront while continuing to serve our members was second to none."
Training and development opportunities continue once employees are fully on the job, says Monte Berg.
"The Emerging Leaders Program is available to employees with aspirations to move up within the credit union," he explains. "It gives employees a chance to connect with an internal mentor and expose themselves to various ways to attend a Management Team meeting and other opportunities to explore what it takes to
In less than a decade, Veridian Credit Union has expanded into new markets, offered new financial products and services to members and increased earnings.
For some employees, that comes in the form of financial security during difficult times.
In addition, employees regularly receive reminders that hard work is noticed and appreciated.
Veridian employees are quick to list competitive compensation packages, cross-training and continuing education, paid volunteers hours and much more.
Engagement is key, said Berg. It starts with telling the story when new employees join the credit union team.
Fun is a keyword for all employees, said nominators. At Veridian, it often includes a service component.
Each year, the credit union offers each employee up to 12 paid volunteer hours for an organization of their choosing. In work spaces, there are theme days, such as "Flip Flop Friday" and "Take a Selfie Day."
On International Credit Union Day in October, each branch or department received a budget to fund random acts of kindness within their areas. Activities included donations to charitable organizations and food delivery to to teachers and first responders.
"Service is a big part of what we do as a credit union, and that includes service to each other and to the communities in which we live and work," said Berg. "The constant underlying piece focuses on how we work together — how we help each other and how we communicate with each other."
After 30 years at Veridian, Berg retired in July.
The business news you need
With a weekly newsletter looking back at local history.