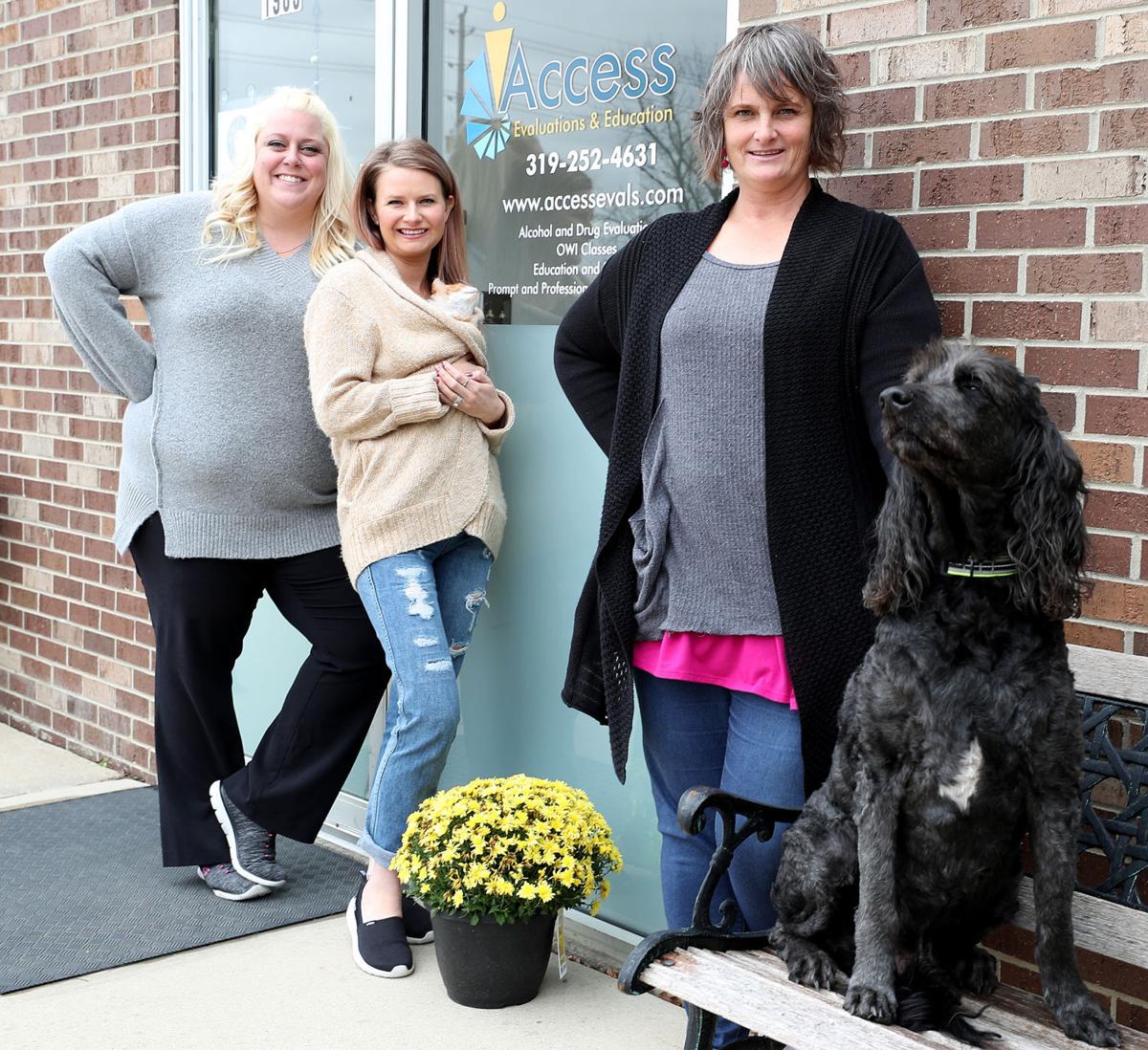 WATERLOO — From a college student trying to kick a vaping habit to an older adult in a nursing home with an alcohol addiction, Access — a smaller substance-use treatment center — is now in a position to help them all.
The center, tucked behind an access road off of West Ridgeway Avenue, hasn't advertised their services much, said Amy Bonebrake, an addictions counselor, noting she only began Access in May 2017 and their staff is small — just two full-time and one part-time counselors, plus full-time office manager Ashley Youngblood.
Nevertheless, Access has been quietly ramping up their services in different parts of the Cedar Valley, with two new locations to serve special populations: One is inside the University of Northern Iowa Student Health Center to serve college students, and another is at a Cedar Falls nursing facility to help older adults. (The nursing facility declined to be named or go on the record for this article.)
"One of the most hidden populations of people that are struggling are older adults," Bonebrake said. "Body mass decreases as we age, liver function decreases ... but people still drink to the same amount."
Access counselors are at UNI every Tuesday by appointment only. Jennifer Schneiderman, director of UNI's counseling center, said another metro-area treatment center had been working with the university in years past, but Access got a one-year contract with them beginning this semester.
Students may have had run-ins with law enforcement and have court-ordered treatment to complete. Others have come to the conclusion they need help kicking an addiction, said Schneiderman.
"Sometimes it's a requirement of them to seek that treatment. Sometimes they're just doing that on their own, which we love to see," she said.
Bonebrake said the biggest substance abuse issue continues to be alcohol, but one of the bigger issues with college students these days is vape pens, which she said can have extremely high percentages of THC — the psychoactive chemical in marijuana.
"It is creating huge issues with psychosis, depression, problems functioning, withdrawals," she said. "And you can't tell what someone is using when they're vaping" because there's no smell.
Most of Access's work involves what Bonebrake calls "court-involved individuals" — those who are mandated by judges or probation officers to complete treatment after an OWI, public intoxication or drug arrest — and those people need to hold down a steady job to stay out of jail. They're not a nonprofit, but take private insurance and Medicaid, Bonebrake said.
So Access staff takes that into consideration when scheduling treatment, like holding group sessions on weekends or evenings, and even holding "tele-health" sessions online for those with transportation or child-care barriers.
"Kind of what sets this place apart is how client-focused they are," said Cara Boubin, an Access addictions counselor who used to work at the Independence Mental Health Institute. "Working for a larger institution (like MHI), to see how Amy goes above and beyond. ... We try to open it up and make it accessible."
For those that do come into the Waterloo office, two comfort animals — Dustin, a 13-year-old goldendoodle, and Oliver, an orange-and-white kitten Bonebrake said has a hypoallergenic coat — help ease clients when they walk in the door. Clients are also encouraged to bring their own pets.
"To go get an evaluation, you already feel bad and worried people are going to judge you — there's such a social stigma" surrounding addiction, Bonebrake said. "I've had people say, 'Your dog just hanging out made me feel so much more comfortable."
Once the pets work their magic, staff does the rest, Boubin said.
"A lot of people walk in so anxious and afraid of being judged, and feel relaxed walking out the door," Boubin said. "We help them achieve all sorts of goals and barriers to overcome."