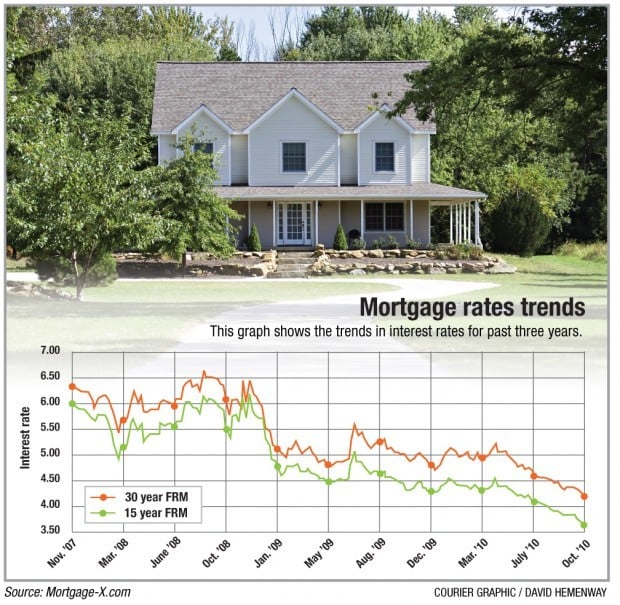 WATERLOO, Iowa --- Interest rates that, for borrowers with clean credit ratings, dipped below 4 percent, have caused a flurry of refinancing activity and, in many cases, have prompted homeowners to cut 30-year mortgages to 15-year plans.
The change from just two years ago has gotten plenty of attention. The last time mortgage rates were above 6 percent was November 2008. At that time, the average rate was 6.33 percent, meaning a $200,000 loan would have carried a monthly payment of $1,241.86. With the average rate at 4.71 percent last week, the monthly payment for the same size loan would be $1,038.48, a savings of $203 per month for a homeowner refinancing now.
"We have seen a marked increase in refinancing activity," said Steve Tscherter, president and CEO of Lincoln Savings Bank in Reinbeck.
The Johnston-based Iowa Bank Mortgages Corp. is reporting 70 to 80 percent of secondary market business this year has been in the refinancing arena.
"They will have their second-highest year of dollar volume of mortgaged ever produced - the first being last year," Tscherter said.
Lincoln Savings has "beefed up" its secondary market mortgage department - the process of taking applications and packaging them for sale to buyers "upstream" - this year in order to handle the increased volume, Tscherter added.
Valley Bank in Cedar Falls has seen similar increases this year, said Bill Tye, a mortgage planning specialist with the bank.
"There has been a lot of traffic; everybody's doing it," Tye said.
After the U.S. Federal Reserve Board came out with its second "quantitative easing", QE2, plan to purchase $600 billion in U.S. Treasury Bonds as a way to keep interest rates low and energize the inflation rate to an ideal of 2 percent, rates began to trend upward.
According to Bankrate.com, rates started to edge up in late November and again last week, with the average rate on the benchmark conforming 30-year fixed mortgage rate rising to 4.89 percent Dec. 9, according to Bankrate.com's weekly national survey. The average 30-year fixed mortgage has an average of 0.36 discount and origination points. Rates were maintaining those levels last week.
"Although they have trailed up with the QE2 having some effect on the Treasury market and then on mortgage rates, they're still very attractive, and there's been pretty strong refi activity in last six months," said Joe Vich, CEO of Community National Bank in Waterloo. "I'd guess everybody is experiencing more activity than normal."
The average 15-year fixed mortgage increased to 4.26 percent, and the larger jumbo 30-year fixed rate did as well, settling at 5.39 percent. Adjustable-rate mortgages also were on the rise, with the average five-year ARM climbing to 3.85 percent and the average seven-year ARM jumping to 4.22 percent.
Many homeowners are jumping on the lower rates to shorten the terms of their loans from 30 to 15 years, said Peggy Doerge, vice president of mortgage lending at MidWestOne Bank.
"There's' a been a lot of that because there's been a fairly significant spread between the two rates," Doerge said. "It's been about a half percent, sometimes a little more . It starts to be more affordable."
BankIowa in Waterloo reported a "record-breaking month" for refinancing activity in November, said Wade Itzen, president of the Waterloo-Cedar Falls markets for the bank.
"We never had more refinancing, dollar-wise than in November," he said. "Obviously, a large part of that is low interest rates. December is a real busy month for us for a closing schedule. We're kind of hoping it carries over into 2011."
Waterloo-based Veridian Credit Union also reported record years for mortgage applications in 2009 and 2010, but traffic has leveled off of late, said Lynn Widdel, vice president of lending.
"Interest rates have slightly increased recently, causing refinance applications to return to normal levels," she said.
Brad Condon, a mortgage loan officer with BankIowa, said he had seen a notable increase in applicants looking to trim their loans from 30 to 15 years.
"I almost had a stretch where I wasn't doing a 30," he said. "Everybody who walked in the door wanted to do a 15."
There's a catch with all this activity though, bankers warn. Credit standards are tougher, and some applicants are being turned away. Condon said others aren't even bothering to apply.
"A couple of things changed this year, and one is they've startd raising the credit score minimum," Condon said. "Fannie Mae and Freddie Mac eliminated several types of loans they were doing (for consumers) with marginal credit."
Fannie Mae has raised its minimum credit standards, in the wake of the mortgage crisis of a couple of years ago, Condon said.
"You pretty much have to have a 640 credit score to get financed," he said. "That's probably 60 points higher than a year ago."
Consumers need to consider whether refinancing makes sense for their needs, Itzen said. The new rate, he said, has to be low enough to justify the expense of redoing a loan.
"I'd say 1 percent is a good number, but there are other factors," he said. "I've got a few that were higher-dollar loan amounts that there was less than 1 percent difference, but it made a lot of sense to them for a long peroiod of time."
Condon said short-timers probably shouldn't bother with refinancing.
"If you've got somebody that's not going to be in their house very long, it doesn't make sense," he said.
"By working with your lender you should determine your break-even point - where you realize a savings from a lower monthly payment vs. the closing costs you pay in obtaining the loan," Widdel said. "The more your interest rate declines by refinancing, the faster you break even. Borrowers with larger mortgages reach the break-even point faster than borrowers with small mortgages."