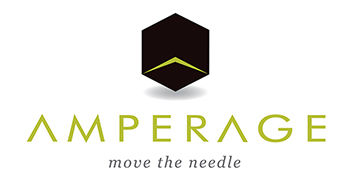 CEDAR FALLS | One of the largest advertising agencies in the Cedar Valley is merging with a Cedar Rapids-based competitor.
Cedar Falls-based ME&V Advertising + Consulting and Cedar Rapids-based Henry Russell Bruce announced Monday they had signed a definitive agreement to merge April 1 under a new banner: Amperage.
The merged company will be based in Cedar Falls and employ more than 50 people. ME&V currently employs 36 or 37 workers, by the estimate of partner Bryan Earnest, who co-founded the company with Mark Mathis and Dee Vandeventer in 1996.
Vandeventer is selling her partnership but will continue with the firm, Earnest said.
Both agencies have a combined client roster numbering more than 200 across 10 states and total $33 million in capitalized billing yearly, Earnest said.
The two companies have been looking into a merger for about a year as a way to grow those receipts, Earnest said.
"Greater depths is the bigger thing for our clients," Earnest said. "Quite often, work we had would be really piling on, with one specialist on an area. Now, with combined strength, we certainly can do that. There's greater strength in branding, marketing and, certainly, digital. This is an opportunity to accelerate that growth."
The Cedar Falls office, at 6711 Chancellor Drive in the city's industrial park, will head up the new operation, Earnest said.
"It also is home to our in-house video production studio," he said, noting that HRB has no such facilities.
Earnest will be president of the new entity. Others leading the company will be Jim Thebeau, CEO at HRB and Steve Erickson, president and executive creative director at HRB, along with Jim Infelt, ME&V partner and creative director, and Mark Mathis, ME&V partner.
The combined company offers branding, marketing, public relations and advertising services primarily in health care, higher education, banking, corporate communications and nonprofit fundraising.
Vandeventer will focus on fundraising efforts, Earnest said.
"We're very fortunate to have her continue with her passion in fundraising and research strategic planning work she has been doing for her career," Earnest said.
Business is moving toward more integrated marketing and communications. That was a driver in the merger, Earnest said.
The alliance will create one of the largest advertising agencies in eastern Iowa, Earnest said.
The company will have locations in Bettendorf and Des Moines, as well as Cedar Falls and Cedar Rapids.
"This alliance allows us to leverage skills and talent in ways that will greatly benefit our clients," Thebeau said in a news release.
The business news you need
With a weekly newsletter looking back at local history.