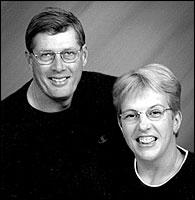 IONIA — Rick and Linda Drewelow will celebrate their 25th wedding anniversary with a dance TIME Saturday at Kolbys Stein and Dine, New Hampton.
Mr. Drewelow and Linda Dietz were married June 15, 1980, at St. John Lutheran Church, Nashua.
You have free articles remaining.
He is a dairy farmer and also plays in Wichita and Jubilee bands CHECK, and she is a nurse at Hospice of North Iowa.
Hosting the event will be their four children, Amanda of Pleasant Hill, Adam and Brooke Stumme of Fredericksburg, and Aaron and Andy, both at home.
The couple request no gifts.