WATERLOO — The Waterloo Black Hawks opened the 2017-18 United States Hockey League season with a pair of impressive road wins.
Saturday night, Dubuque turned the tables on the Black Hawks. One night after Waterloo blanked the Fighting Saints on their home ice, Dubuque spoiled the Black Hawks' home opener at Young Arena, 1-0.
With neither team finding a way to drive the puck home through 40 minutes of play, it was a quick, power-play slapshot by Saints forward Cole Guttman in the first two minutes of the third stanza that proved to be the difference.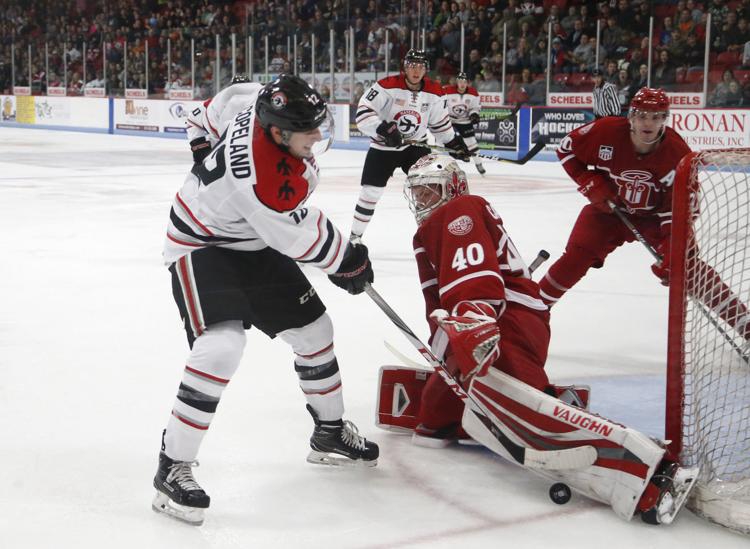 "We are still a work in progress and that is what we are right now," Black Hawks coach P.K. O'Handley said. "We had some offensive opportunities that we didn't score on, and we had some players that did not make some plays when we needed to, but this is a tough league. It is early and like I said, we are a work in progress."
A sluggish start for the Hawks kept the puck in the Saints' offensive end for the better part of the opening frame as the home team was out shot 9-6.
A quick whistle at 4:45 of second period denied Waterloo the first goal of the contest.
The Hawks couldn't convert a five-minute power-play, either, after Dubuque's Roman Kinal was ejected for a cross checking major. Fighting Saints goaltender Jaxson Castor was up to task, turning away eight shots during the shorthanded situation.
"This is a hard league and we just have to find ways to score," O'Handley said. "We couldn't capitalize on our chances and we couldn't find a way to get the puck in the net."
Black Hawks goalie Jared Moe was just as tough between the pipes as his counterpart, with the exception of Guttman's tally. Moe knocked down 23 of the 24 shots he faced, but with the offense struggling to score, one goal was all that was needed.
"You cannot fault the defense," O'Handley added. "We only gave up one goal and we got what we got. We lost 1-0 and the world isn't going to end and the sun is going to come up tomorrow. It is only game three of the season."
FIRST PERIOD — No scoring. Penalties—None.
SECOND PERIOD — No scoring. Penalties—Roman Kinal, Dub. (cross checking) 4:45, Kinal, Dub. (game misconduct) 4:45.
THIRD PERIOD — 1. Dubuque, Cole Guttman (Jonatan Asplund, Alex Steeves) 2:27, pp. Penalties—Michael Ferrandino, Wat. (holding) 1:37, James Marooney, Wat. (tripping) 17:47, Chayse Primeau, Dub. (unsportsmanlike conduct) 17:47.
Goaltenders—Dubuque, Jaxon Castor (26 saves), Waterloo, Jared Moe (23 saves).
Officials—Referee, Ian Jendro. Linesmen, Neil Frederickson and Nick Klinkhammer. Att.—2,813.