WATERLOO — It is a different group, but the objective never changes for the Waterloo Black Hawks.
Coming off their second consecutive Western Division finals appearance, the Black Hawks are set to open the 2017-18 United States Hockey League season Saturday at Sioux Falls.
Gone are some very familiar faces, Nick Swaney, Shane Bowers and Mikey Anderson. But after a strong 4-2-1 preseason, Waterloo plans on being in the mix for a Western Division playoff spot.
However, the process has just started for the Black Hawks.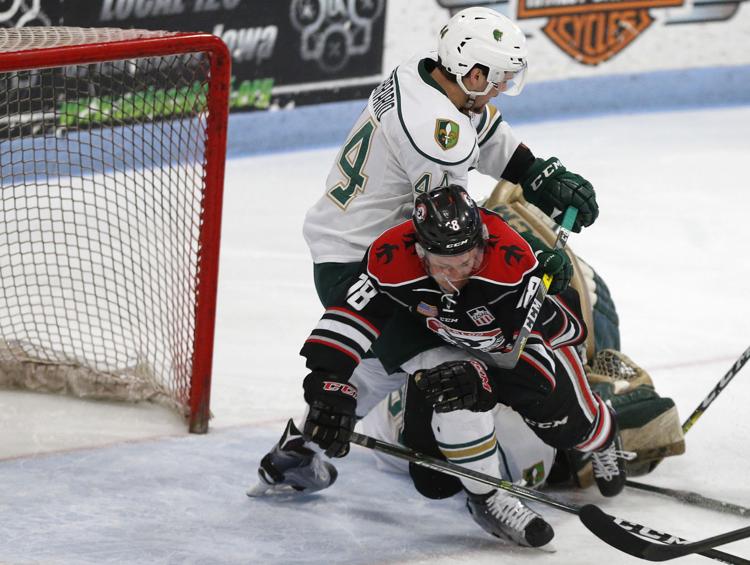 "I think I learned a lot from the older guys last year," second-year forward Jack Drury said. "Nick Swaney, Shane Bowers, Mike Anderson ... and we want to carry that success we had in the regular season and build off it. We have a different group, but a really deep group so I think if can keep focusing on getting our structure better, special teams better and stick to the process as a team we can be a pretty good group this season."
Drury, one of 11 returning players, figures to be a central figure in Waterloo's drive to be one of the UHSL's contenders.
A year ago, as one of the youngest players on the Black Hawks' roster, Drury appeared in 44 regular-season games notching four goals and eight assists, and was one of Waterloo's top defensive faceoff centers.
The Harvard commit has had a huge offseason leading the U.S. Under-18 Select team with five points in four games at the Ivan Hlinka Memorial Cup in Czech Republic, and assisting on a goal at USA Hockey's All-American Prospects Game in Buffalo last month.
"I think Jack is evolving," said Black Hawks head coach P.K. O'Handley of Drury. "First of all I think he wants it. Second he has taken the time to understand how to practice, the commitment it takes to be consistent and I'm not surprised he is emerging. That is a great thing for him, a great thing for us."
While Waterloo lost a ton of scoring from 2016-17, it returns several other key veterans including Garrett Wait, who had 10 goals and 28 assists a year ago. And then there is Jackson Cates, Ethan Johnson and Ben Copeland, whom O'Handley felt was his best line during the playoffs last year.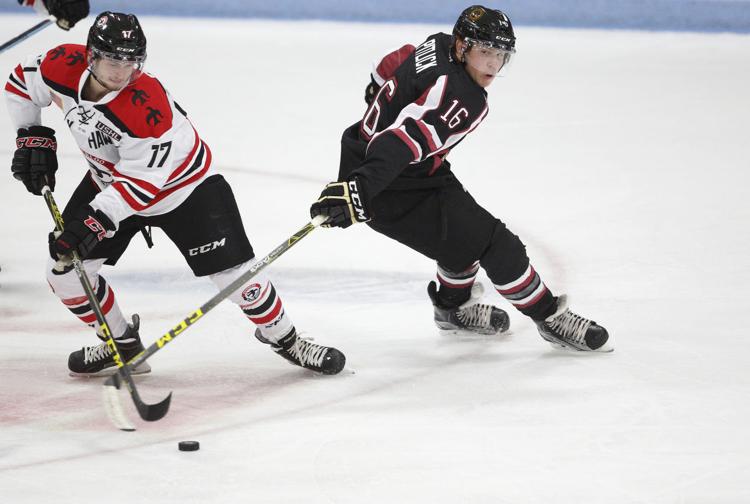 On defense, Hank Sorensen, Michael Ferrandino, Peter Tabor, Mason Palmer and Hunter Lellig all appeared in games for the Black Hawks a season ago.
"From a forward standpoint, we have some guys with some get up and go, but you have to execute at that tempo consistently," O'Handley said. "Defensively, we are probably one or two guys shy at least point, but we have guys who are working at it."
In net, Waterloo will rely on former North Dakota goalie Matej Tomek and 18-year old Jared Moe.
"Those guys are working hard to put their arms around what it means to play in the USHL," O'Handley said of his goalies.
Among the newcomers to keep an eye on are Waterloo's top pick in Phase II of the USHL Entry Draft Sam Huff of Maple Grove, Minn., brother's Kyle Koopman, a defenseman, and Matt Koopman, a forward, forward Robert Trivigno, defenseman James Marooney, and Czech forward Matej Blumel are a few that have jumped out early.
"Bobby Trivigno is not a big guy, but he is lightning fast and plays like a 6-foot-3 guy," O'Handley said. "I really like Blumel. I think he can be a tremendous player when he learns the North American game. I think the twins (Kyle and Matt) have been really good, they have a little sandpaper to their game, and Marooney has all the ability to be a high-end defenseman in this league, he just needs some time."
Waterloo will also get a boost in November when former National Development Team Member Jay Cassetti becomes available as he recovers from an offseason injury.
As excited as he is about his young players, O'Handley says success in USHL starts with every team's veteran guys.
"The challenge is with any veteran player you have to deliver on your deliverables," O'Handley said. "That is got to be consistent. Right now that is their challenge.
"We have to have somebody get us out of the blocks and get us to a point where I can say we are close. Right now we are still trying to find consistency and still trying to find identity that meshes."
Waterloo's home opener is Oct 14 against Dubuque.