WATERLOO — The wins were a bonus for the Waterloo Black Hawks.
The United States Hockey League preseason started over the weekend, and while the Black Hawks picked up a pair of victories over Des Moines, that wasn't the most important thing in the eyes of head coach P.K. O'Handley.
"I think for us we are certainly a work in progress," O'Handley said. "That is to be expected. Our culture here is important and that is the first few days where you are trying to find elements of our culture that are intangible —- working hard, being aggressive, being relentless and staying on things.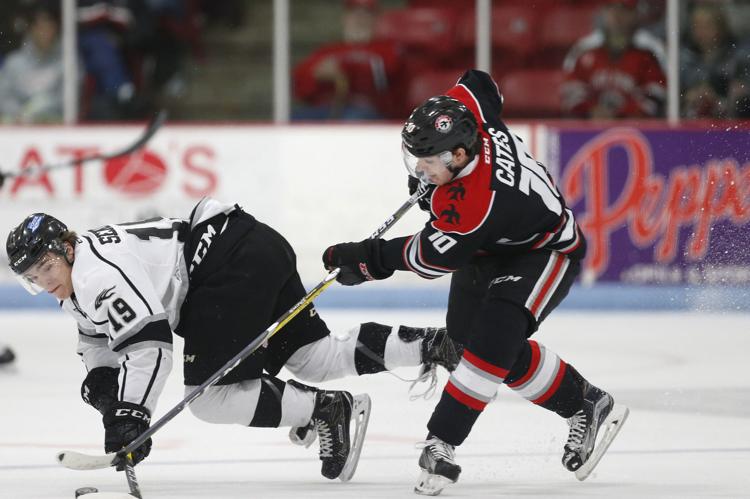 "It is those things along with going back to square one, and that is fundamentals."
After losing in the Western Division finals last season, Waterloo is also searching for new leaders with the loss of standouts like Nick Swaney, Shane Bowers and Mikey Anderson.
O'Handley says veterans such as Jackson Cates, Ethan Johnson, Ben Copeland and Jack Drury will be important to that process.
"On paper, those guys should emerge up front and should lead us," O'Handley said. "The finished last season strong because they worked hard and were really diligent in getting to that point. Their challenge internally as a group and individually is to maintain that work ethic and push to be elite."
Waterloo will have two new goaltenders.
As of now, it appears that former North Dakota goalie Matej Tomek will be Waterloo's new No. 1, with 18-year-old rookie Jared Moe backing him up. Tomek posted a shutout on Friday against Des Moines, while a night later Moe stopped 24 of 25 shots he faced.
"Matej should be our No. 1 guy and he has the experience that would say that," O'Handley said. "I think Moe has been exceptional. Two capable guys. It is hard to play goalie here and they have to lead our team and give us a chance to win."
Defensively, Waterloo returns several veterans — Hank Sorensen, Mason Palmer, Michael Ferrandino and Peter Tabor — while newcomers James Marooney and Kyle Koopman, along with Waterloo native Hunter Lellig, also figure into the picture.
"We don't have Mikey Anderson or Grant Gabriele back there, but we certainly have guys who have played minutes, major minutes and have been in situations," O'Handley said. "We are hopeful those guys can defend and get us out of the zone."
The preseason games continue Friday when Cedar Rapids visits Young Arena.
"I'm not looking for perfect," O'Handley said. "As a staff we told the players going into this that we have almost a month to be ready for when it counts. I'd like to see elements of our structure in every game, but I also want to feel the intangibles, see the intangibles and that is really what I'm looking for."