Preps of the Week: 2017-2018
Each Prep of the Week for the 2017-2018 school year:
Prep of the week: It's all about wins for Cedar Falls' record-setting Mahi
CEDAR FALLS — Tayah Mahi's first memories of competition on a volleyball court came tagging along with members of the University of Oklahoma team coached by her parents, Kalani and Chris.
"The girls loved me there," Mahi said. "I would always play and mess around with them. That introduced me to the sport.
"What inspires me to play is the passion my parents have for it and I just want to make them proud."
When Tayah's dad, Kalani, landed a job on Bobbi Petersen's staff as a setting coach for the University of Northern Iowa, the future collegiate setter couldn't haven't dreamed of finding a better volleyball home.
The UNI volleyball commit is now a high school senior closing in on 4,000 career assists. It's the product of working within a successful Cedar Falls program that includes three classmates committed to NCAA Division I volleyball schools, and another committed to play basketball at UNI.
In total, Cedar Falls' top five attackers are all averaging between 2 and 2.6 kills per set. Instead of feeding one or two hot hands, Mahi knows she has the luxury of reading the opposing defense and finding whoever has the clearest path to a kill.
"It's such a blessing," Mahi said. "Honestly, I think about it probably every time. I can go anywhere and know that girl can put the ball away. They all have such an aggressive mindset and they all want to win. It's just nice to play with such competitive weapons."
Cedar Falls coach Matt Johnson credits Mahi's ability to spread the ball around and maximize the talent within her team.
"She's got great hands and has developed the ability to set different tempo," Johnson said. "She seems to have a very good understanding of where the ball needs to go and when. She's in a situation where she's got a lot of hitters and she can use match-ups and make some decisions herself where the ball goes. We put a lot on her to make some of those decisions on her own."
With 3,965 career assists, Mahi is likely to become just the fourth Iowa high school setter to reach the 4,000 milestone in the past 10 years. It's safe to assume, however, wins are the only numbers that she's been tracking.
"I didn't know that," Mahi responded, when asked what the upcoming individual milestone would mean to her. "That would be really cool. I honestly thought I hadn't even reached 2,000 yet."
Mahi, along with classmates Taylor Lynch, Grace Burken and Claire Gerdes, have competed at the varsity level since their freshman year. It's a core group that has shown growth from reaching the regional finals their first season, to qualifying for state the next, and then finishing runner-up after playing in the championship match a year ago.
"When we played together since we were freshmen, we hung out together," Mahi said. "That made us a ton closer. One by one, everyone else started to join the team from our class. We did grow a lot closer. Volleyball is what made us best friends."
Last weekend, the Tigers' senior class crossed another impressive accomplishment off their list by adding to a Mississippi Valley Conference regular-season divisional title with an MVC tournament championship in the same season. Saturday's championship run included wins over four of the top eight teams in the Class 4A and 5A rankings.
Working alongside so many driven teammates with aspirations of chasing down an elusive state title, Mahi enters her fourth postseason confident this group has what it takes to reach its ultimate goal.
"I just want to stay as focused as possible and keep pushing as hard as we can and keep playing like we can play," Mahi said. "Sometimes it gets to postseason and everyone is kind of tired. But I think we're a team that can come into postseason and take all of the experience we've got from the regular season and use it and push harder."
Following in the footsteps of two parents who played volleyball at Graceland University, Mahi credits both as mentors in the sport. Her mom serves as her current club coach where Tayah supplemented her indoor skills with success in beach volleyball.
In addition to having her dad as a position coach at UNI, Mahi says she's looking forward to joining a successful collegiate program head coach Petersen, assistant Kim Davis and director of operations Michelle Coulter have also helped build.
"At first I didn't know if I wanted to stay at home or not," Mahi said. "But then I was like, 'OK, I have such an amazing program here where the coaching staff is like family, so why wouldn't I want to stay here?' I'm really excited to be able to play for my dad again. I love to be coached by him. I love how intense he is and I love the feedback that he gives."
Preps of the week: Kuhlman, Schrader lead Wapsie Valley's charge to postseason
FAIRBANK — A dynamic duo within a determined senior class has helped lead one of Iowa high school football's most storied small-school programs back to prominence.
Class A's No. 5-ranked Wapsie Valley (7-0) opened the season with wins over a pair of potential Class 1A playoff teams in Denver and South Winneshiek before taking the driver's seat with wins over the top three challengers in a competitive district filled with hard-nosed physicality.
Contact is something Wapsie Valley's fourth-year starter Jake Kuhlman has embraced. He's accumulated 536 rushing yards and seven touchdowns at an average of 5.2 per carry, while leading the team with 41 tackles, seven for loss.
Fellow senior Colin Schrader has added game-changing playmaking ability. Covering the opposition's top receiver, Schrader ranks among the state leaders with five interceptions — including a pick six that sparked his team against Denver. He's also run for 667 yards and six touchdowns, surpassing 100 yards in each of those key showdowns with the district's playoff contenders.
"They've just been amazing players, offensively and defensively," said Tony Foster, who coached Wapsie Valley to the program's fourth and fifth state championships in 2007 and 2012. "They both are guys that are never going to miss any kind of workout and they're going to expect the other guys to do the same. They just give everything they've got. Their intensity and effort is outstanding."
With Wapsie Valley most recently reaching the state semifinals in 2013, this large senior class has yet to experience a game inside the UNI-Dome. Kuhlman and Schrader are among five seniors who have played varsity since they were sophomores.
"We thought we were a Dome team going into the season and we still have that expectation," Kuhlman said. "It's been a dream of mine forever."
Schrader credits the team's work ethic as a key to the growth. They endured rare losing seasons as freshmen and sophomores before being eliminated by a Saint Ansgar squad that reached the state semifinals in last year's playoffs.
"Our team has really come together," Schrader said. "Throughout the summer we had one group lifting session so we'd all be together and we've kept that going.
"We're all really close friends. It helps on the field because we know how to act around each other and we know when somebody needs help, and we'll go help."
Schrader and Kuhlman each point toward the growth of their offensive linemen and the development of a stronger passing game as keys to their success rushing the football.
Foster feels their contributions on defense have been just as, if not more, valuable.
"In my opinion, Jake is one of the best linebackers in the state," Foster said. "It's amazing the way he gets to the ball.
"Colin has a knack to use his hips, always has vision of the ball and is never out of position. He's a wrestler who understands how to do takedowns and he doesn't miss tackles. He can just flat out cover."
One word emphasizes how these Warriors view defense.
"Every time we break the huddle on defense, we always say, 'Pride,'" Kuhlman related. "That's our thing. We take pride in letting minimal yards happen on the run game, especially, and our secondary goes a great job."
Trust has been built through years of friendship.
"I like that everybody does their own job," Schrader said. "It makes it so you don't have to worry about the other people because you know they'll get it done."
With postseason play just around the corner, Wapsie Valley's veteran players are determined to leave their mark.
"I'd say the commitment and heart," Kuhlman responded, when asked what makes this team unique. "We have 14, 15 seniors out. In Class A football, that's pretty good. Everybody loves the game and we all want to go really far and get to the Dome."
Prep of the week: Willis comes into her own at Grundy Center
GRUNDY CENTER — Kylie Willis grew up as one of Grundy Center volleyball's biggest fans.
With her mom, Lori, serving as an assistant coach on Darwin Sents' staff, Kylie watched athletes like Heather Hook, Samantha Meyers and Riley Sents lead the Spartans to five consecutive state tournament appearances before joining NCAA Division I programs.
Once Kylie reached high school, Lori took over the head coaching job. The eldest of three Willis children has worked alongside her mom and a talented group of teammates to leave their own mark within Grundy Center's tradition of volleyball success.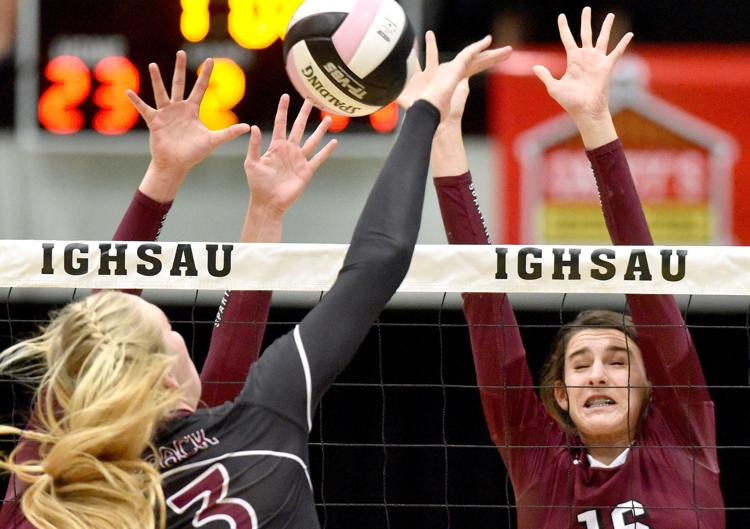 "I always looked up to all the girls my mom was coaching and I just felt a connection with volleyball," Kylie Willis said. "It was very motivational. ... They were such good role-models and had a good attitude showing us how a Spartan volleyballer plays. That was the expectation, so you wanted to fulfill it and not let them down and keep the Spartan tradition going."
The Spartans followed last season's breakthrough run to the state tournament, with a roster filled by underclassmen, by jumping out to an 18-0 start with a pair of weekend tournament championships this season.
Willis leads Class 2A's No. 3-ranked team (28-4) with 2.85 kills on .468 hitting from her middle hitter position. She also serves at a 94 percent efficiency and averages 0.79 blocks a set and 2.08 digs as a five-rotation contributor.
Lori Willis admits that well-rounded skill set isn't something that came easily to her daughter, whom she initially tried to steer toward basketball in order to find her own passion. While Kylie and her classmates began playing volleyball in fourth grade, she didn't serve in matches until seventh grade and the thought of her playing back row wasn't on the radar.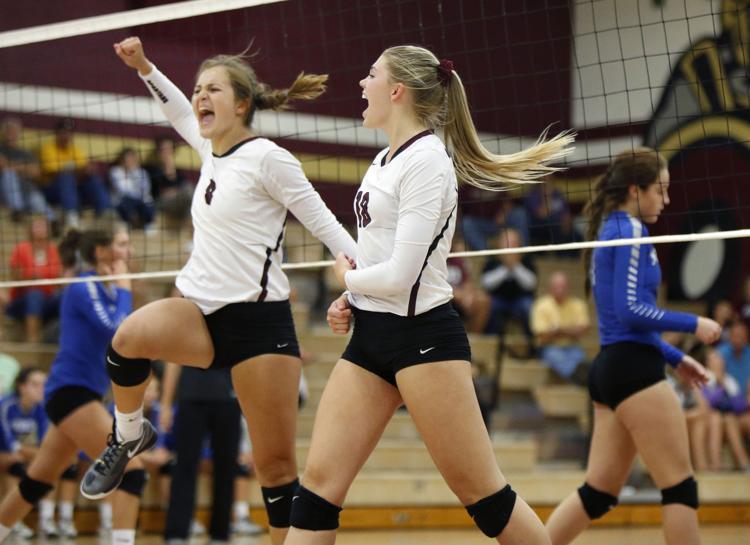 "The biggest blessing she received was the fact that she was uncoordinated," Lori Willis said. "It made her work harder. It didn't come to her naturally so she had to put in the extra time. ... She's put in a lot of practice and a lot of grit to get where she is right now."
Kylie credits the opportunity to work with coaches Liz Plum, Brian Lepa and Jay Grassley with the Six Pack club program entering her eighth grade year as another vital key to her development.
"They saw a lot of potential in me and if it wasn't for them I wouldn't be the player I am today," she said.
Willis has enjoyed working alongside a cohesive and athletic group of friends who started playing basketball together in third grade and then added volleyball to their repertoire.
"My teammates are wonderful," Kylie said. "They're always pushing me and we're pushing each other. They are all really good athletes. We have such a close friendship, no drama on the court, and that just makes for a wonderful year. You can just focus on the game and have fun."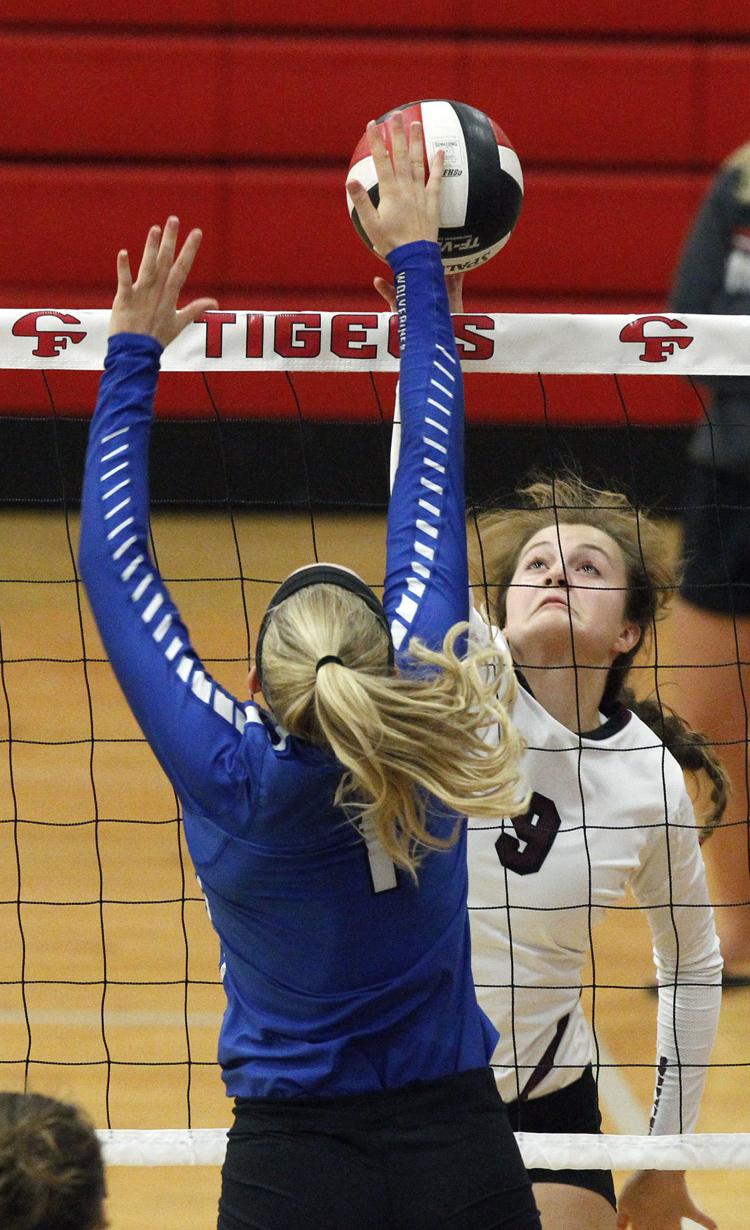 Lori Willis characterizes the group as driven and unselfish. She knows she can push them hard as they work to reach their potential.
"They don't give up," Lori Willis said. "The best way to describe it is they just get it. They get competition. They get what it takes to be a team. It really drives them.
"Not only do they want to be the best players that they can be, but they want to be the best player for the team. They just enjoy being a part of something that is bigger than themselves."
Grundy Center entered this week two matches away from extending a win streak over NICL West opponents to nine consecutive years. The Spartans are coming off a weekend tournament in which they recorded a narrow win over 3A's No. 7 Osage and battled 5A's No. 4 Cedar Rapids Jefferson to the wire before losing in the semifinals.
While living with her coach isn't always easy, Kylie wouldn't trade these high school years for anything.
"It's been a struggle sometimes being a coach's kid," she admits. "You're always getting coached at, even when you go home, at practice, during games, it's never-ending. But I truly wouldn't change it because it's brought me and my mom closer and we can share that passion together. It's something we will always cherish."
Beyond high school, Kylie is looking toward an opportunity to play collegiate volleyball. She's already drawn interest from multiple NCAA Division II programs and still has two postseasons of high school volleyball left to continue to make her mark on the program she grew up idolizing.
"It would mean the world to me that I'm able to keep pursuing what I love and knowing that I'm able to play in college," Kylie Willis said. "Since I was young, I've been clumsy. I've never had all the coordination. All my hard work will eventually pay off if I'm able to play at the college level."
Prep of the week: Thede makes his mark at Gladbrook-Reinbeck
REINBECK — Walker Thede's introduction to high school football was less than glamorous.
A shy, undersized scout team quarterback, he took his share of licks during practice, trying to keep faith he'd have an opportunity to become a difference-maker down the road.
"Freshman year, coming in I was extremely shy, I wasn't able to talk to anyone," Thede recalls. "It was day after day, getting hit and hit. I did start to wonder if come around senior year I'd be able to be big enough to compete against everyone else."
A well-timed growth spurt prior to his sophomore year helped Thede become a contributor in what has been a run of success across multiple sports at Gladbrook-Reinbeck High School.
The five-sport athlete has been a member of programs that have reached state in baseball, soccer, basketball and football during his high school years. Thede grew from the scout team to a sophomore starting cornerback on a state championship football squad. That title run was followed with an undefeated 2016 season and a perfect 5-0 start to this 2017 campaign.
"I remember being out on the field when the final buzzer went off," Thede said, reflecting back on his first state title. "I looked over to one of my best friends, Hunter Lott, and I was able to tell him that we finally did it. It's something we always talked about."
Thede has played almost every possible role within a team, from a dynamic forward on the soccer pitch to a supporting role-player on the hardcourt where 2017 Mr. Basketball Joe Smoldt lit up the scoreboard.
"It seems too good to be true, but it's even more stressful having good team after good team, because at some point you start to feel a lot of responsibility on yourself," Thede said. "At the same time, it's so much fun. Track meets and soccer games, you meet so many new people. ... I appreciate everything my coaches have done for me."
Gladbrook-Reinbeck coach John Olson certainly feels Thede has brought a lot to his football program's winning culture.
"This year he plays free safety and outside linebacker for us," Olson said. "He's a senior and knows what's going on. He's pretty smart, he has great instincts, not to mention unbelievable speed and quickness. He returned four punts and a kickoff for a touchdown last year.
"Everything I said about him so far is second to how good he is as a receiver. He has good route-running skills, and he adjusts awesome to the ball in the air."
After ranking fourth on last year's undefeated team in receiving yardage, Thede and fellow senior receiver Matt Johannsen have benefited from a more pass-focused offense this season. Thede has 20 catches for 441 yards and five scores for Class A's No. 2-ranked Rebels, while Johanssen has hauled in 15 receptions for 395 yards and seven touchdowns. Thede also averages 10.5 yards per rush with two touchdowns on 17 carries.
During Friday's 38-13 win over B-G-M, Thede turned five receptions into 212 yards and three scores and added a field goal. Seth Gretillat is also in the mix within a corps of receivers that has bonded with Lott at quarterback.
"We all grew up together," said Thede, who entered high school after playing on undefeated teams at every level of youth football. "Us and Hunter, we've all become extremely close friends. I think that is able to keep us going and make some connections that a lot of teams don't have."
Inspired by his dad, Barry, who works as a Youth Sports Foundation coach, Walker Thede is active throughout his school district. He'll go from practice over to Gladbrook to work the JV football chain gang and watch his sophomore brother Eli compete.
Thede also helps announce YSF games, refs flag flootball, line judges or works scoreboard for volleyball matches and assists at cross country meets. The once shy high school freshman is now working to inspire younger children in the community.
"All the sports achievements and stuff are great, but what I take pride in is being a role model to these younger kids," said Thede, who plans to major in engineering and play football or soccer at the collegiate level. "There's a lot of kids that come up to me and yell out my name and give me a high five. A lot of it is because I love to be involved in my community.
"I'm extremely proud of how far this team has come and our community, all together. I wouldn't trade these four years I've been here for the world."
Prep of the Week: Gillett's decision-making ignites potent Cedar Falls offense
CEDAR FALLS — Luke Gillett's first taste of varsity football was barely enough to whet the appetite.
After completing just three full games at the start of his junior season, the Cedar Falls quarterback has feasted on opposition through the first four games of his senior campaign.
Gillett has passed for 777 yards with completions on 63 percent of his throws and 10 touchdowns with no interceptions. His surgically repaired knee has added 207 rushing yards and two scores as Class 4A's No. 6 Cedar Falls (3-1) has surpassed 30 points each week against a collection of teams that own a combined 11-1 record in games not involving the Tigers.
Toughness is just one trait that complements Gillett's physical gifts. When he suffered an injury to his kneecap at the end of his sophomore basketball season, Gillett was told the recovery time from immediate surgery would cost him his entire junior football campaign.
Once he was advised damage to his knee wouldn't get any worse, Gillett postponed the operation — allowing him to get his first varsity starts at the quarterback position.
"I didn't want to miss my junior season," Gillett said. "I wanted to get some varsity experience under my belt.
"Going into it, I knew there was a small chance I would make it through the entire season. I felt that if I could just get in there for a couple games, get a couple wins for my team, that they'd be able to handle it with things off to a good start."
After Gillett's knee was twisted on the second series against Western Dubuque, it was decided at that point surgery would be the best option. Gillett underwent medial patella-femoral ligament (MPFL) reconstruction and spent two days each week for the next six months in physical therapy, working toward a return that allowed him to finish out last spring's track season.
"It just says a lot about him and his character," Cedar Falls coach Brad Remmert said. "It's not easy coming back from any injury, especially one where it's six months of rehabilitation. He stayed the course, did a great job of rehabbing. I think a lot of kids saw the work he was putting in to get himself ready and that motivated them to work harder."
Physical talent has always been part of Gillett's profile. Remmert praised his athleticism as the main factor that allowed him to win the starting role at the quarterback position entering his junior season. His speed and agility is paired with a strong arm that can the complete deep balls, outs and corner routes, complemented by the touch to hit targets underneath.
It's Gillett's mental growth, however, that has allowed this year's Cedar Falls offense to maximize its talented personnel.
Post-snap, Gillett quickly checks off his targets with big-play weapon Blake Chirstensen joining Logan Wolf, Dalton Closson, Jackson Frericks and Jakob Courbat with at least five receptions. Racing to the edge, he also makes the split-second choice on whether to keep or pitch the football to standout running back Sam Gary on option rushes that have become more effective.
Perhaps most impressive is what occurs pre-snap. Gillett walks to the line of scrimmage with the entire playbook at his disposal.
"We probably have given Luke more freedom to change up plays than we have with many of our quarterbacks in the past," Cedar Falls coach Brad Remmert said. "He's able to get us out of bad plays."
Gillett credits feedback from his receivers as part of what allows the audibles to be so successful.
"Last year I could only check a few plays," Gillett said. "This year I think it's a huge component to be able to call a play from the line of scrimmage.
"You never really think about how much control you can put in somebody until you give them the full playbook at the line of scrimmage. I'm able to walk up there, and depending on what I see, change to whatever play I want."
Character and poise are traits Gillett says he's learned from one of his earliest role-models — grandfather Arvil Stille, a former Drake football star and World War II veteran. Gillett has applied the lessons learned from Stille, who passed away in 2011, to football and his everyday life.
"I can remember playing games with him and if I didn't win, I'd throw a fit," Gillett recalls. "He's always be like, 'You can't be a sore loser.' He kind of kept my head on straight. It was all about character. ... Just treat people with respect and always give 100 percent."
At a recruiting disadvantage after missing the majority of his junior season, Gillett is starting to pick up some buzz from college programs. He recently went on a visit to Winona State and Remmert feels he'll have plenty of options by season's end.
"Somebody is going to end up with a pretty good football player," Remmert said. "I think he can play at a very high level. As he continues to make the throws he's shown he can make on a consistent basis, I think the looks are going to get only better."
Prep of the week: Columbus' Sinnott ready to paint her 1,000th kill
WATERLOO — The manner in which Anna Sinnott attacks the volleyball could be considered a work of art.
"She probably has one of the most beautiful approaches I've ever seen," Waterloo Columbus coach Hanna Nuss said of her returning all-stater. "It's just long and rhythmic and perfect. You can't even teach it that way."
It won't be long before one of the Waterloo Columbus senior outside hitter's masterpieces reaches a coveted milestone.
Sinnott will take 987 career kills into La Porte City for Thursday's North Iowa Cedar League triangular with Union and Jesup. She's reached that total in little over two seasons, after playing just 45 sets as a freshman.
"Going into high school, I didn't really expect that or realize that could happen," Sinnott admits. "Being close (to 1,000 kills) early in the season is unbelievable and such a great feeling that I'm going to be able to accomplish that in my high school career."
Similar to many girls that play her position, Sinnott is quick to point out success doesn't come without resilience. She finished better than any player in Class 2A a year ago with a state-high 473 kills, and is averaging 4.12 kills per set on .279 hitting for this year's squad that has won back-to-back tournament championships at Mount Vernon and Iowa City West.
"You get defeated a lot when you're an outside hitter, especially with big blockers. You just have to learn to stay positive," Sinnott said. "It teaches me to just shake things off and move on , set an example for my team that if I do get blocked or hit a ball out I need to focus on the next point. Focus on giving it my all and doing my part."
Sinnott certainly hasn't had to look far to find role models on the volleyball court. Her older cousin, Ashlee Sinnott, was a multi-sport standout at Columbus who went on to become a regular in the University of Northern Iowa's volleyball rotation.
"She just showed me what hard work meant," Anna Sinnott said of her cousin's influence. "If you want to get something then you need to work hard for it. If you set your mind to it, you can really accomplish anything you want."
Landry Luhring, a senior leader on Grundy Center's 16-0 team, helped introduce Anna to competitive volleyball. They were 12-year-olds in the same gymnastics class when Luhring suggested Sinnott go with her to a club tryout one night after practice.
"I went with her and I've been playing ever since," Sinnott recalls. "I just really liked playing as a team rather than doing something as an individual."
Former teammate Lauren McManus was another valuable influence for Sinnott. They played the same position, and Sinnott credited the senior leader of last year's team as someone who demonstrated how to develop unity and hold each other accountable.
As Sinnott's confidence rose her junior year, the Sailors went on an incredible late-season run. Columbus returned to the state tournament for the second time in as many seasons and reached the finals as a team ranked outside the Top 10.
"She had to build her own confidence and show everybody else that she's somebody they can ride on," Nuss said. "Especially last year, she just came on at the end and decided that she was going to be that player. As soon as she made that turn, she decided that she was going to be unstoppable and hasn't looked back since."
One of the highlights for Sinnott early this season came last weekend. She and another senior rejoined the team for Saturday's tournament at Iowa City West following morning ACT testing.
Newcomers had stepped into their roles and the Sailors didn't miss a beat. Sinnott rejoined her teammates toward the end of pool play and tallied double-digit kill totals during three-set wins over rated opponents Mount Vernon, West Des Moines Dowling and Iowa City West.
"We got there mid-match of one of the pool play games and we got to see how they blended together without us," Sinnott said. "It's cool to see the future of the program and how they react to that kind of pressure. They just did great all around and stepped up this weekend."
Beyond high school volleyball, Sinnott is still undecided when it comes to college volleyball. She's spoken with a couple programs, but hasn't gone on any visits to this point. Academically, she says she'd like to pursue a degree in OB nursing.
Nuss knows her senior has already made a lasting impact with a high school program that is looking to win a state title after losing in last year's finals.
"Anytime you can have a kid that's top anything in the state it's going to grow your program," Nuss said. "It's going to have kids sitting in the bleachers dreaming that one day they'll be like Anna Sinnott. That's exactly what we need to put Columbus volleyball back where it should be."
Prep of the week: Perseverance pays off for East, Gordon
WATERLOO — One game into the 2016 football season, Tyrell Gordon was looking for an exit.
Losing can take a toll on even the toughest athletes, and Waterloo East's running back and linebacker was no exception. A familiar winless season came to a premature end that year when there weren't enough healthy bodies to field a team the final week. The Trojans' losing streak dating back to the 2012 playoffs stood intact.
"After the first week last year I didn't want to do it anymore," said Gordon, who went on to rush for a team-high 547 yards. "Before this season started, I still didn't want to do it.
"My wrestling coaches were basically telling me, 'You wouldn't quit wrestling, so why would you quit football?' I think it kind of made me more mentally tough, so I won't quit whenever something gets hard."
That perseverance finally paid off Friday night when East snapped a 37-game losing streak with a convincing, 38-0 season-opening win over Des Moines North.
Gordon rushed six times for 47 yards during the victory, including a 22-yard touchdown run that opened the second-half scoring. His first game following a move from linebacker to defensive end was a success, as well, with East holding North to 51 yards in the first half of a shutout effort.
Afterward, the scene in the locker room at Waterloo's Memorial Stadium was one of pure elation. Seniors celebrated a victory years in the making while a group of underclassmen opened their careers 1-0.
Gordon isn't ready to say mission accomplished just yet. He's quick to point out North graduated plenty of senior starters from the two-win team that beat East by 35 points a year ago. A win Friday over a Newton squad that opened with a 42-7 victory at Ottumwa would prove something, he added.
Still, there's a different vibe within this East High group.
"There was more intensity in practices," Gordon said, addressing the preseason workouts. "Everyone there wanted to get better where last year they were kind of there to be there."
When Xavier Leonard took over as East's head coach prior to last season, he recalls Gordon wouldn't say much in practice but he'd do every drill full speed.
"He'll just do what's asked of him," Leonard said. "You say run through a wall, he's going to run through the wall.
"When I first met the young man he was definitely a quiet, soft-spoken young man, well-built, great wrestler, team leader as far as what you've got to do on the field and in the classroom. He's constantly in the weight room. He's a great young man from a great family background."
Even while his junior football season ended in disappointment, Gordon's disciplined approach led to a breakthrough run on the wrestling mats that winter. He placed fourth at 182 pounds in his state debut, and went on to Fargo freestyle nationals over the past summer and finished fifth.
Colleges from Northern Iowa to Iowa State, Northern Illinois, Campbell and North Carolina have expressed interest in Gordon joining their wrestling programs.
He's received added confidence from East alum and former collegiate national wrestling champion Kyven Gadson, who stopped by the weight room to work out prior to this football season.
"We met when I was in eighth grade," Gordon said. "He's such a good role-model and we became closer and closer friends since then. It adds a lot. ... It's cool to know he came from the same place I do."
On the football field, Leonard has handed Gordon a new challenge with the move from linebacker to his hand on the ground at defensive end.
"He's able to help keep stuff contained and he runs around the field very well," the East coach said. "He's strong at the point of attack with his wrestling background."
Gordon also embraces contact on offense.
"He's a hard-nosed runner," Leonard added. "He'll try to run kids over, but he does have speed. He brings a physical presence."
Realizing one win is just one step in the right direction, Gordon is eager to see how this year's team reacts whenever its first taste of adversity arrives.
"Just seeing how we handle a loss," Gordon responded, when asked about the keys to changing the culture of the football program. "They were super excited to win, but if we can lose a game and come back and win the next one, I think that will be huge."
In addition to pursuing an opportunity to wrestling at the collegiate level, Gordon is eyeing a potential career in the field of criminal justice or homeland security.
"I just don't want to sit in a desk all day," he said. "I just want to be out doing something. I feel like that's what I'd have the most fun at."