Preps of the Week: 2017-2018
Each Prep of the Week for the 2017-2018 school year:
Prep of the week: Sumner-Fredericksburg senior Allen delivers strong closing kick
SUMNER — A compressed week of track and field meets brought out the best in Krayton Allen.
The Sumner-Fredericksburg senior was the fastest girl on the track last week as she followed up four event titles in Monday's North Iowa Cedar League East meet with four additional wins during Thursday's state qualifier in Osage. Her workload included the open 100, 200 and anchor legs on Sumner-Fredericksburg's 4x100 and 4x200 relays.
"I knew I could do it and I just told myself I had do it because this is my last year and I wanted to go all out," Allen said. "Winning eight championships in a week was really exciting. I was really proud of myself and my teammates, too."
Allen's championship efforts headlined the first conference and regional team wins in the history of a Cougars track and field program that has risen to new heights during her high school years. This week, she hopes to run down her first Class 2A state championship.
"I've always had a dream of being a state champion, but now I just have to make it happen," Allen added.
The sprinter's top state finish entering this season was a runner-up effort to Madrid's Rylan Santi in last year's 100-meter race. Allen is the top returner in that event this spring, and as clocked the second-fastest 2A time of 12.63 behind AHSTW freshman Cara Comer's 12.57. Her top 200-meter time ranks third, while she joins Hana Wedemeier, Jordan Burrows and Ivy Hirsch on 4x100 and 4x200 relays that have produced 2A's fastest qualifying times.
"I feel like every time we run a relay, I don't have to worry about us dropping a baton or false starting," Allen said. "We're all very confident in each other and we all believe in each other."
Allen ran on 4x200 relays that placed seventh as a freshman and fifth as a sophomore, while the team has seen athletes help expand the variety of point scoring options in relay and field events over the past two years.
"She has a great, outgoing personality," Sumner-Fredericksburg coach Steve Kalous said of Allen. "She leads the team by that. She's the kind of person you want to be around and they just enjoy spending time with her. ... She's a hard worker and does everything you want."
Allen is also a multi-year, all-state softball selection and basketball player who grew up embracing distance runs.
"Every summer, every day, I'd go for a long distance run," she recalls. "I'm not much of a long distance runner, but I somehow loved to go for runs."
While she's become accustomed to sprinting past her opposition on the track, Allen also gravitated back towards distance running when she opted to go out for cross country over volleyball the past two years.
"There was never a day where I didn't leave practice happy," Allen said. "Running three miles wasn't the most fun thing to do, but our teammates and coach, Mrs. (Linda) Wright, was awesome. She definitely made it fun and enjoyable for everyone."
A natural on the track, Kalous says Allen has put in the time to get the most out of her ability.
"It helps to be talented in sprinting, but she also works very hard," Kalous said. "She puts in the time and effort and she works on the little things. ... She's a very good starter."
Beyond high school, Allen plans to join the Hawkeye Community College track and field team before transferring to UNI to major in elementary education. Celebrating a relay title with her teammates this week would be the dream finish to a high school track and field career filled with victories.
"My favorite thing is just how close we all are," Allen said. "It would be hard to be as confident going in there knowing that we have to win without having a team that's close.
"We're just all so close that we can put each other in our places, but we can also have a lot of fun with it. I'm really grateful for this year's team and how far we've all come."
Prep of the week: Gilles' finishing kick elevates Hudson soccer
HUDSON — Tristin Gilles saw limited playing time as a sophomore during Hudson's run to the Class 2A state soccer semifinals.
Looking toward the future, the midfielder set about becoming a difference-maker.
Gilles broke out with 10 goals and five assists on last year's team that lost in the substate final, 4-3, to eventual state semifinalist Iowa Falls-Alden. The skilled senior leads this year's No. 10-ranked Pirates with 13 goals to go with six assists through 12 matches.
That scoring total is sixth among Class 2A's leaders and includes the game-winner over host Waverly-Shell Rock in the finals of Saturday's W-SR Tournament.
"His determination to be a leader was right after 2016," Hudson coach Sue Rink said. "He's just evolved. He was a captain last year and this year, and his leadership has been amazing. When things are not going the right way, you can count on Tristin to take his play up a level and take his character traits up even higher."
Gilles, who says he started to gravitate toward soccer as his favorite sport by age seven, has spent the past two offseasons supplementing high school competition with play on a Cedar Valley Soccer Club select team.
"It improved my skills, soccer smarts and leadership," Gilles said. "I thought taking that into my junior year definitely gave me a lot of confidence."
After only graduating two seniors from last year's 13-5 team, Gilles feels this year's team has become more skilled, stronger and faster.
Gilles has been a key catalyst as a center midfielder capable of rotating into a striking position. Rink describes him as an unselfish player who knows when to take on an opposing defender and when to pass the ball off. That awareness transfers over to defense where he has shown an ability to fall back and start a counter-attack by intercepting passes.
In addition to soccer, Gilles is among a few players on the team that also compete in wrestling. Adding to the soccer program's winning culture are members of Union and Hudson's football teams that reached the state semifinals and finals, respectively.
"The mindset you have to have in wrestling can translate into any sport," Gilles said. "You've got to work hard and you might not always have your teammates with you because you're always by yourself on the mat.
"From a physical standpoint that helped me get into shape and I know it helped get some other teammates in shape for the season. ... We're definitely a team full of winners, so everybody knows what it's like, especially going into postseason."
Momentum is certainly building within a team that Rink says has some of the best chemistry of any group she's coached. During last weekend's tournament championship, Gilles scored the game-winner on a through ball from sophomore Brayden Grosse that he struck with his left foot and buried into the back of the net.
"That was pure determination and discipline," Rink recalled.
With a rematch against Waverly-Shell Rock potentially looming in substate, Gilles is eager to see what his team is capable of this postseason. He feels team confidence and self belief is one trait that has carried over from Hudson United's most recent state soccer run.
"I'm looking forward to seeing where we can take the postseason," Gilles added. "I know we've got the talent and skill level to go all the way so I'm excited to see what we can do."
Following his senior season at Hudson, Gilles plans to continue his education and soccer career at Central College.
"It will be a very good fit for him," Rink said. "He'll work all summer long on being conditioned and ready to go. He's just soaking it all in."
Prep of the week: Campbell embraces leadership role for No. 2-ranked Go-Hawks
WAVERLY — Sarah Campbell says she was half joking, half serious when she suggested her Waverly-Shell Rock team shovel the soccer field prior to this season's opener against Union in a rematch of a state tournament contest from a year ago.
Moments later, Campbell and her teammates found themselves working together to create an outdoor practice opportunity. That teamwork has continued throughout the season as Class 2A's No. 2-ranked W-SR has built a 7-0 record with four wins over ranked opponents.
"The shoveling, it really brought us together," said Campbell, who has joined fellow senior captain Miranda Kurtt in helping organize team bonding and conditioning workouts. "I feel like it really showed us that everyone is willing to put in the work because we all really wanted to get outside.
"It was hard work, but it was a lot of fun and rewarding because we got to practice right before Union (a 5-1 win in a rematch of an opening-round 2017 state tournament loss)."
For W-SR coach Lauren Bauer, it was another moment that revealed how dedicated this year's Go-Hawks are toward continuing the program's tradition of success.
"I just think that speaks volumes for the team," Bauer said. "The seniors have stepped up and all of a sudden they're out at the soccer field shoveling because they want to get outside and they want to play soccer.
"All the girls really take pride in the fact that we've had a strong tradition of soccer at Waverly. I think their desire and urge to be a part of that and continue to build on that tradition has really helped set them apart."
Campbell, a fourth-year contributor, says she looked up to the varsity soccer girls in town when she first gravitated toward the sport. Her older sister, Zoey, was a sophomore on the Go-Hawks team that reached the state finals prior to her freshman season.
W-SR has continued annual trips to state all three of Sarah's seasons on the team.
"When I was younger, I wanted to be that player, I wanted to go to state and experience all that stuff," Campbell recalls. "It's a lot of fun knowing that we have the whole town around us, supporting us."
The passion Campbell displays for soccer has been evident since she joined her first team at age eight. She played for a U-12 travel program in Cedar Rapids to test herself against stronger regional competition and has been playing with the Olympic Development Program in Des Moines over the past five years. Campbell also joined the Ankeny-based Iowa Rush for the first time this past year.
"I think when you get pushed hard and have good outcomes come out of it, it's really rewarding," Campbell said. "There were times where I didn't want to travel anymore. I got sick of the two-hour drives (to practice). I came home late and had to do all that school work. But it was rewarding and helped me become the person and soccer player that I am today."
On the soccer pitch, Campbell has played everything from outside defender to forward and attacking midfielder.
"She's a very dynamic player and just really knows the game well and knows how to put herself in the right place at the right time," Bauer said. "Defensively, she's great at communicating and patient. She's very good at getting into the attack, as well, even into the defensive third which is something that is pretty special about her."
After ranking among the team leaders with 13 goals and 13 assists a season ago, Campbell continues to be a valuable distributor this spring with five assists. Freshman Kenzie Roling has added a new dimension within the Go-Hawks' attack as the naturally dominant forward has scored 11 goals to date.
After graduation, the middle of three children from a soccer family — younger brother Noah is a sophomore on the W-SR boys' team — plans to continue her career alongside her sister Zoey at Wartburg.
"I love the support Waverly has given me and the team at high school," Campbell said. "I think it will carry on to college."
Prep of the week: Guyer leading Waterloo Soccer to new heights
WATERLOO — Izzy Guyer is pretty frank about how she became a goalkeeper, and it has something to do with being allergic to running.
Guyer laughs when she tells that story.
But the truth about Guyer's bout of laziness as an 11-year-old has turned into a passion.
For the past six years, Guyer has dedicated herself to becoming one of the best goalkeepers in the state. Her efforts earned her first-team all-Mississippi Valley Conference honors last spring as a sophomore for Waterloo West, and this year she is helping the newly formed Waterloo Soccer team (a combined West and Waterloo East program) reach new heights.
On April 12, Waterloo Soccer (2-2) knocked off then-No. 4 Cedar Rapids Kennedy, 2-1 in penalty kicks, and a week later the program achieved its first ever ranking at No. 15 in Class 3A.
"That game gave us confidence we needed," Guyer said. "The way we pushed through to the final few PKs, it was a big confidence-booster, but at the same time, we have so much we have to get better at."
Guyer, who also plays volleyball at West, has been playing under Waterloo Soccer head coach Chris Worthley with the Cedar Valley Soccer Club as far back as an 8-under player.
Worthley says Guyer has all the right attributes to be a good goalkeeper. She's athletic, quick on her feet and something he says is perhaps the most important trait — she's a little cuckoo.
"I tell all my goalies that you have to be a little cuckoo to play back there," Worthley joked. "But probably, Izzy is fearless and that is probably her strongest attribute. I've put her in a lot of positions where she probably gets a little nervous, but I know she will pull through.
"I've coached her for a few years in club so she knows what it is I expect out of her, and when you have a young player, like she was back in 11U, that wants to be a goalkeeper, you try to nurture that."
Guyer, who is now in her third year of starting, and Worthley say she has steadily gotten better through experience and work with former Cedar Valley Club assistant and Cedar Rapids Prairie boys' assistant Dave Kea, a goalkeeper coach.
Worthley says Kea has pushed Guyer to set no limits to what she can do on the pitch.
"During the fall, during club season, I usually go see him once a week, either on Monday or Wednesday, and I will train with his boys at Prairie," Guyer said. "He's worked with me for so long he knows what to look for and how to motivate me to that next level."
Guyer has also devoted hours of work outside at her family's two-acre home.
The many hours of work are paying off now and perhaps in the future. Guyer has been talking to several Division I and Division II college programs.
For now, however, Guyer is concentrating on being her best self while also leading a fairly young team that has big goals.
"I've had to work hard at getting better, and we've got to continue to work hard at getting closer, having chemistry, working with each other to succeed and just getting better overall," Guyer said.
Prep of the week: Tudor is a quick study within West's track team
WATERLOO — Sam Tudor was just looking forward to competing when he stepped outside Waterloo West's hallways and onto the Hi Covey Relays track in Ames during a rare, picture-perfect Thursday afternoon.
Last week, West High's senior sprinter ended up serving notice that he's found the speed to run with the state's elite. Tudor broke 22 seconds in the open 200 and even stunned himself by clocking sub-11 in the 100 with times of 21.99 and 10.93, respectively, that rank among Iowa's top five this spring.
"Honestly, I never thought I'd break 11," said Tudor, who can recall running only three competitive open 100s prior to his senior year. "I felt like under 22, I might do it a little later in the season, but it was definitely a big accomplishment for me."
Always quick out of the blocks, Tudor has played major roles within West's sprint relays in recent years. He was the lone junior among a quartet of three seniors that captured Class 4A's state title in the 4x200 by defeating a Western Dubuque team that edged them for the championship previously at Drake.
A returning sixth-place finisher in 4A's open 400, Tudor also helped West get off to a strong start during its runner-up effort to Cedar Falls in the 4x400 relay that capped the state meet.
"He's kind of finding a different role now," West coach Matt Mostek said of his team captain. "Last year he had the best starts out of everybody, even those veteran guys. We'd trust him running that first leg because we knew he was going to get us a really good start and get us in the race from the get-go."
Tudor, who has also competed in cross country the past two seasons to stay in shape, has developed into a dedicated runner. He's a consistent presence for a student-led Polar Bear training club for track athletes who don't compete in a winter sport.
The group spends the four winter months training inside West's hallways in addition to investing time in the weight room. A stretch of hallway about 150 yards long has allowed sprinters to get up to speed before official workouts even begin.
Tudor is now passing down lessons he's learned working alongside last year's seniors — including open 200-meter champion Tayshaun Cooper — to a youthful team in which more than 60 percent of the roster is in its first season of high school competition.
"I value his input so much, I'll run things by him and see what he thinks," Mostek said. "We talk about training all the time. He always asks if there's anything extra he can be doing.
"He cares so much, he doesn't want just success for him. He wants success for our whole team. He knows how good a freshman and sophomore class that we have. He's really try to show them everything that he can."
First inspired to give track a shot by his dad, John Tudor, who ran for Ankeny High School, Sam Tudor admits he didn't develop a passion for the sport until making a trip to the Drake Relays his freshman year as a relay alternate.
"It was 40-some degrees and it wasn't sunny, so it was pretty miserable," Tudor recalls, reflecting on his first trip to the blue oval. "There were still thousands of people there to just watch track. I was in awe how fast people were running, how many people were there to watch them. It just kind of had me shocked."
Currently tied for the state's fourth-fastest time in the 100, Tudor says it would be a thrill to find himself in that event final at next week's Drake Relays.
"I remember watching my sophomore year when Tayshaun was in it," Tudor said. "I had chills watching it. Just being there would be cool."
A versatile sprinter who has run everything from the 100 to 800 in competition this season, Tudor is driven to continue his career at the collegiate level. He's once again out of the blocks fast this senior season.
"The fact that's he had quick success in the 100 is just another testament to his training and dedication," Mostek said. "Even though it's a race that he's not really done much in the past, he still shows that he can work hard and achieve."
Prep of the week: Wolf at center of another Cedar Falls championship chase
CEDAR FALLS — Cynthia Wolf has embraced opportunities to measure herself against the best competition she can find.
Complementing a 6-foot-3 frame with developed athleticism, the Cedar Falls native spent summers her first two years of high school traveling the country as part of elite Barnstormers basketball and Six Pack volleyball club programs.
Basketball eventually became Wolf's sport of choice.
"Even though I enjoyed the volleyball friendships, I was kind of like, 'I don't want to be here right now. I just want to go play basketball,'" Wolf related. "Whenever I was at a basketball tournament, I was like, 'This is awesome. I don't want to play in my volleyball tournament.' That's finally when I decided I just need to stick to one."
Wolf joined her club basketball and current high school teammates Kiana Barney and Kamryn Finley last fall when all three inked their names to national letters of intent with the University of Northern Iowa. While she's recently narrowed her club focus, Wolf has continued to enjoy competing for her high school in multiple sports.
The senior earned Class 5A all-tournament volleyball team honors after Cedar Falls elevated from 2016 state finalist to capture the program's first championship last November.
When Class 5A's No. 2-ranked Tigers begin basketball postseason play Saturday, Wolf will be looking to complete a similar journey. She's one of three senior starters attempting to rise from state runner-up into champions.
"I'm so grateful for the opportunities with my teammates and how awesome they have been," Wolf said. "We're so close and hard-working and grow together.
"Being able to get so far in state tournaments has really helped improve our games. We're under stressful situations and still have to play with consistency and play hard. ... Each day it's about those little things and working hard and getting stronger."
Cedar Falls coach Gregg Groen says Wolf exudes a quiet confidence. Younger teammates admire her composure and court savvy.
Wolf spent her freshman year playing on the sophomore team before averaging more than 10 points and seven rebounds on varsity teams that have accumulated a combined record of 65-7 these past three seasons.
The Tigers' center has added an accurate 3-point shot to her offensive arsenal, draining 18 of 36 (50 percent) of her attempts from distance. She's shooting 60 percent from the field and 84 percent from the free throw line.
On defense, Wolf ranks third among Class 5A's leading shot-blockers with 53 rejections. Her help-side instincts have altered countless other shots for a team that ranks second in 5A scoring defense by allowing just 35.3 points a game.
Wolf's passing ability out of the post has also helped Cedar Falls achieve a fluid offense that features five starters averaging more than 10 points a game.
"She does a great job with not only scoring points, but finding other ways to be a part of the offense," Groen said. "We're feeding the post and she's looking for avenues to get her teammates the ball to get quality shots whether it's a back-door cut or kicking it out to the perimeter for a 3-point shot."
The second youngest of four children, Wolf credits family support as her foundation for athletic success. Her mom, Joyce, played high school basketball and dad, Zach, still holds the Cedar Falls boys' basketball team's single-game scoring record of 42 points.
Family trips to the rec center were common for Cynthia, who grew up developing basketball skills alongside older brothers, Bryce, 24, and Andrew, 22.
"I went to my older brothers' practices a lot when I was younger and saw the hard work they put in," Wolf said. "As I got older and my parents saw me choosing basketball and volleyball, my dad took me to the rec almost every day and I put up shots. That's what really helped me get the consistency."
The senior feels blessed to continue working alongside Barney and Finley when they make the transition from prep basketball to competing for their hometown college.
"It's going to be a really awesome experience going in with people that I know," Wolf said. "I can be really shy and timid if I'm by myself, but with them I'll be able to be more outgoing and comfortable. It'll just help me build my character."
The sky's the limit for this determined center.
"I don't think Cynthia has even come close to hitting her ceiling," Groen said. "She's going to be one who just continually gets better and better every year."
Preps of the week: McFadden, Nie's 1-2 punch reaches 1,000
GILBERTVILLE — Sean McFadden and Zach Nie have accomplished plenty together throughout their four-year tenure on the Don Bosco basketball team.
McFadden patrols the paint, and Nie complements him with an accurate shot from the perimeter. They each are capable of taking over a game on any given night and often alternate lead roles.
Perhaps it's no coincidence that these two talented seniors nearly reached one of prep basketball's most coveted career milestones in the same game.
McFadden entered a recent contest at Tripoli seven career points shy of 1,000, and Nie was 34 points away from the mark. McFadden finished the night with 14 points and Nie nearly got there as he poured in 33.
"It would come up every once and a while in the locker room," McFadden said of the milestone. "It was fun thing for both of us to see who could get there first."
Nie's 1,000th point came early last Tuesday as Class 1A's No. 4-ranked Don Bosco prevailed in a rematch with No. 8 Dunkerton, 62-39. It was as electric of an atmosphere as the gym in Gilbertville has seen with the wrestling mats rolled up.
The school known for boys' athletic success in baseball, football and wrestling — where the Dons are currently ranked No. 1 in 1A — now has a basketball team with a realistic path to its first state tournament since 1988.
"It was more fun being in that atmosphere than getting that 1,000th point itself," Nie said, addressing the win over a Dunkerton team that eliminated last year's Dons from the postseason. "We definitely wanted some revenge. Getting that 1,000th point really got the gym going, and it had a lot of energy. That's the most people in our gym that I've ever seen."
Nate Kellogg, a first-year head coach who worked as an assistant the previous two seasons at Don Bosco, realizes he's witnessing something this season that he may never see again.
"It's pretty special," Kellogg said. "Having one 1,000-point scorer is a really big deal. To have two on the same team, in the same class, almost on the same night, is something that doesn't happen very often."
McFadden and Nie's success goes beyond basketball.
McFadden played on the baseball team and ran track, while Nie placed seventh in last fall's Class 1A state cross country meet and also runs track. They're among the top three in their class academically, with McFadden holding a 4.0 GPA and Nie a 3.95. They also are both involved in speech and robotics. McFadden plans to study computer engineering at Iowa State and Nie environmental science at either Coe or Luther.
On the basketball court, they've seen quite a transformation through four years. The Dons won just three games their freshman season before Jack Kelley, another talented scoring option and facilitator, joined the group the following year and they finished 15-8. Last year's Dons went 21-2, and this year's team has continued where that group left off.
Clayton Weber, another senior, is a third-year starter and sophomore Zach Huff started on last year's successful team as a freshman.
"It's just amazing to see how much we've grown," McFadden said. "All of our teammates really bought in. We wanted to improve the program and we've come a long way and worked really hard.
"Everyone is just committed and seeing how they could benefit the team. We each found our role and we each do what we can to make the team better."
Following in the footsteps of his older brothers, who also competed in basketball for the Dons, Nie also takes plenty of pride in this team's growth. With two 1,000-point scorers and a third well on his way, these Dons continue to force their opposition to pick their poison.
"On our team nobody really cares who has the biggest scoring night," Nie said. "We just want to get the win and I think that shows. ... It's fun when you've got an unselfish group of kids that enjoy playing together."
Prep of the week: Taylor leaving a lasting legacy
CALMAR — One morning removed from becoming Iowa's first female high school wrestler to reach 100 wins, Felicity Taylor traveled to make an investment in her sport's future.
The South Winneshiek senior spent Sunday working alongside one of her coaches, Jessica Philippus, as they instructed girls from the Council Bluffs-based Powerhouse Wrestling Club at the Iowa USA state championships in Cedar Rapids.
Among the competitors Taylor helped warm up was Avaeh Smith.
"I just love it," said Taylor, the nation's No. 2-ranked high school girls' wrestler. "She's nine years old and she has heavy hands and has her shot. I didn't even know what that was until two years ago. It's just crazy."
The Powerhouse girls were excited to see Taylor on the heels of Saturday's milestone 100th win when she pinned her way to a third consecutive Upper Iowa Conference title. She cherishes her newfound role as an ambassador for girls' wrestling in Iowa.
"I was afraid to get started and I don't want girls to feel like that," said Taylor, who hosted a wrestling camp for girls at South Winn last fall. "It's nice seeing these little girls look up to me. I'm glad that I'm someone that they can look up to.
"Being there for them, I know it means a lot to them, but I love being there for me, too. I love being around the sport of wrestling. That's how I want to spend my weekends."
Taylor's rise has been rapid.
She's a former competitive gymnast who entered high school looking for a winter activity to fill the gap between cross country and track season. When Taylor didn't make the cut for the wrestling cheerleading squad, she thought about trying the sport herself.
South Winneshiek coach Jacob Elsbernd still vividly recalls the day Taylor approached him about joining the program. They agreed that Elsbernd would go talk with the team that night, and she'd go home and talk it over with her parents. The following day, Taylor found herself on the mat, working in a room that included an eventual state qualifier at her weight class.
"She can get really focused on something," Elsbernd said. "The day she wanted to try wrestling, I was like, 'OK, is this something you want to do?' Immediately, you could see that she was all-in. She had a plan. She wasn't varsity that first year. She had some work to do."
Taylor, who admits she didn't even know what the scoring was before entering the sport, recalls watching her brother compete from time to time during weekend youth tournaments and seeing how fun it looked. Similar to cross country and track, she embraced the individual challenge to better herself through competition.
While Taylor's gymnastics background helps her quickly learn technique, she didn't find instant success. Her first five matches were losses with three pins.
"Losing just made me so mad," Taylor said. "I still cry every time I lose just because I hate it.
"I just wanted to get better. Those losses helped a lot because if I would have been winning right away, I probably wouldn't have worked as hard."
Taylor's eyes were opened the summer after her freshman season when she started competing against female wrestlers for the first time, including a trip to Fargo's freestyle nationals. She also joined the Elite Takedown Club in Waverly — home to some of state's top prep boys' wrestlers — and found plenty of support.
"It was intimidating, but they made me feel like it was fine," Taylor said. "It's cool that they took me in. Even though I was bad at first, they didn't judge me. It was nice because a lot of guys wouldn't do that."
Taylor entered her sophomore season a much-improved wrestler and continued to build on that success by accumulating a total of 69 wins through her junior campaign.
This past offseason, Taylor continued to make a name for herself at the national level, losing only to the top-ranked girl in her weight class in the finals of the folkstyle national tournament in Oklahoma before suffering a loss in the quarterfinals of Fargo's freestyle nationals to the same girl and placing fifth. She also had an opportunity to compete in high school showcases, including an event at UNI's West Gym and the Night of Conflict at Carver-Hawkeye Arena where world silver medalist Alli Ragan served as her coach.
"The last two seasons she got to the point where she was beating the majority of the kids, but we still weren't necessarily in matches with some top-ranked kids," Elsbernd said. "That was understandable — she just started as a freshman.
"This year it's been a little bit different story. We're competing, every one of her losses has been to a top 10-ranked opponent, and we've been in a majority of those matches."
As is typical throughout Northeast Iowa, Taylor's road to state is daunting. She has defeated everyone in her sectional, but faces potential district roadblocks in No. 6 Brooks Meyer of Denver and No. 8 Brock Dietz of Nashua-Plainfield. They have each defeated Taylor twice, with three of those setbacks coming by decisions of four points or less.
Taylor realizes if she can find a path to state, she's talented enough to earn a spot on the podium. Cedar Falls' Cassy Herkelman and Megan Black of Eddyville-Blakesburg-Fremont are the only Iowa females to reach state, with Black the lone placewinner.
"I've been putting in a lot of work," Taylor said. "I know I have to close the gap even more if I want to be at state. ... Who doesn't want to be at the state tournament? They're all going to turn it up when it comes time for districts. Hopefully, work pays off. I'm excited to see where I stand."
Beyond high school wrestling, Taylor has decided she'll compete for a women's program at the collegiate level. Regardless of how this season ends, she's already raised the bar for girls within one of Iowa's most treasured sports.
"One of my goals this year was to make sure I get 100 wins because it's something that hasn't been done for girls in the state," Taylor said. "I want to show that if you work for something, it's there, you can get it."
Prep of the week: Jesup's Sadler breaks the heavyweight mold
JESUP — Brian Sadler enjoys offering a change of pace from the typical heavyweight wrestler.
The Jesup senior has risen to a No. 1 ranking by The Predicament in Class 1A's highest weight class, compiling 151 career wins with more than 100 pins. He's 38-0 this season with 24 falls, often refusing to settle for the type of low-scoring decisions that are prevalent in his weight class.
"I'm always on the offense," Sadler said. "If it's right away in the first period or two seconds left in the third period, I'm always looking to score. A lot of heavyweights are just big throwers and heavy on top, but I like to take shots and stay moving quick throughout the match — keep it interesting and not just have a boring push-around match the whole time."
Jesup coach Scott Trueg says Sadler also breaks the heavyweight mold in the practice room, where he's one of the quicker and more active wrestlers on the team.
"He doesn't like to be a boring heavyweight," Trueg said. "He wants to be active and he moves like a lightweight."
Wrestling is just one part of the equation for Sadler, who plans to play football at the collegiate level for a school to be determined in the coming weeks. He's a competitor in the throwing events on the track and field team, as well.
"Wrestling has really helped me to become a lot better football player," said Sadler, an offensive and defensive lineman. "I'm looking forward to the new challenges that it (college football) will bring and meeting new people. I'm just really excited to have that opportunity to compete at a higher level."
Sadler's exposure to wrestling began in kindergarten. His older cousins on his mom's side of the family, Brett Yonkovic and Nathan Vaske, each competed for West Delaware High School and Wartburg College, and helped teach him the basics.
Sadler found exposure to national competition with Team Iowa from fourth through eighth grade and nearly qualified for state as a freshman heavyweight, placing third in districts.
"I was giving up 45-50 pounds as a heavyweight," Sadler said of his freshman year. "I went into every match thinking, 'I've got to do whatever I can to win, but losses are a learning experience.' ... When you're smaller and younger, and they have the advantage on you, you've got to work that much harder to be better than them."
As Sadler continued to gain strength, he found success during a breakthrough sophomore season. In his state debut, he recovered from a first-round loss by earning a win over the No. 2-ranked wrestler and also avenged that initial defeat to capture a fourth-place spot on the podium.
"His confidence level rose tremendously," Trueg recalled. "From then on he felt he was at that level of competition so he didn't hold much back."
Sadler reached the state semifinals last season and placed third. Already dominant through wins over some of 1A's top wrestlers at his weight class this season, the Jesup senior wants nothing more than to close in style.
"I've been dreaming of being a state champ ever since I was a little kid," Sadler said. "I'm not going to let anything get in the way of that. I'm going to keep pushing really hard to make it happen."
Prep of the week: Hard work makes Hudson's Geisler a quick study
HUDSON — Idle time doesn't sit well with Wes Geisler.
Whether it's helping out on the family farm, summer construction work, advanced classes or athletics, the Hudson senior is constantly on the move. Geisler's schedule this past semester included full days that began with a 7 a.m. college course, followed by school, wresting practice, farm chores and homework that typically lasted until 9:30 p.m.
"To be honest with you, I don't know if I've ever had a student-athlete who has responsibilities at home and still maintains the grades that he has, and the competitive edge that he has on the mat," Hudson wrestling coach Wayne Haskovec said. "He's one of the hardest-working kids I've ever coached."
Strong, driven and efficient, Hudson's 195-pounder is undefeated this season. He has ended 21 of his 24 contested matches with falls — including 19 in the first period.
"I think his domination comes from his work ethic," Haskovec said. "He's so gifted in his strength that he's been real successful being able to turn kids. He's just so physical. Not many times in a season do they see this type of kid with this type of strength."
Perhaps the most surprising part of Geisler's dominance is the fact that he's in just his second full season of high school competition.
After competing as a junior high athlete, Geisler decided not to go out for a winter sport until midway through his sophomore year.
"My freshman year when I didn't go out for wrestling it got a little monotonous with the extra time," Geisler recalls. "Although I did have extra time, I didn't know how much time it (wrestling) would take. I'd usually spend Saturdays outside working with my dad. I knew high school wrestling would take away Saturdays."
Geisler says Hudson's two most recent state champions, Luke Huber and Taylan Entriken, played a role in driving him to believe that he could find success in the sport, as well. His dad, Mike, assured him that he could get by on tournament Saturdays.
"He enjoys wrestling," Wes said of his father's influence. "That was his one sport in high school and he comes to most of the meets that are close.
"He likes it more as a mental sport, and he knows that if you push yourself hard it will get you a lot of success."
Wrestling up a weight class, Geisler finished third in sectionals during his abbreviated introduction to high school competition. Then — in his first full season at the high school level — Geisler worked his way onto the state podium with a seventh-place finish that capped a 47-6 junior campaign.
One of the highlights from last winter's state debut was the opportunity to warm up Entriken prior to Saturday night's championship session.
"That was pretty surreal," Geisler recalled. "Down in the room beforehand with all the potential state champions, I got to be around that and feel the buzz.
"Taylan, he was very humble, hard work ethic, never got too high or too low. When I warmed up with him before the state championship, he was quiet and focused."
A successful three-sport athlete — excelling during a Hudson state soccer run and leading the Pirates' defense in tackles en route to the state football finals this past fall — Geisler has a unique summer routine.
Rather than strength built in the weight room, Geisler has embraced hard manual labor within his family's construction business. Working for Geisler Builders has given Wes an appreciation for the type of drive it takes to be successful.
"I'm the younger guy on the job site, usually, so I get the more physical jobs rather than the mental jobs most times," Wes said. "That really helps my endurance and strength. ... I don't really do the weightlifting as much as other people here at Hudson, but I can still keep up with everyone."
Added Haskovec, "He's out doing the old school lifting and different types of chores. It's reminiscent of 20, 30 years ago. We don't see kids like this anymore."
A throwback athlete, Giesler also credits the strength of his practice partners — ranked 220-pounder Cam Fulcher and heavyweight Dawson Ellingson — as contributors to his success.
Constantly watching other matches and learning a sport he's quickly embraced, The Predicament's No. 4-ranked Geisler is among a strong group of 195-pound contenders in Class 1A. The list includes Tanner Sloan of Alburnett, a 2016 state champion at 170 pounds, and last year's 195-pound runner-up, Hunter Hagen of West Hancock.
"He's as good as anyone in his weight," Haskovec said. "He's become one of those kids that you wish every underclassman could watch because he leads by example, does whatever you ask him. ... I can tell future generations this kid only wrestled for 2 1/2 years varsity and look what he achieved."
Prep of the week: Growth spurt transformed A-P's Oberhauser into a point of emphasis
PARKERSBURG — One glance quickly reveals that Alec Oberhauser isn't a typical Class 2A high school point guard.
Standing just over 6-foot-6 with a lengthy wingspan to match, Oberhauser is the tallest member of an Aplington-Parkersburg basketball team that entered the week 10-0 and ranked fourth in the state's most recent Associated Press poll.
Point guard skills have been developed over time by the dedicated multi-sport athlete who stood 6-1 before hitting a major growth spurt after his sophomore basketball season.
"I really just had to take care of my body," Oberhauser said, addressing the growing pains he endured. "My knees were hurting from growing a lot. I was always icing them.
"My coordination was a little off. The summer from my sophomore to junior year was kind of tough."
Oberhauser persevered, and Aplington-Parkersburg coach Aaron Thomas kept him in the point guard role where his versatile skill set is routinely on display. He's tall enough to shoot over shorter defenders and quick enough to dribble around the ones who can match his size.
"He does a great job of bringing the ball up for us and distributing," Thomas said of the point guard who leads 2A with 7.4 assists per game — a number nearly three times higher than his turnover average. "With his height we'll try to look to isolate him on the block every now and then. He's a great rebounder for us. ... He fills the stat sheet each and every game."
Oberhauser, who first broke into the varsity lineup after the starting point guard was injured his sophomore season, is just as versatile on defense. His lengthy arms cause havoc at the top of a press. He's capable of playing in the center of a zone or man defending either a perimeter or post player.
During last week's convincing, 75-38 win over a 6-3 Gladbrook-Reinbeck team, Oberhauser flirted with a triple-double as he tallied 15 points, 11 rebounds and nine assists to go with three blocks and two steals. The senior is averaging 14.8 points on 56 percent shooting with 7.3 rebounds, 3.3 steals, 2.1 blocks and less than two fouls per game.
Beyond his impressive statistics, Oberhauser has been a valuable team leader. He's a regular in the weight room who often gets guys together for pick-up games. Oberhauser even joined cross country for the first time last fall and contributed during the school's state-qualifying run.
"It helped a lot, just improving my stamina," Oberhauser said. "I'm able to stay in longer spurts (on the basketball court) and not come out right away."
With his dad, Roger, serving as Aplington-Parkersburg's head baseball coach and assistant girls' basketball coach, Alec Oberhauser has grown up knowing the type of work it takes to be a contributor on a successful team. He's also a standout baseball player and competes in tennis.
"He's very much cut out of that cloth, almost a coach's mentality, without a doubt," Thomas said. "He's spent a lot of time with his dad in the gym. He gets it. He's got a very high basketball IQ and understands what it is we want to do. He sees things on the court."
Oberhauser is just one part of a cohesive team that returned most of the key pieces from last year's 17-5 season. Carter Cuvelier, a 6-foot-5 junior, is another multi-dimensional weapon — averaging 19.2 points a game — while fellow seniors Grant Truex and Coby Hoff are each putting up 10 points a night.
This marks Aplington-Parkersburg's best start since the 2014-15 Falcons won their first 20 games and reached the state tournament.
"It was fun watching those guys play," said Oberhauser, who was a freshman that season. "They obviously scored a lot of points and really got up and down. Practicing with them was fun, too.
"We kind of talk about our freshman year, what they were like, and what we need to improve on."
Thomas points toward commitment and effort as similarities between this team and that 2014-15 group.
"I see the same focus and same will to win," he said. "I saw that more importantly in June and July, and even last spring in the time they put in the gym and weight room to get themselves prepared.
"This group plays extremely hard and extremely focused every game. I don't worry if they're going to show up for not."
Beyond high school, Oberhauser has committed to continue his basketball career at Grand View University.
"His best basketball is probably two years away," Thomas said. "When he's just playing basketball, I'm excited to see how good of a player he becomes. Grand View is going to get a kid who is extremely committed to basketball who is not afraid to work."
Prep of the week: Pisney's work ethic has helped elevate Crestwood
CRESCO — A basketball and an open gym have always provided solace for Crestwood senior Shannon Pisney.
"It definitely takes my mind off everything," said Pisney, whose mom, Luann, who played basketball at Cresco's Notre Dame High School. "If I'm having a bad day, I can shoot around and it clears my mind and makes my day better."
That passion for the game combined with a desire to prove herself fueled a breakout freshman season highlighted by a 14-point, 19-rebound performance that sent the Cadets to state with a four-point win over Osage.
"I was just like I might as well give my all and see how far it goes," Pisney said. "It definitely was so cool to experience that because I'd never been that successful in anything."
With her promising basketball career beginning to take off, Pisney suffered a setback that has become all too familiar in the girls' game. She tore her ACL four games into her sophomore season and was sidelined for six months before returning to club basketball the following summer.
"I took it pretty hard," Pisney said. "I just wanted to come back and work harder. Everything happens for a reason and you can either let it get to you or you can overcome that. ... I didn't ever give up on myself."
Pisney was able to play a full season of volleyball in a knee brace the fall of her junior year before leading the Cadets on the basketball court with an average of 18.1 points per game during a return to the state tournament.
This season, Pisney has picked up where she left off. She's averaging 19.1 points a game on 60 percent shooting — including a 9 of 14 clip from 3-point range — to go with 5.9 rebounds, 3.9 assists and 2.75 steals for an 8-0 Crestwood team that is ranked No. 2 in Class 3A.
Despite missing nearly her entire sophomore year, Pisney entered this week nearing a major milestone with 972 career points.
"What she brings to the team is a desire to be unselfish and make the team better at every aspect," Crestwood coach Doug Sickles said. "Shannon is one of those girls that if we need something inside she's not afraid to go inside. If we need an outside shot, she can step up.
"She's very vocal in practice in a positive way. She keeps pushing her teammates to be better and she's not satisfied with where she's at or the team."
Pisney is quick to praise the cast of teammates she's working alongside. Crestwood has been unselfish on offense with four starters averaging at least 3.5 assists per game, while everyone on the team seems to take more pride in their work on the defensive side of the ball.
That commitment was revealed last weekend as the Cadets overcame an early deficit to defeat a Lyle-Pacelli team ranked No. 1 in Minnesota's Class 1A that featured a dominant 6-foot-5 center.
"Everybody is willing to start with defense instead of always worrying about offense," Pisney said. "I've loved this team.
"I couldn't ask for a better group of girls to play with because I know I can always count on them and they will always have my back."
The development of 6-foot-2 sophomore Sharon Goodman (18.4 points, 6.75 rebounds), along with fellow seniors Brynn Bodermann and Emily and Ellie Friesen, has formed a formidable and battle-tested starting five. Fans have gravitated toward this team in what is shaping up to be a special season.
"The fan support is crazy," Pisney said. "Even when we have away games the stands are still pretty much packed."
In addition to basketball and volleyball, Pisney also competes in softball and is a member of the Barnstormers club basketball program. She plans to continue her basketball career at the collegiate level while pursuing a major in pre-med or nursing.
As Sickles points out, Pisney has helped set a high standard for success.
"Two things that jump out with Shannon are her competitiveness, not just in games, but in practice," he notes. "She doesn't like to lose at anything. And just her work ethic. She's a girl that you love to have because she's willing to put in the time."
Prep of the week: Wapsie Valley's Rundquist looks to follow family's path to state
FAIRBANK — Paul Rundquist Jr. grew up practicing the big shots.
Wapsie Valley's junior guard can recall playing in the basement as a second-grader and counting down the clock as he shot a small ball into a glass vase. He became a regular at high school basketball practices from a young age, memorizing the last name of every player on the Mount Pleasant teams his dad, Paul Rundquist Sr., frequently coached to state tournament runs.
"That's when I really got a love for basketball, seeing the emotions they had through it," Rundquist Jr. said. "When dad went to state four times in a row I really noticed how much they loved to play the game and it made me want to play harder."
Rundquist Jr. has certainly made a name for himself on the basketball court at Wapsie Valley — averaging 20 points a game as a freshman and sophomore — before putting up 32.3 points through his team's first four victories of the 2017-18 season. He's been a lights-out 43 percent shooter from 3-point range and has developed an ability to score in the paint while ranking among the team leaders in assists.
Learning from some of the state's top coaches, Rundquist Jr. shows the poise and leadership of a polished basketball player.
His grandfather, Gordon Rundquist, compiled a 559-250 record in 38 seasons between Maquoketa Valley and West Branch and currently serves as an assistant on Steve Bergman's perennial Class 4A championship contender at Iowa City West. Rundquist Sr. has built a 290-152 record while coaching 17 of 19 seasons at Mount Pleasant.
When Rundquist Jr. made the move to Fairbank with his mom in seventh grade, he became part of a Wapsie Valley program that Marty McKowen has coached to a 550-247 record.
Moving from a 3A school in Mount Pleasant, Rundquist has embraced the support he's found in the smaller school district.
"Everyone knows everyone here at Wapsie," Rundquist said. "People come up to me that I don't even know and say, 'Good game last week.' That's just the way Wapsie is. Coach McKowen is one of the best in Iowa, so he knows what he's talking about.
"Dad has a different mindset than Coach McKowen, and grandpa has a different mindset than both of them. You just hear a lot of information."
The countless hours Rundquist has invested shooting have been revealed throughout the early portion of his career. He put up a single-game high of 50 points in his second game of last season and was the focal point on offense for a team that turned a 5-18 season into 18-8 with the last loss coming in overtime to Gladbrook-Reinbeck in the substate final.
"Paul is one of those kids who is involved in basketball pretty much year-round," McKowen said of Rundquist who plays for Tyler Cleveland's Mavs club program in Cedar Rapids. "When he came in we knew that he was something special."
The manner in which Rundquist has accumulated his eye-opening point totals has come somewhat quietly within the flow of the game.
"A lot of times you'll walk out of the gym and somebody will say to you, 'Hey, Paul had 35 tonight', and you're like, 'Really?'" McKowen related. "He gets his shots, but he also has other people involved."
Wapsie Valley's success this season has come with one of the team's top rebounders and scorers, Cameron O'Donnell, still recovering from a hand injury. A team that hit its stride with 10 consecutive wins after Christmas break a year ago has carried momentum into this season with four consecutive victories.
"Coach McKowen told us if we really commit to playing defense and playing as a team then we'll be something special," Rundquist said. "We took that to heart and just kept playing hard."
The Wapsie Valley standout says coming up just short of reaching the state tournament has motivated the Warriors through the offseason. Rundquist is often working alongside younger teammates during shooting drills, giving advice to a group that includes a freshman and two sophomores in the team's main rotation.
While coaching may come naturally to Rundquist Jr., the high school junior remains undecided whether or not he will follow in his dad and grandfather's footsteps.
"I definitely thought about it," Rundquist Jr. said. "But I don't know. It's a lot of work."
Prep of the week: Blockhus embraces the wrestling grind
NEW HAMPTON — A morning after navigating the challenging 145-pound bracket at last weekend's 31-team Cliff Keen Independence Invitational, Michael Blockhus was ready to continue his training.
"One may think he'd take the day off, but at 8 a.m. I woke up to a text from him wanting to work out," New Hampton-Turkey Valley wrestling coach Nick Hemann said. "He's real motivated. He loves the process and the process has rewarded him so far.
"I think he just embodies the whole sport and how if you want to be successful you need to get something out of every day. You need to be a student of the sport. You need to have a good diet, a disciplined social life. Michael brings that to the table."
Blockhus (formerly known as Michael Millage) has entered his senior season with two individual state titles in three trips to the finals. After winning 2A's 106-pound championship as a freshman at Crestwood, he climbed back to the top of the podium with a 126-pound title as a junior in his first season with New Hampton's program.
"I think the biggest thing was getting on the right track, staying there and being consistent," Blockhus said, addressing the gains he made to win a second title. "State tournament finals night you really separate yourself from a lot of competitors out there."
Blockhus built on the confidence gained from that second state championship and found summer success on the national stage where he earned All-America honors in Fargo.
"I got to finally wrestle those bigger names and see that I'm right there," Blockhus said. "It's just a matter of doing it when you're competing."
Off the mat, Blockhus' character and generosity were revealed with a gesture in the face of tragedy that spoke volumes. After Logan Luft, a 15-year-old from Charles City, lost his life in a summer ATV accident, Blockhus decided to donate his state championship medals to be buried with his former club teammate.
"I wrestled him since I joined Elite Takedown Club in seventh grade," Blockhus said. "He always had a good attitude and was one of the hardest-working kids. It was just a way of giving back somehow.
"The big thing is just seeing what I can do for others now. You're not worried about yourself anymore, and you live your life to your fullest because you never know what will happen each day."
That unselfish mantra is part of what has driven Blockhus to be a valuable team-first leader within the merged New Hampton-Turkey Valley wrestling room. Beyond the individual drive to win a third state title, Blockhus appears more concerned with helping put the pieces of the puzzle together within his team.
"We've got each other's back no matter what," Blockhus said. "That's what being a team is really about. It's not about winning everything, but overall becoming one.
"Once you gain their trust, then you can work with them to have a stronger mentality and help them with their wrestling and life and they begin to listen. That's my ultimate goal this year is getting the team all together and competing in February."
New Hampton finished just one-half point shy of Solon for 2A's traditional championship last season and returns several key leaders in addition to Blockhus. Among his veteran teammates is Noah Fye, a childhood friend who grew up with Blockhus in Cresco.
"I'd go over to his house and we'd strap on singlets and wrestle in the living room," Blockhus recalls. "We've been wrestling each other since we could pretty much walk. ... We're able to push each other."
As the season progresses, Blockhus looks to add more offense and dictate pace. During Saturday's championship run in Independence his stingy side was revealed as he made his opponents fight for every point, compiling bonus point wins before defeating Joshua Saunders of Missouri's Christian Brothers College, 5-3, in the final.
With Blockhus determined to get back to work, Hemann knows his senior's wrestling path remains on an upward trajectory.
"He improves every day and I don't see that ever stopping," Hemann said. "The ceiling isn't there. There's some time to get better and he knows that. He's not going to get complacent."
Blockhus has high goals beyond high school.
"I'm excited to join UNI," Blockhus said. "Coach (Doug) Schwab and all the other coaches, they're going to help me achieve my goals of becoming a national champ, world champ, whatever it is.
"That's where I need to be and I see myself reaching those goals. I see a lot of what I see in New Hampton, also. That team is kind of like a big family, and all as one."
Prep of the Week: McMahon embraces physicality during Denver's postseason run
DENVER — Winning football isn't all about the lengthy runs and dazzling plays that make the television highlight shows. Denver coach Rhett Barrett points out the continued battles for extra yardage that often decide whether or not a drive is extended are just as important.
Bo McMahon has learned to embraced that fight.
"He's a hard-nosed player," Barrett said of his senior linebacker and fullback. "If it's two yards, give it to Bo, he's going to get two yards. Defense, if we have to hold them to two yards, he's not going to give that up."
McMahon, who still wears the number 36 that was on the first practice jersey he was handed as a fifth grader, credits much of his success to coaches and teammates. He's part of a Cyclones' program that has reached the UNI-Dome each of the past three seasons.
Josh Mundhenke and Mitch Siech were senior linebackers McMahon's sophomore year when he ranked second on the team with 62.5 of his 181 career tackle total. Izaak Shedenhelm's approach to rushing the football is also one he's tried to emulate.
"It seemed like every time he would get the ball, he never gave up," McMahon said. "When he'd get wrapped up, he'd keep on fighting and keep pumping his legs. He broke a lot of tackles, and that's what I wanted to do."
McMahon has averaged over 1,000 yards each of the past two seasons, joining fellow 1,000-yard rusher Sam Joerger to form a lethal tandem on offense this fall.
Operating the defense from the middle linebacker position, McMahon credits the preparation instilled by defensive coordinator Chad Tierney as part of the team's success.
Denver's last four opponents have failed to score a single point. During Friday's 44-0 win over Central Springs, McMahon recalls a red zone stop on fourth-and-two followed by a 78-yard Joerger touchdown run as a big momentum swing.
"Four or five games into the season we hadn't had a shutout and our coach has been telling us he was sick of giving teams touchdowns," McMahon recalls. "I feel like everyone trusts each other on defense and trusts what they can do as a whole. It's big. A lot of our players can make very good plays at any time.
"Just as much as our offense is having success, it's fun playing defense with the success that we have, too. We're determined to be the best team we possibly can be."
Entering postseason play, Denver's veteran players realize it won't be an easy road back to the UNI-Dome. McMahon feels his team's offseason work and dedication has positioned the Cyclones to make another strong run.
This year's senior class has played through one of the most successful eras in the history of a program that won its lone state title in 1995.
"With the success that we've had, it's just that much more motivation for us to keep on going and keep pushing harder," McMahon said. "We've been to the state semifinals three times now and we want to get past that mark. We're hungry for more. We don't want to settle for just getting to the Dome."
Barrett knows McMahon and company are willing to do whatever it takes to find success.
"Sometimes you have to dig in the dirt to win," Barrett said. "That's the kind of growth I've seen those guys make, and Bo make, over the years. He's gained confidence, gained an understanding of the game even more — great leadership and knows how to win big games."
Prep of the week: It's all about wins for Cedar Falls' record-setting Mahi
CEDAR FALLS — Tayah Mahi's first memories of competition on a volleyball court came tagging along with members of the University of Oklahoma team coached by her parents, Kalani and Chris.
"The girls loved me there," Mahi said. "I would always play and mess around with them. That introduced me to the sport.
"What inspires me to play is the passion my parents have for it and I just want to make them proud."
When Tayah's dad, Kalani, landed a job on Bobbi Petersen's staff as a setting coach for the University of Northern Iowa, the future collegiate setter couldn't haven't dreamed of finding a better volleyball home.
The UNI volleyball commit is now a high school senior closing in on 4,000 career assists. It's the product of working within a successful Cedar Falls program that includes three classmates committed to NCAA Division I volleyball schools, and another committed to play basketball at UNI.
In total, Cedar Falls' top five attackers are all averaging between 2 and 2.6 kills per set. Instead of feeding one or two hot hands, Mahi knows she has the luxury of reading the opposing defense and finding whoever has the clearest path to a kill.
"It's such a blessing," Mahi said. "Honestly, I think about it probably every time. I can go anywhere and know that girl can put the ball away. They all have such an aggressive mindset and they all want to win. It's just nice to play with such competitive weapons."
Cedar Falls coach Matt Johnson credits Mahi's ability to spread the ball around and maximize the talent within her team.
"She's got great hands and has developed the ability to set different tempo," Johnson said. "She seems to have a very good understanding of where the ball needs to go and when. She's in a situation where she's got a lot of hitters and she can use match-ups and make some decisions herself where the ball goes. We put a lot on her to make some of those decisions on her own."
With 3,965 career assists, Mahi is likely to become just the fourth Iowa high school setter to reach the 4,000 milestone in the past 10 years. It's safe to assume, however, wins are the only numbers that she's been tracking.
"I didn't know that," Mahi responded, when asked what the upcoming individual milestone would mean to her. "That would be really cool. I honestly thought I hadn't even reached 2,000 yet."
Mahi, along with classmates Taylor Lynch, Grace Burken and Claire Gerdes, have competed at the varsity level since their freshman year. It's a core group that has shown growth from reaching the regional finals their first season, to qualifying for state the next, and then finishing runner-up after playing in the championship match a year ago.
"When we played together since we were freshmen, we hung out together," Mahi said. "That made us a ton closer. One by one, everyone else started to join the team from our class. We did grow a lot closer. Volleyball is what made us best friends."
Last weekend, the Tigers' senior class crossed another impressive accomplishment off their list by adding to a Mississippi Valley Conference regular-season divisional title with an MVC tournament championship in the same season. Saturday's championship run included wins over four of the top eight teams in the Class 4A and 5A rankings.
Working alongside so many driven teammates with aspirations of chasing down an elusive state title, Mahi enters her fourth postseason confident this group has what it takes to reach its ultimate goal.
"I just want to stay as focused as possible and keep pushing as hard as we can and keep playing like we can play," Mahi said. "Sometimes it gets to postseason and everyone is kind of tired. But I think we're a team that can come into postseason and take all of the experience we've got from the regular season and use it and push harder."
Following in the footsteps of two parents who played volleyball at Graceland University, Mahi credits both as mentors in the sport. Her mom serves as her current club coach where Tayah supplemented her indoor skills with success in beach volleyball.
In addition to having her dad as a position coach at UNI, Mahi says she's looking forward to joining a successful collegiate program head coach Petersen, assistant Kim Davis and director of operations Michelle Coulter have also helped build.
"At first I didn't know if I wanted to stay at home or not," Mahi said. "But then I was like, 'OK, I have such an amazing program here where the coaching staff is like family, so why wouldn't I want to stay here?' I'm really excited to be able to play for my dad again. I love to be coached by him. I love how intense he is and I love the feedback that he gives."
Preps of the week: Kuhlman, Schrader lead Wapsie Valley's charge to postseason
FAIRBANK — A dynamic duo within a determined senior class has helped lead one of Iowa high school football's most storied small-school programs back to prominence.
Class A's No. 5-ranked Wapsie Valley (7-0) opened the season with wins over a pair of potential Class 1A playoff teams in Denver and South Winneshiek before taking the driver's seat with wins over the top three challengers in a competitive district filled with hard-nosed physicality.
Contact is something Wapsie Valley's fourth-year starter Jake Kuhlman has embraced. He's accumulated 536 rushing yards and seven touchdowns at an average of 5.2 per carry, while leading the team with 41 tackles, seven for loss.
Fellow senior Colin Schrader has added game-changing playmaking ability. Covering the opposition's top receiver, Schrader ranks among the state leaders with five interceptions — including a pick six that sparked his team against Denver. He's also run for 667 yards and six touchdowns, surpassing 100 yards in each of those key showdowns with the district's playoff contenders.
"They've just been amazing players, offensively and defensively," said Tony Foster, who coached Wapsie Valley to the program's fourth and fifth state championships in 2007 and 2012. "They both are guys that are never going to miss any kind of workout and they're going to expect the other guys to do the same. They just give everything they've got. Their intensity and effort is outstanding."
With Wapsie Valley most recently reaching the state semifinals in 2013, this large senior class has yet to experience a game inside the UNI-Dome. Kuhlman and Schrader are among five seniors who have played varsity since they were sophomores.
"We thought we were a Dome team going into the season and we still have that expectation," Kuhlman said. "It's been a dream of mine forever."
Schrader credits the team's work ethic as a key to the growth. They endured rare losing seasons as freshmen and sophomores before being eliminated by a Saint Ansgar squad that reached the state semifinals in last year's playoffs.
"Our team has really come together," Schrader said. "Throughout the summer we had one group lifting session so we'd all be together and we've kept that going.
"We're all really close friends. It helps on the field because we know how to act around each other and we know when somebody needs help, and we'll go help."
Schrader and Kuhlman each point toward the growth of their offensive linemen and the development of a stronger passing game as keys to their success rushing the football.
Foster feels their contributions on defense have been just as, if not more, valuable.
"In my opinion, Jake is one of the best linebackers in the state," Foster said. "It's amazing the way he gets to the ball.
"Colin has a knack to use his hips, always has vision of the ball and is never out of position. He's a wrestler who understands how to do takedowns and he doesn't miss tackles. He can just flat out cover."
One word emphasizes how these Warriors view defense.
"Every time we break the huddle on defense, we always say, 'Pride,'" Kuhlman related. "That's our thing. We take pride in letting minimal yards happen on the run game, especially, and our secondary goes a great job."
Trust has been built through years of friendship.
"I like that everybody does their own job," Schrader said. "It makes it so you don't have to worry about the other people because you know they'll get it done."
With postseason play just around the corner, Wapsie Valley's veteran players are determined to leave their mark.
"I'd say the commitment and heart," Kuhlman responded, when asked what makes this team unique. "We have 14, 15 seniors out. In Class A football, that's pretty good. Everybody loves the game and we all want to go really far and get to the Dome."
Prep of the week: Willis comes into her own at Grundy Center
GRUNDY CENTER — Kylie Willis grew up as one of Grundy Center volleyball's biggest fans.
With her mom, Lori, serving as an assistant coach on Darwin Sents' staff, Kylie watched athletes like Heather Hook, Samantha Meyers and Riley Sents lead the Spartans to five consecutive state tournament appearances before joining NCAA Division I programs.
Once Kylie reached high school, Lori took over the head coaching job. The eldest of three Willis children has worked alongside her mom and a talented group of teammates to leave their own mark within Grundy Center's tradition of volleyball success.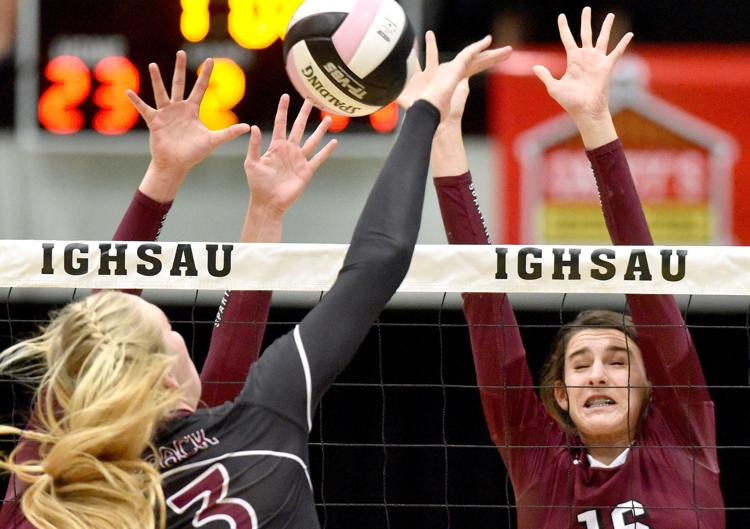 "I always looked up to all the girls my mom was coaching and I just felt a connection with volleyball," Kylie Willis said. "It was very motivational. ... They were such good role-models and had a good attitude showing us how a Spartan volleyballer plays. That was the expectation, so you wanted to fulfill it and not let them down and keep the Spartan tradition going."
The Spartans followed last season's breakthrough run to the state tournament, with a roster filled by underclassmen, by jumping out to an 18-0 start with a pair of weekend tournament championships this season.
Willis leads Class 2A's No. 3-ranked team (28-4) with 2.85 kills on .468 hitting from her middle hitter position. She also serves at a 94 percent efficiency and averages 0.79 blocks a set and 2.08 digs as a five-rotation contributor.
Lori Willis admits that well-rounded skill set isn't something that came easily to her daughter, whom she initially tried to steer toward basketball in order to find her own passion. While Kylie and her classmates began playing volleyball in fourth grade, she didn't serve in matches until seventh grade and the thought of her playing back row wasn't on the radar.
"The biggest blessing she received was the fact that she was uncoordinated," Lori Willis said. "It made her work harder. It didn't come to her naturally so she had to put in the extra time. ... She's put in a lot of practice and a lot of grit to get where she is right now."
Kylie credits the opportunity to work with coaches Liz Plum, Brian Lepa and Jay Grassley with the Six Pack club program entering her eighth grade year as another vital key to her development.
"They saw a lot of potential in me and if it wasn't for them I wouldn't be the player I am today," she said.
Willis has enjoyed working alongside a cohesive and athletic group of friends who started playing basketball together in third grade and then added volleyball to their repertoire.
"My teammates are wonderful," Kylie said. "They're always pushing me and we're pushing each other. They are all really good athletes. We have such a close friendship, no drama on the court, and that just makes for a wonderful year. You can just focus on the game and have fun."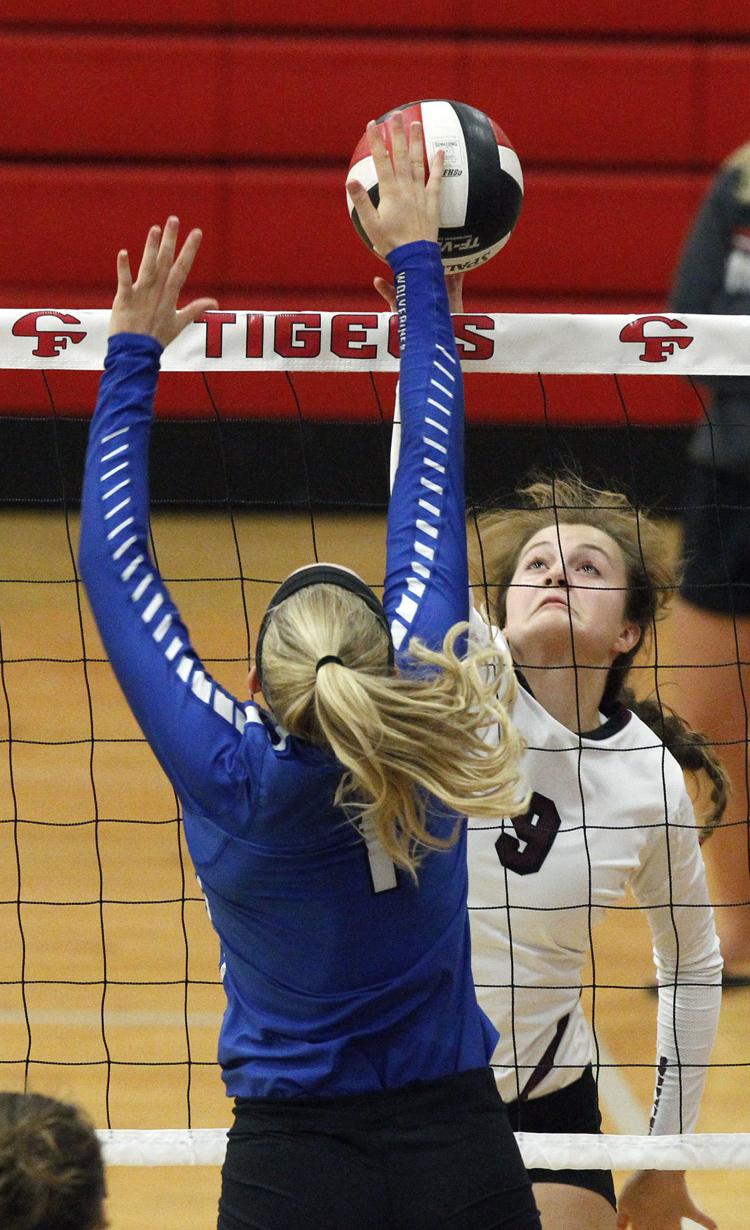 Lori Willis characterizes the group as driven and unselfish. She knows she can push them hard as they work to reach their potential.
"They don't give up," Lori Willis said. "The best way to describe it is they just get it. They get competition. They get what it takes to be a team. It really drives them.
"Not only do they want to be the best players that they can be, but they want to be the best player for the team. They just enjoy being a part of something that is bigger than themselves."
Grundy Center entered this week two matches away from extending a win streak over NICL West opponents to nine consecutive years. The Spartans are coming off a weekend tournament in which they recorded a narrow win over 3A's No. 7 Osage and battled 5A's No. 4 Cedar Rapids Jefferson to the wire before losing in the semifinals.
While living with her coach isn't always easy, Kylie wouldn't trade these high school years for anything.
"It's been a struggle sometimes being a coach's kid," she admits. "You're always getting coached at, even when you go home, at practice, during games, it's never-ending. But I truly wouldn't change it because it's brought me and my mom closer and we can share that passion together. It's something we will always cherish."
Beyond high school, Kylie is looking toward an opportunity to play collegiate volleyball. She's already drawn interest from multiple NCAA Division II programs and still has two postseasons of high school volleyball left to continue to make her mark on the program she grew up idolizing.
"It would mean the world to me that I'm able to keep pursuing what I love and knowing that I'm able to play in college," Kylie Willis said. "Since I was young, I've been clumsy. I've never had all the coordination. All my hard work will eventually pay off if I'm able to play at the college level."
Prep of the week: Thede makes his mark at Gladbrook-Reinbeck
REINBECK — Walker Thede's introduction to high school football was less than glamorous.
A shy, undersized scout team quarterback, he took his share of licks during practice, trying to keep faith he'd have an opportunity to become a difference-maker down the road.
"Freshman year, coming in I was extremely shy, I wasn't able to talk to anyone," Thede recalls. "It was day after day, getting hit and hit. I did start to wonder if come around senior year I'd be able to be big enough to compete against everyone else."
A well-timed growth spurt prior to his sophomore year helped Thede become a contributor in what has been a run of success across multiple sports at Gladbrook-Reinbeck High School.
The five-sport athlete has been a member of programs that have reached state in baseball, soccer, basketball and football during his high school years. Thede grew from the scout team to a sophomore starting cornerback on a state championship football squad. That title run was followed with an undefeated 2016 season and a perfect 5-0 start to this 2017 campaign.
"I remember being out on the field when the final buzzer went off," Thede said, reflecting back on his first state title. "I looked over to one of my best friends, Hunter Lott, and I was able to tell him that we finally did it. It's something we always talked about."
Thede has played almost every possible role within a team, from a dynamic forward on the soccer pitch to a supporting role-player on the hardcourt where 2017 Mr. Basketball Joe Smoldt lit up the scoreboard.
"It seems too good to be true, but it's even more stressful having good team after good team, because at some point you start to feel a lot of responsibility on yourself," Thede said. "At the same time, it's so much fun. Track meets and soccer games, you meet so many new people. ... I appreciate everything my coaches have done for me."
Gladbrook-Reinbeck coach John Olson certainly feels Thede has brought a lot to his football program's winning culture.
"This year he plays free safety and outside linebacker for us," Olson said. "He's a senior and knows what's going on. He's pretty smart, he has great instincts, not to mention unbelievable speed and quickness. He returned four punts and a kickoff for a touchdown last year.
"Everything I said about him so far is second to how good he is as a receiver. He has good route-running skills, and he adjusts awesome to the ball in the air."
After ranking fourth on last year's undefeated team in receiving yardage, Thede and fellow senior receiver Matt Johannsen have benefited from a more pass-focused offense this season. Thede has 20 catches for 441 yards and five scores for Class A's No. 2-ranked Rebels, while Johanssen has hauled in 15 receptions for 395 yards and seven touchdowns. Thede also averages 10.5 yards per rush with two touchdowns on 17 carries.
During Friday's 38-13 win over B-G-M, Thede turned five receptions into 212 yards and three scores and added a field goal. Seth Gretillat is also in the mix within a corps of receivers that has bonded with Lott at quarterback.
"We all grew up together," said Thede, who entered high school after playing on undefeated teams at every level of youth football. "Us and Hunter, we've all become extremely close friends. I think that is able to keep us going and make some connections that a lot of teams don't have."
Inspired by his dad, Barry, who works as a Youth Sports Foundation coach, Walker Thede is active throughout his school district. He'll go from practice over to Gladbrook to work the JV football chain gang and watch his sophomore brother Eli compete.
Thede also helps announce YSF games, refs flag flootball, line judges or works scoreboard for volleyball matches and assists at cross country meets. The once shy high school freshman is now working to inspire younger children in the community.
"All the sports achievements and stuff are great, but what I take pride in is being a role model to these younger kids," said Thede, who plans to major in engineering and play football or soccer at the collegiate level. "There's a lot of kids that come up to me and yell out my name and give me a high five. A lot of it is because I love to be involved in my community.
"I'm extremely proud of how far this team has come and our community, all together. I wouldn't trade these four years I've been here for the world."
Prep of the Week: Gillett's decision-making ignites potent Cedar Falls offense
CEDAR FALLS — Luke Gillett's first taste of varsity football was barely enough to whet the appetite.
After completing just three full games at the start of his junior season, the Cedar Falls quarterback has feasted on opposition through the first four games of his senior campaign.
Gillett has passed for 777 yards with completions on 63 percent of his throws and 10 touchdowns with no interceptions. His surgically repaired knee has added 207 rushing yards and two scores as Class 4A's No. 6 Cedar Falls (3-1) has surpassed 30 points each week against a collection of teams that own a combined 11-1 record in games not involving the Tigers.
Toughness is just one trait that complements Gillett's physical gifts. When he suffered an injury to his kneecap at the end of his sophomore basketball season, Gillett was told the recovery time from immediate surgery would cost him his entire junior football campaign.
Once he was advised damage to his knee wouldn't get any worse, Gillett postponed the operation — allowing him to get his first varsity starts at the quarterback position.
"I didn't want to miss my junior season," Gillett said. "I wanted to get some varsity experience under my belt.
"Going into it, I knew there was a small chance I would make it through the entire season. I felt that if I could just get in there for a couple games, get a couple wins for my team, that they'd be able to handle it with things off to a good start."
After Gillett's knee was twisted on the second series against Western Dubuque, it was decided at that point surgery would be the best option. Gillett underwent medial patella-femoral ligament (MPFL) reconstruction and spent two days each week for the next six months in physical therapy, working toward a return that allowed him to finish out last spring's track season.
"It just says a lot about him and his character," Cedar Falls coach Brad Remmert said. "It's not easy coming back from any injury, especially one where it's six months of rehabilitation. He stayed the course, did a great job of rehabbing. I think a lot of kids saw the work he was putting in to get himself ready and that motivated them to work harder."
Physical talent has always been part of Gillett's profile. Remmert praised his athleticism as the main factor that allowed him to win the starting role at the quarterback position entering his junior season. His speed and agility is paired with a strong arm that can the complete deep balls, outs and corner routes, complemented by the touch to hit targets underneath.
It's Gillett's mental growth, however, that has allowed this year's Cedar Falls offense to maximize its talented personnel.
Post-snap, Gillett quickly checks off his targets with big-play weapon Blake Chirstensen joining Logan Wolf, Dalton Closson, Jackson Frericks and Jakob Courbat with at least five receptions. Racing to the edge, he also makes the split-second choice on whether to keep or pitch the football to standout running back Sam Gary on option rushes that have become more effective.
Perhaps most impressive is what occurs pre-snap. Gillett walks to the line of scrimmage with the entire playbook at his disposal.
"We probably have given Luke more freedom to change up plays than we have with many of our quarterbacks in the past," Cedar Falls coach Brad Remmert said. "He's able to get us out of bad plays."
Gillett credits feedback from his receivers as part of what allows the audibles to be so successful.
"Last year I could only check a few plays," Gillett said. "This year I think it's a huge component to be able to call a play from the line of scrimmage.
"You never really think about how much control you can put in somebody until you give them the full playbook at the line of scrimmage. I'm able to walk up there, and depending on what I see, change to whatever play I want."
Character and poise are traits Gillett says he's learned from one of his earliest role-models — grandfather Arvil Stille, a former Drake football star and World War II veteran. Gillett has applied the lessons learned from Stille, who passed away in 2011, to football and his everyday life.
"I can remember playing games with him and if I didn't win, I'd throw a fit," Gillett recalls. "He's always be like, 'You can't be a sore loser.' He kind of kept my head on straight. It was all about character. ... Just treat people with respect and always give 100 percent."
At a recruiting disadvantage after missing the majority of his junior season, Gillett is starting to pick up some buzz from college programs. He recently went on a visit to Winona State and Remmert feels he'll have plenty of options by season's end.
"Somebody is going to end up with a pretty good football player," Remmert said. "I think he can play at a very high level. As he continues to make the throws he's shown he can make on a consistent basis, I think the looks are going to get only better."
Prep of the week: Columbus' Sinnott ready to paint her 1,000th kill
WATERLOO — The manner in which Anna Sinnott attacks the volleyball could be considered a work of art.
"She probably has one of the most beautiful approaches I've ever seen," Waterloo Columbus coach Hanna Nuss said of her returning all-stater. "It's just long and rhythmic and perfect. You can't even teach it that way."
It won't be long before one of the Waterloo Columbus senior outside hitter's masterpieces reaches a coveted milestone.
Sinnott will take 987 career kills into La Porte City for Thursday's North Iowa Cedar League triangular with Union and Jesup. She's reached that total in little over two seasons, after playing just 45 sets as a freshman.
"Going into high school, I didn't really expect that or realize that could happen," Sinnott admits. "Being close (to 1,000 kills) early in the season is unbelievable and such a great feeling that I'm going to be able to accomplish that in my high school career."
Similar to many girls that play her position, Sinnott is quick to point out success doesn't come without resilience. She finished better than any player in Class 2A a year ago with a state-high 473 kills, and is averaging 4.12 kills per set on .279 hitting for this year's squad that has won back-to-back tournament championships at Mount Vernon and Iowa City West.
"You get defeated a lot when you're an outside hitter, especially with big blockers. You just have to learn to stay positive," Sinnott said. "It teaches me to just shake things off and move on , set an example for my team that if I do get blocked or hit a ball out I need to focus on the next point. Focus on giving it my all and doing my part."
Sinnott certainly hasn't had to look far to find role models on the volleyball court. Her older cousin, Ashlee Sinnott, was a multi-sport standout at Columbus who went on to become a regular in the University of Northern Iowa's volleyball rotation.
"She just showed me what hard work meant," Anna Sinnott said of her cousin's influence. "If you want to get something then you need to work hard for it. If you set your mind to it, you can really accomplish anything you want."
Landry Luhring, a senior leader on Grundy Center's 16-0 team, helped introduce Anna to competitive volleyball. They were 12-year-olds in the same gymnastics class when Luhring suggested Sinnott go with her to a club tryout one night after practice.
"I went with her and I've been playing ever since," Sinnott recalls. "I just really liked playing as a team rather than doing something as an individual."
Former teammate Lauren McManus was another valuable influence for Sinnott. They played the same position, and Sinnott credited the senior leader of last year's team as someone who demonstrated how to develop unity and hold each other accountable.
As Sinnott's confidence rose her junior year, the Sailors went on an incredible late-season run. Columbus returned to the state tournament for the second time in as many seasons and reached the finals as a team ranked outside the Top 10.
"She had to build her own confidence and show everybody else that she's somebody they can ride on," Nuss said. "Especially last year, she just came on at the end and decided that she was going to be that player. As soon as she made that turn, she decided that she was going to be unstoppable and hasn't looked back since."
One of the highlights for Sinnott early this season came last weekend. She and another senior rejoined the team for Saturday's tournament at Iowa City West following morning ACT testing.
Newcomers had stepped into their roles and the Sailors didn't miss a beat. Sinnott rejoined her teammates toward the end of pool play and tallied double-digit kill totals during three-set wins over rated opponents Mount Vernon, West Des Moines Dowling and Iowa City West.
"We got there mid-match of one of the pool play games and we got to see how they blended together without us," Sinnott said. "It's cool to see the future of the program and how they react to that kind of pressure. They just did great all around and stepped up this weekend."
Beyond high school volleyball, Sinnott is still undecided when it comes to college volleyball. She's spoken with a couple programs, but hasn't gone on any visits to this point. Academically, she says she'd like to pursue a degree in OB nursing.
Nuss knows her senior has already made a lasting impact with a high school program that is looking to win a state title after losing in last year's finals.
"Anytime you can have a kid that's top anything in the state it's going to grow your program," Nuss said. "It's going to have kids sitting in the bleachers dreaming that one day they'll be like Anna Sinnott. That's exactly what we need to put Columbus volleyball back where it should be."
Prep of the week: Perseverance pays off for East, Gordon
WATERLOO — One game into the 2016 football season, Tyrell Gordon was looking for an exit.
Losing can take a toll on even the toughest athletes, and Waterloo East's running back and linebacker was no exception. A familiar winless season came to a premature end that year when there weren't enough healthy bodies to field a team the final week. The Trojans' losing streak dating back to the 2012 playoffs stood intact.
"After the first week last year I didn't want to do it anymore," said Gordon, who went on to rush for a team-high 547 yards. "Before this season started, I still didn't want to do it.
"My wrestling coaches were basically telling me, 'You wouldn't quit wrestling, so why would you quit football?' I think it kind of made me more mentally tough, so I won't quit whenever something gets hard."
That perseverance finally paid off Friday night when East snapped a 37-game losing streak with a convincing, 38-0 season-opening win over Des Moines North.
Gordon rushed six times for 47 yards during the victory, including a 22-yard touchdown run that opened the second-half scoring. His first game following a move from linebacker to defensive end was a success, as well, with East holding North to 51 yards in the first half of a shutout effort.
Afterward, the scene in the locker room at Waterloo's Memorial Stadium was one of pure elation. Seniors celebrated a victory years in the making while a group of underclassmen opened their careers 1-0.
Gordon isn't ready to say mission accomplished just yet. He's quick to point out North graduated plenty of senior starters from the two-win team that beat East by 35 points a year ago. A win Friday over a Newton squad that opened with a 42-7 victory at Ottumwa would prove something, he added.
Still, there's a different vibe within this East High group.
"There was more intensity in practices," Gordon said, addressing the preseason workouts. "Everyone there wanted to get better where last year they were kind of there to be there."
When Xavier Leonard took over as East's head coach prior to last season, he recalls Gordon wouldn't say much in practice but he'd do every drill full speed.
"He'll just do what's asked of him," Leonard said. "You say run through a wall, he's going to run through the wall.
"When I first met the young man he was definitely a quiet, soft-spoken young man, well-built, great wrestler, team leader as far as what you've got to do on the field and in the classroom. He's constantly in the weight room. He's a great young man from a great family background."
Even while his junior football season ended in disappointment, Gordon's disciplined approach led to a breakthrough run on the wrestling mats that winter. He placed fourth at 182 pounds in his state debut, and went on to Fargo freestyle nationals over the past summer and finished fifth.
Colleges from Northern Iowa to Iowa State, Northern Illinois, Campbell and North Carolina have expressed interest in Gordon joining their wrestling programs.
He's received added confidence from East alum and former collegiate national wrestling champion Kyven Gadson, who stopped by the weight room to work out prior to this football season.
"We met when I was in eighth grade," Gordon said. "He's such a good role-model and we became closer and closer friends since then. It adds a lot. ... It's cool to know he came from the same place I do."
On the football field, Leonard has handed Gordon a new challenge with the move from linebacker to his hand on the ground at defensive end.
"He's able to help keep stuff contained and he runs around the field very well," the East coach said. "He's strong at the point of attack with his wrestling background."
Gordon also embraces contact on offense.
"He's a hard-nosed runner," Leonard added. "He'll try to run kids over, but he does have speed. He brings a physical presence."
Realizing one win is just one step in the right direction, Gordon is eager to see how this year's team reacts whenever its first taste of adversity arrives.
"Just seeing how we handle a loss," Gordon responded, when asked about the keys to changing the culture of the football program. "They were super excited to win, but if we can lose a game and come back and win the next one, I think that will be huge."
In addition to pursuing an opportunity to wrestling at the collegiate level, Gordon is eyeing a potential career in the field of criminal justice or homeland security.
"I just don't want to sit in a desk all day," he said. "I just want to be out doing something. I feel like that's what I'd have the most fun at."