DENVER — After withstanding body blows early, the Denver football team took a haymaker it was unable to recover from in the second quarter.
Anthony Lowman kick-started a 21-0 rally with a 97-yard touchdown catch and second-ranked Van Meter took down the sixth-ranked Cyclones 27-6 in the quarterfinals of the Class 1A state football playoffs Friday night.
After an opening drive pick set up a Bulldog touchdown, Cyclone quarterback Sam Joeger led a 12-play, 65-yard response, which he capped with a two-yard touchdown that tied the score at six.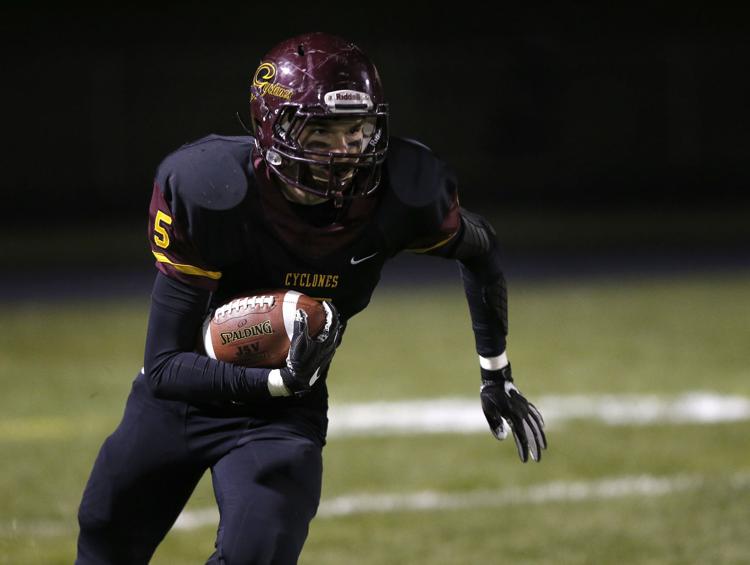 After the teams traded punts, Denver looked in prime position to control field possession after pinning Van Meter at its own 3-yard line.
On the first play of the drive, the senior wide receiver blew past the Cyclone secondary, and quarterback Blake Fryar hit him in stride for the go-ahead score.
Though primarily known as a run-first team, the Bulldogs' aggressive play calling didn't surprise Denver coach Rhett Barrett, who said his team was simply out-executed by a better opponent.
"That's the way they played all year," he said. "Their speed hurt a lot of people and it hurt us. Their whole team is very fast and very disciplined."
After using a quick strike to steal momentum, the Bulldogs put the game in a stranglehold with two lengthy scoring drives.
One possession after Fryar's first touchdown catch, he added a second on third-and-goal from the six, extending the lead to 20-6 with 14.5 seconds to play before halftime.
Fryar, who finished with 136 yards, had a 15-yard catch on third-and-10 on the drive, which also featured a 29-yard fourth-and-one run by tailback Carson Rhodes.
If the score before the half was debilitating for the Cyclones, Van Meter's second possession of the second half was an all-out back-breaker.
The Bulldogs put together another 90-plus-yard drive, this one encompassing 16 plays and with three third-down conversions and another four-and-one chain-mover.
Rhodes, who finished with 202 yards rushing, capped it with a seven-yard touchdown run.
Though they had some success running the ball, the Cyclone offense wasn't equipped to play catch-up.
"They're number two in the state for a reason," said tailback Bo McMahon. "I felt like we executed fairly well. They just got us. That's part of football."
In his final game, McMahon became the first runner this season to top 100 yards against Van Meter, gaining 102.
Joerger also spoke in proud tones afterward.
"Last games are always going to be tough," he said. "This one stings and it's going to hurt for awhile but I'm happy with the team I got to play for. I wouldn't have wanted to play anywhere else."
A 9-2 season seemed like a far-fetched idea early. After graduating four offensive linemen, the Cyclones seemed to have an identity crisis following a 27-6 week two home loss to Wapsie Valley.
But after settling into new roles, Barrett said his players ultimately reached their full potential and credits his seniors for adding to their already impressive legacy.
"We had to find everybody's niche," he said. "It took awhile to get into it but once we got into it, we were good. It was a great year."
VM — Carson Rhodes 7 run (kick failed)
Den — Sam Joeger 2 run (kick blocked)
VM — Anthony Lowman 97 pass from Blake Fryar (Sam Bardwell kick)
VM — Lowman 5 pass from Fryar (Bardwell kick)
VM — Rhodes 9 run (Bardwell kick)
Rushes-yards 41-219 43-149
Comp-att-int 8-13-0 4-10-1
Penalties-yards 7-67 2-20
VAN METER — Carson Rhodes 30-202, Blake Fryar 11-17.
DENVER— Bo McMahon 21-102, Sam Joerger 17-30, Kevin Walsh 5-17.
VAN METER— Fryar 8-13-0, 159 yards.
DENVER— Joerger 4-10-1, 35 yards.
VAN METER — Anthony Lowman 4-136, JJ Durflinger 3-14, Sam Thompson 1-9.
DENVER— Riley Wright 2-36, Kain Eagle 1-1, Walsh 1-minus-2.