CEDAR FALLS — Fifth-ranked Cedar Falls looked ready for the Class 4A state playoffs as the Tigers rolled to 66-0 victory over Waterloo East Friday in the UNI-Dome in their regular-season finale.
Cedar Falls rushed for 291 yards as it capped its best regular season since 2012 with a 5-0 district record and an 8-1 overall mark. The Tigers also went 8-1 in 2012 and reached the 4A semifinals that season.
"I thought we did a pretty good job of staying focused and doing what we needed to do tonight," Tigers head coach Brad Remmert said. "I'm proud of what we have done all year. We have had our head down for nine weeks just grinding it out.
"I talked to the guys afterward and said to enjoy this, we went 5-0 in district, 8-1 overall. That's a great season. Enjoy it, rest up and we will find out who we will play next Friday."
It was a rout from the start as the Tigers scored early and often, leading 24-0 after one quarter and 52-0 at halftime.
Sam Gary rushed for 155 yards and four scores in the first half, and Luke Gillett had pass completions of 32, 16 38, and 21 yards, also in the first half. The Tigers were not forced to punt until their second unit was in during the third quarter.
Gary had touchdown runs of 17, 2, 11 and 11 yards and closed the regular season with 17 rushing touchdowns and 1,305 rushing yards.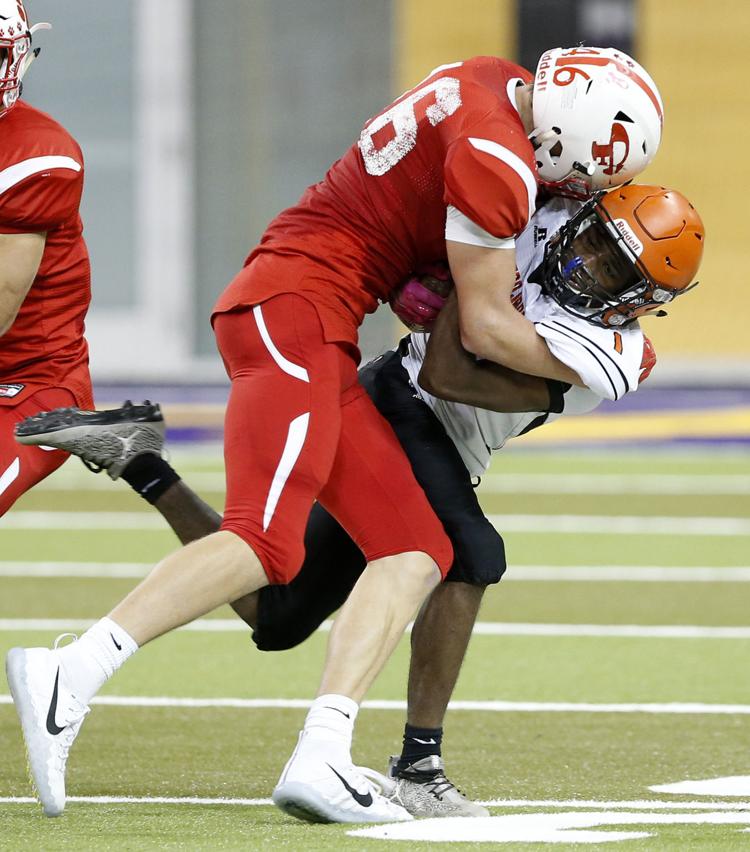 "We feel like this game we could've cleaned some things up," Gary said. "I think we went downhill a little more than uphill in this game. We got a stern talking to at halftime from coach. We have to fix stuff and go on from here."
Cedar Falls forced five East turnovers, three in Tiger territory.
"Our defense has played well all year," Remmert said. "Pretty proud of the way they have prepared and the coaches have prepared them. I think they gave up 13 points in district play, which is fantastic."
It took the Tigers just five plays to drive 66 yards and score on Gary's 17-yard run just 1 minute, 23 seconds into the first quarter.
Logan Wolf returned a short, wobbly punt 13 yards for a touchdown just 1:14 later and Cedar Falls never built a 52-0 halftime lead.
East (2-7, 0-5) didn't quite finish they way it wanted, but it will be a season to build on.
"That is one of the bright things about our season," Trojans coach Xavier Leonard said. "We were competitive in a lot of games so I'm proud of them for that.
"But we have to hit that weight room and get it going. I told the guys after the game, 'Yeah, we snapped a losing streak, but started another one.' We have a six-game skid now and we're going to end that first game next year."
Cedar Falls 66, Wat. East 0
Waterloo East 0 0 0 0 — 0
Cedar Falls 24 28 7 7 — 66
CF — Sam Gary 17 run (Matthew Cook kick)
CF — Logan Wolf 13 punt return (Cook kick)
CF — Gary 2 run (Cook kick)
CF — Gary 11 run (Cook kick)
CF — Luke Gillett 18 run (Cook kick)
CF — Gary 11 run (Cook kick)
CF — Jackson Gilbert 3 run (Cook kick)
CF — Chip Custer 1 run (Steve Eiklenborg kick)
CF — Will Gage 11 run (Eiklenborg kick)
Rushes-yards 16-42 38-291
Comp-att-int 13-31-4 5-14-0
Penalties-yards 6-43 4-40
EAST — Dylan Reyes 7-6, Kendall Robinson 1-4, Tavious Jenkins 2-minus 6, Jacee Clark 3-26, Scott Bickel 1-2, Aidan Ernst 1-5.
CEDAR FALLS — Gary 15-155, Gillett 5-10, Gilbert 8-55, Custer 6-49, Jace Rea 1-2, Will Gage 2-18, Westen Graham 1-2.
EAST — Reyes 13-31-4, 132 yards.
CEDAR FALLS — Gillett 5-12-0, 114 yards Mason Abbas 0-2-0.
EAST — Ahkil Muhammad 1-1, Clark 3-57, Damon Johnson 2-23, Jenkins 1-32, Daquavion Walker 2-6, Ernst 1-3, Bickel 2-6, Robinson 1-3.
CEDAR FALLS — Logan Wolf 2-70, Jakob Courbat 1-15, Abbas 1-21, Jackson Frericks 1-9.