GILBERTVILLE — Don Bosco is still the one.
Looking forward to Friday night's test against fellow unbeaten Tripoli as a measuring stick game, Don Bosco's football team quickly elevated itself into a different stratosphere.
The defending state champion and top-ranked Dons improved to 50-1 all-time in regular-season 8-player football as they secured a convincing winner-take-all district championship over No. 4 Tripoli, 78-20.
Don Bosco quarterback Wyatt Sawvel led a dynamic offense that took just four plays to score its first two touchdowns and continued to hit Tripoli (8-1, 5-1) with big plays from start to finish. Sawvel passed for five touchdowns and 267 yards and rushed for 271 yards and four more scores as Don Bosco (9-0, 6-0) proved it is the odds-on favorite to repeat.
"Tonight we wanted to come out and make a statement," Sawvel said. "We wanted to prove that we're the No. 1 team in the state. I'm proud of the way my team played."
Austin Svoboda and Cael Tenold each had two receiving touchdowns while Thomas Even added two catches for 84 yards — including a 64-yard score. Svoboda and Austin Hellman also rushed for touchdowns, but Sawvel was the go-to guy on this night.
"That's usually how our offense runs," said Sawvel, who played cornerback and running back on last year's championship team. "We just go with the hot hand and we play as a team.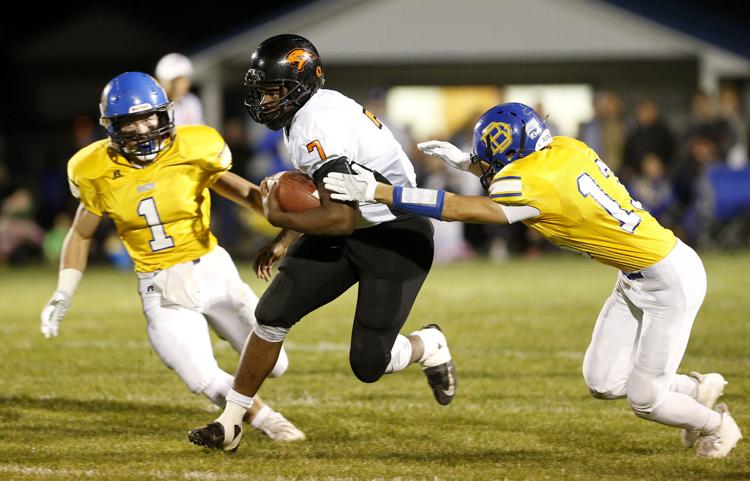 "It's not about who gets the carries. We've got about four guys who can take it to the house at any time."
Tripoli's first loss came with its top lineman Zach Hereid nursing an ankle injury. Running back Marquise Paino, who entered the night with 1,122 rushing yards at 10.5 per carry, was forced to contend with a pack of yellow Don Bosco jerseys every time he touched the football.
"We talked about shutting down the running lanes and tackling well," said Don Bosco coach Colby Yoder after his team held Paino to 33 rushing yards on 18 carries. "In 8-man football you've got to tackle well and we tackled really well tonight. It's a testament to our guys. They came to play."
Tripoli showed signs of what had been an explosive attack throughout the season.
Paino used a 59-yard screen pass reception to set up a 4-yard scoring run on Tripoli's opening drive, and later ran a kickoff back 60 yards for a score and hauled in a 41-yard TD reception from quarterback Elijah Cheever.
Still, Don Bosco's defense made life miserable for the Panthers throughout much of the night.
"They just beat us up, up front, and everything after that we're scrambling," Tripoli coach Tom Nuss said. "That's the name of the ballgame. They're explosive."
A Don Bosco team that had won two of its previous four games by forfeit and hasn't been tested all season was looking forward to this challenge.
"There was a lot of hype coming into this game," Yoder said. "I think they wanted to come out and say it's playoff time. We're going to try and make a run."
Don Bosco 22 28 20 8 — 78
Trip—Marquise Paino 4 run (Tyler Halverson from Elijah Cheever)
DB—Wyatt Sawvel 63 run (Sawvel run)
DB—Austin Hellman 29 run (Sawvel run)
DB—Cael Tenold 23 pass from Sawvel (run failed)
DB—Thomas Even 64 pass from Sawvel (run failed)
DB—Tenold 24 pass from Sawvel (Sawvel run)
DB—Austin Svoboda 20 pass from Sawvel (pass failed)
DB—Sawvel 14 run (Sawvel run)
DB—Sawvel 65 run (pass failed)
DB—Sawvel 71 run (Svoboda run)
Trip—Paino 60 kickoff return (run failed)
DB—Svoboda 74 pass from Sawvel (pass failed)
DB—Svoboda 3 run (Hellman run)
Trip—Paino 41 pass from Cheever (pass failed)
Rushes-yards 28-64 36-387
Comp-att-int 12-25-3 10-15-1
Penalties-yards 3-24 7-65
TRIPOLI — Marquise Paino 18-33, Brady Brocka 3-6, Elijah Cheever 3-6, Mason Bradley 2-1, Lincoln Drewis 1-20, Team 1-minus 2.
DON BOSCO — Wyatt Sawvel 12-271, Austin Hellman 5-41, Austin Svoboda 6-26, Mason Denton 6-18, Cael Frost 3-20, Thomas Even 3-7, Easton Larson 1-4.
TRIPOLI — Cheever 12-25-3, 220 yards.
DON BOSCO — Sawvel 10-15-1, 267 yards.
TRIPOLI — Zach Johnson 7-105, Paino 3-104, Tyler Halverson 1-9, Jared Cheever 1-8.
DON BOSCO—Cael Tenold 3-60, Svoboda 2-94, Even 2-84, Kendall Becker 3-29.