CEDAR FALLS — The 2017 Keith Young Invitational once again brought out some of the best wrestlers in the state of Iowa Saturday, and the packed gymnasium was not disappointed in the talent on display.
With five teams ranked in the top 10 of their respected classes attending, it was Class 1A's No. 2 Denver Cyclones who topped 14 other teams to capture the title.
It is not an easy trophy to win, but Denver used a dominating morning performance to gain a huge lead, then held off five schools in the finals while accumulating 215 points.
"We came into this tournament thinking it could be attainable," Cyclones coach Chris Krueger said. "But you just look at the field of Valley, Waverly-Shell Rock, North Scott and even small schools like Don Bosco. These are teams that are very solid and we just had to go at it with the attitude and push to wrestle hard at each match.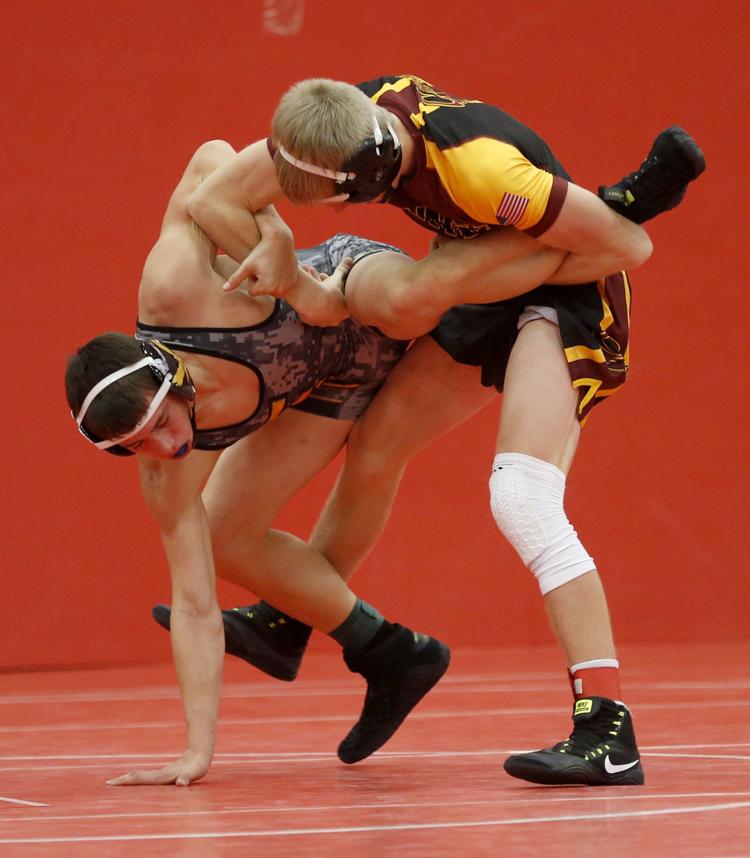 "It was huge getting that big lead early in the day. We struggled in the finals and had to hold on for the win."
The Cyclones held a 60-point lead early before five teams made a late charge. Des Moines Valley took second with 168 points while Cedar Rapids Kennedy, North Scott and Waverly-Shell Rock finished just seven points apart.
In one of the more exciting matches of the day, 138-pound Gable Fox of Don Bosco put his undefeated mark on the mat with unbeaten Riley Wright of Denver.
Fox trailed 2-0 after one period, then used a crushing takedown at the end of the second to go up 4-2. Wright was able to escape in the third, but Fox held him off over the final 40 seconds for the win.
"I knew I could score on him and when I got the lead I knew he couldn't beat me," said Fox. "I needed to be more offensive on top and in the final minute I saw he was getting tired and running out of gas. It felt good winning, but I know that I learned a lot from some of the mistakes I made today. I'll just take what I learned from the tournament and roll with it the rest of the way."
Andrew Snyder of Waverly-Shell Rock had to put a little extra time into his match before defeating Carter Lawrence of Valley 3-2 for the 285-pound crown. It went to an ultimate tiebreaker before Snyder broke free of Lawrence's grasp for the win.
"I kind of like working late because I feel I am in good condition," Snyder said. "The other guy gets a little tired and the longer it goes the more confident I get.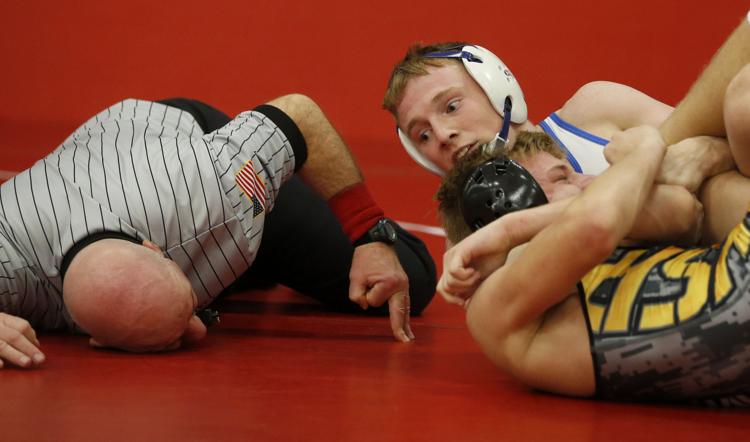 "I wrestled him twice last year and split, both matches were 1-0. It was fun to be the last match of the day and know the crowd was watching. It really fired me up, and I don't like to lose."
Losing is not an option for Cedar Falls junior Jakey Penrith, either.
Penrith won his first two matches by a 16-2 margin, then wasted little time with Kennedy's Ben Hoeger as he pinned him in 33 seconds.
"I was actually shocked I got the pin that quick," said Penrith. "I knew when I saw (Nick) Oldham move up to 120, that I had an easier shot for the title. I was looking to win it all and this is my first time winning this tournament and it feels real good. It is definitely a big confidence booster for me."
At the end of an entertaining day, Fox was named wrestler of the tournament.
"It feels good winning this, especially when you think of all the great wrestlers that were here today," said Fox. "Winning this was nice, but I want to win it all and be on top in March."
Blake Steege of Denver was the only other local wrestler who won a championship as he defeated Easton Larson of Don Bosco, 4-0.
TEAM STANDINGS — 1. Denver 215.0, 2. West Des Moines Valley 168.0, 3. Cedar Rapids Kennedy 166.0, 4. North Scott 165.5, 5. Waverly-Shell Rock 161.0, 6. Don Bosco 148.5, 7. West Liberty 142.5, 8. Mason City 95.5, 9. Cedar Falls 93.0, 10. Bettendorf 89.5, 11. Union Community 77.0, 12. Charles City 54.0, 13. West Des Moines Dowling 48.5, 14. Cedar Rapids Jefferson 36.0, 15. Waterloo West 2.0.
FIFTH PLACE—Kolten Crawford (U) pinned Josh Connor (NS) 3:44.
THIRD PLACE—Aiden Evans (Bett) pinned Brooks Meyer (Den) 1:02.
CHAMPIONSHIP—Cullan Schriever (MC) dec. Daniel Kimball (DB) 9-2.
FIFTH PLACE—Noah Heise (WSR) dec.Bronson Forsyth (CC) 4-1.
THIRD PLACE—Carson Murray (DMD) dec. Connor Weiman (MC) 10-4.
CHAMPIONSHIP—Jakey Penrith (CF) pinned Ben Hoeger (CRK) :33.
FIFTH PLACE—Cael Frost (DB) pinned Lake Lebahn (UC) 5:39.
THIRD PLACE—Ty Pfiffner (CRK) dec. Isaac Schimmels (Den) 4-1.
CHAMPIONSHIP—Nick Oldham (WDV) dec. Dylan Albrecht (WSR) 3-0.
FIFTH PLACE—Caleb McCabe (NS) tech fall Jack Plagge (CF) 20-5.
THIRD PLACE—Evan Yant (WSR) dec. Jack Thomsen (UC) 7-2.
CHAMPIONSHIP—Blake Steege (Den) dec. Easton Larson (DB) 4-0.
FIFTH PLACE—Dylan Falck (CRK) pinned Hunter Youngblut (DB) 5:35.
THIRD PLACE—Mikey Wheeler (NS) dec. Colby Schriever (MC) 12-3.
CHAMPIONSHIP—Will Esmoil (WL) dec.Gabriel Lewis (Den) 6-0.
FIFTH PLACE—Coy Reusse (WL) pinned Deven Streif (NS) 1:48.
THIRD PLACE—Ian Heise (WSR) dec. Caleb Corbin (WDV) 3-1.
CHAMPIONSHIP—Gable Fox (DB) dec. Riley Wright (Den) 4-3.
FIFTH PLACE—Logan Meyer (Den) pinned Adam Ahrensen (UC) 1:56.
THIRD PLACE—Logan Lutgen (DB) dec. Zach Oldham (WDV) 11-9.
CHAMPIONSHIP—Will Jefferson (Bett) dec. Collin Lewis (NS) 2-1.
FIFTH PLACE—Mason Morris (Bett) dec. Luke Deinhart (MC) 5-1.
THIRD PLACE—Dalton Woodyard (WSR) dec. Austin Beaver (WL) 4-2.
CHAMPIONSHIP—Grant Stotts (WDV) dec. Caleb Wilson (Den) 3-0.
FIFTH PLACE—Tanner Doyls (CF) pinned Dylan Koresh (CC) 2:25.
THIRD PLACE—Austin Hellman (DB) dec. John Ebaugh (Den) 15-6.
CHAMPIONSHIP—Jake Matthaidess (NS) dec. Joe Kelly (WL) 7-2.
FIFTH PLACE—Evan Craw (MC) dec. Jacob Scherzer (CRJ) 3-2.
THIRD PLACE—Bryson Hervol (WSR) pinned TJ Yates (NS) 3:47.
CHAMPIONSHIP—Ben Sarasin (CRK) major dec.Cael Krueger (Den) 14-3.
FIFTH PLACE—Jackson Gingerich (WL) dec. Jack Sindlinger (CC) 10-2.
THIRD PLACE—Bryce Schares (DB) tech fall Camden Krueger (Den) 24-9.
CHAMPIONSHIP—Joel Shapiro (WDV) pinned Cael Knox (CRK) 1:14.
FIFTH PLACE—Lane Albertsen (UC) pinned Tommy Custer (CF) :35.
THIRD PLACE—Cade Parker (CRK) pinned Trevor Dorn (Den) :54.
CHAMPIONSHIP—Bryce Esmoil (WL) pinned Brayden Wolf (WSR) 1:44.
FIFTH PLACE—Taylor Viktora (CRJ) pinned Josh Halligan (CC) 2:57.
THIRD PLACE—Zach Petersen (NS) pinned Cam Jones (CRK) 2:27.
CHAMPIONSHIP—Greg Hagan (DMD) dec. Beau Lombardi (WDV) 1-0.
FIFTH PLACE—Josh Vis (CRK) dec.Griffin Liddle (Bett) 9-7.
THIRD PLACE—Cole Ernst (NS) sv-1 dec. Brock Farley (Den) 4-2.
CHAMPIONSHIP—Andrew Snyder (WSR) UTB dec. Carter Lawrence (WDV) 3-2.