WATERLOO — The early start didn't faze them. The 94-minute lightning delay didn't cause them to flinch, either.
Fifth-ranked Cedar Falls stayed the course Friday as the Tigers rolled to a 38-0 victory over Waterloo West at Memorial Stadium.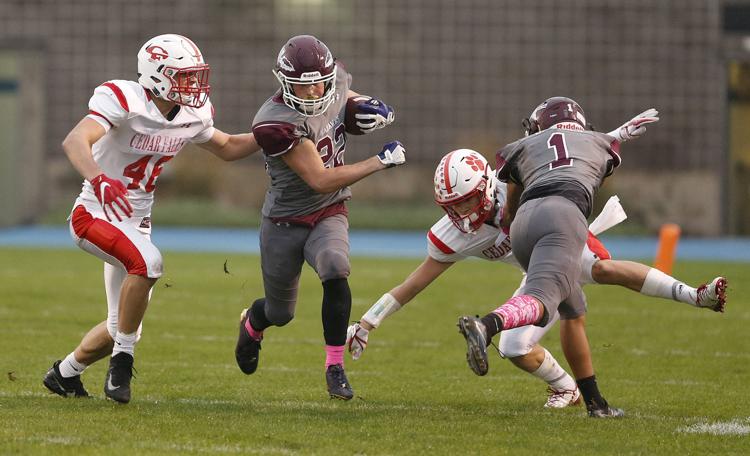 Trying to avoid storms that blanketed most of the state, the game started at 6 p.m., and Cedar Falls (6-1) looked the most ready.
"Just a strange day," Tiger head coach Brad Remmert said. "I told the kids out there they handled it real well. We came out and did some good things in the first half."
Taking advantage of a couple of West (4-3) miscues and the absence of Wahawk starting quarterback Cade Dodd, the Tigers used touchdown runs from Sam Gary, Luke Gillett and Jace Rea to gain a lead 24-0 at halftime.
After a lightning forced the teams to retreat to the locker room midway through the third quarter, Cedar Falls returned to the field and turned a pair of short Wahawk punts into a 37 and then 34-yard scoring drives to put the game way out of West's reach.
"Our defense played well the majority of the night, and it helps when you put up points early and lead 24-0," Remmert said. "We tried to just go north and south tonight and pound it at them, and I thought our kids did a good job on a weird night."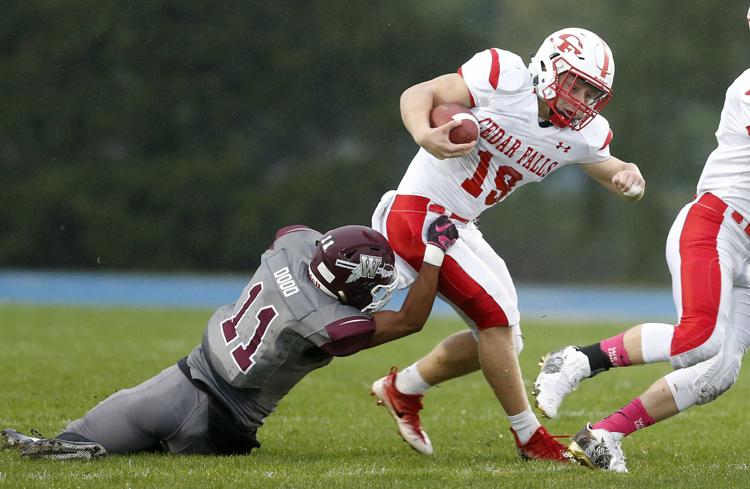 Gary was the workhorse for the Tigers as he eclipsed the 1,000 yard mark on a 25-yard touchdown run in the third quarter. He now has 1,039 yards and 14 touchdowns after rushing 23 times for 142 yards and three scores.
Gary had 66 rushing yards at the half, while Gillett was 8-of-10 for 74 yards in the opening half, including a 29-yard deep slant to Logan Wolf that set up Gillett's one-yard sneak for a 24-0 lead.
West, on the other hand, looked unsettled on how to operate without Dodd, who had thrown for 1,267 and 11 scores in the Wahawks' first five games. That was tacked on to the fact West has been battling an illness that has ran rampant through its ranks.
"No excuses," West coach Lonnie Moore said. "The next man in has to be the mentality. I don't care we, are still going to play football."
As for Dodd's absence, Moore added, "It changed our game plan. It was good to know early so we could make a different plan, and some things didn't work the way we planned it and we take that on the coaches."
West crossed midfield just once the entire game, that coming on a 58-yard run by quarterback Tanner Pollock late in the first half to the Tiger 22. But a holding penalty on the next play put the Wahawks back behind the chains and eventually Moore let the clock run out on what turned out to be the best scoring chance West had.
Both Cedar Falls and West are now turning the page to their remaining contests. With the win, the Tigers clinched at least a tie of the 4A, District 5 title and a berth into the state playoffs after missing out on last year's postseason.
"We just got to keep working," Remmert said. "We talk about each week getting a bit better, and keep adding a few wrinkles each week."
West has a road game Friday at Mason City before its regular-season finale at Cedar Rapids Washington. Wins in those games would keep the Wahawks in the thick of the second playoff spot in District 5.
"We have to take care of our business first and let what happens happen after that," Moore said. "We win the next two and then we can let the chips fall where they may. We have to take one at a time, however."
Cedar Falls 7 17 14 0 — 38
CF — Sam Gary 3 run (Matthew Cook kick)
CF — Jace Rea 6 run (Cook kick)
CF — Luke Gillett 1 run (Cook kick)
CF — Gary 25 run (Cook kick)
CF — Gillett 1 run (Cook)
Rushes-yards 35-170 31-116
Comp-Att-Int 8-13-0 6-12-1
Penalties-yards 3-28 5-39
CEDAR FALLS — Sam Gary 23-142, Jace Rea 1-7, Luke Gillett 4-3, Jackson Gilbert 4-11, Chip Custer 1-2, William Gage 1-5, Westen Graham 1-0.
WEST — Tanner Pollock 12-76, Richardson Gbeynie 9-42, Kadin Paulus 7-11, Zeph Toe 1-2, Adijan Muhamedagic 1-(-13), Team 1-(-3).
CEDAR FALLS — Gillett 9-13-0, 83 yards.
WEST — Pollock 6-12-1, 21 yards.
CEDAR FALLS — Blake Christensen 2-10, Logan Wolf 1-29, Jakob Courbat 1-12, Sam Gary 1-7, Reese Gardner 1-12, Jackson Frericks 2-13
WEST — Mario Wright 4-1, Devon Jones 1-15, Kalen Burt 1-3