FAYETTE -- There's no pit stops when Upper Iowa's offense is clicking.
Such was the case Thursday night as the Peacocks strutted up and down Harms-Eischeid Stadium to the tune of a 58-14 win over the University of Mary.
Coming off a short week and a Saturday win at Northern State in Aberdeen, S.D., Upper Iowa (3-1) forced five turnovers and scored eight touchdowns for 55 unanswered points.
Quarterback Brent Lammers drove coach Tom Shea's NASCAR offense to the tune of 548 yards after three consecutive days of full pads practice.
"We get a decent play out there and then we go into what we call NASCAR," Shea related. "Quarterback is calling everything and we want to get it off in 15 seconds, 15 seconds. That's the way we practice all week long.
"I think we scored at least twice off NASCAR, just playing fast."
Offensive line starters Quintin Taylor, Alex Schneider, Ross Westphal, Sam Jennings and Wayne Doerscher provided plenty of protection for Lammers who finished 15 of 22 passing for 288 yards and three scores. The quarterback also rushed for 37 yards and two touchdowns, while Ryan Parmely frequently bulldozed his way into the secondary with 121 yards on 18 carries and freshman Jon Deprey added 82 yards and a score on 13 runs.
"When we're in practice, they never take breaks," Lammers said of his line. "They're always that way so we can do this high-tempo offense. If we didn't have the way they push themselves in practice, we wouldn't be able to do what we do."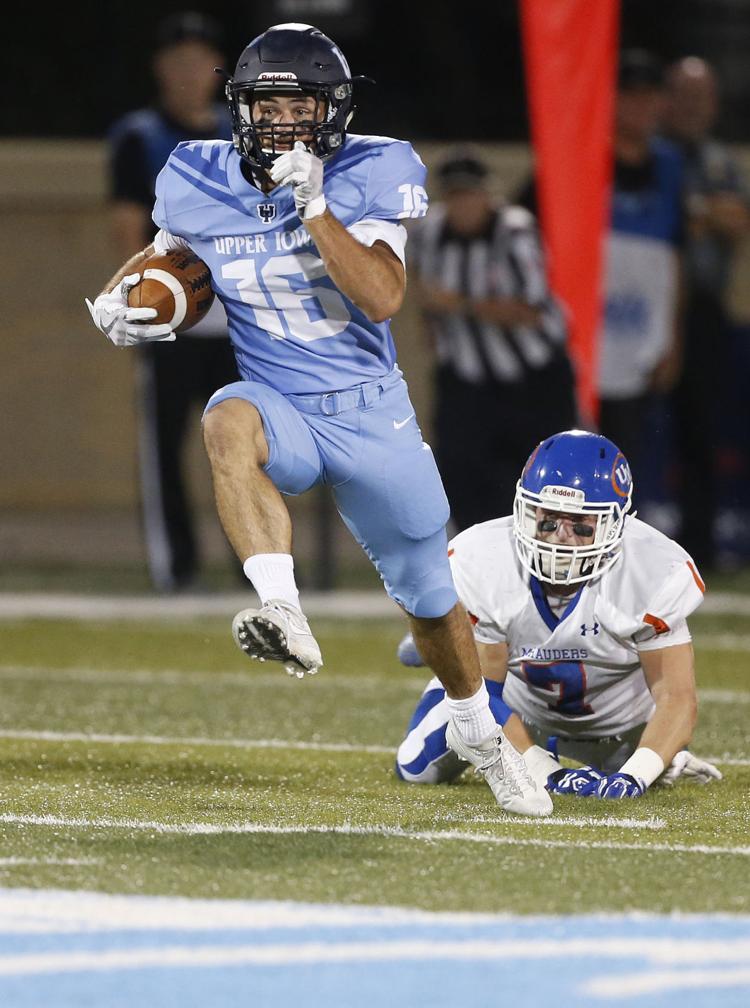 Mary (0-4) did throw the first punch in this contest. The Marauders' triple-option quarterback Colton Farmer caught Upper Iowa's defense by surprise with a throw over the top to Tyson Carney for a 56-yard score on the opening drive, but the Peacocks made all the big plays from that point forward.
Upper Iowa trailed for just 34 seconds as Lammers hit Keagan Pinter on an extended slant that went for a 74-yard touchdown response.
The final scores of the first half came on deep strikes of 46 and 37 yards from Lammers to reliable target Jarred Edmonds for a 31-7 advantage. Lammers dodged a sack on his first of those two plays, and followed up an interception return by Jordan Wymer to the Mary 37 with a beautiful deep ball on the second.
"He's a big receiver, big target and he's got sure hands," Lammers said of Edmonds. "When you've got someone like that, you've got to find him."
Defensively, Jordan Rommes recorded a second interception, while Tristan Beyer, Isaac Freese and Beau Sorenson each recovered fumbles in the second half with Sorenson racing 50 yards for a touchdown on Upper Iowa's final score.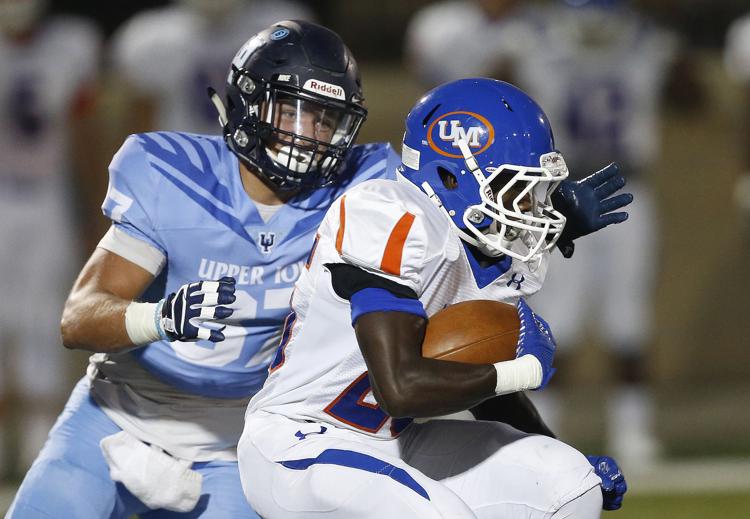 Mary was held to just six yards passing after its initial touchdown, and didn't pop any big plays with its option rushing attack that needed 64 carries to go 282 yards.
With two quick wins in one week, Upper Iowa now has time to prepare for the start of play in the ever-challenging Northern Sun South Division, Sept. 30 at Winona State.
"Normally we get a couple days off get rest, get healed a little bit, but we had to turn right back around," Lammers said of the preparation for this Thursday game. "Coaches tried to keep it as normal of a week as possible and we came out and executed the way we knew we could win. 
"Our mental focus was there all week. People were banged up from the win against Northern (State). But we just came out and executed like we did in practice."