CEDAR FALLS — A new conference. A lofty preseason ranking.
It's also the same high expectations that exist for Doug Schwab and his Northern Iowa wrestling team.
The Panthers are coming off an 18th-place finish in St. Louis last March, are aiming even higher after being ranked as high as 13th in some preseason polls.
Schwab doesn't think 13th is high enough.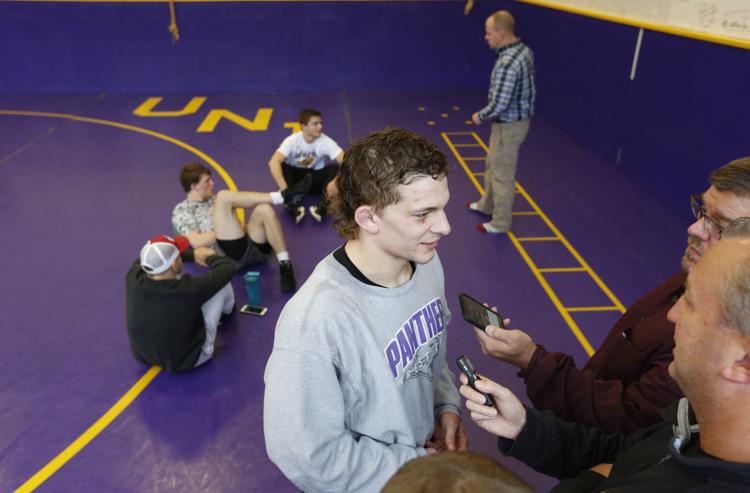 "You get to certain points, this is my eighth year, we should be having the best team I have had," Schwab said Wednesday during UNI's media day at the West Gym.
The reason this may be Schwab's best team is of no credit to him, he says.
With six NCAA qualifiers back, including all-Americans Max Thomsen (149) and Drew Foster (184), UNI has enough fire power to contend for a top-10 finish at the NCAA tournament in Cleveland in March.
"They are taking it over," Schwab said. "You got guys like Max Thomsen who is taking it over and making it his. You got guys like Drew Foster who last year no one was asking questions about him and now he is going to the all-star meet so you have guys making that kind of jump.
"Who is going to be next. That is the question. Who is going to be the next guy to make that jump."
Thomsen's fifth place a year ago made him the Panthers' highest NCAA freshman finisher since Mark Schwab in 1986. Like Thomsen, Foster could open the year ranked as high as third in most major rankings at 184.
Foster definitely is a guy who made a huge jump from one season to the next. He was 15-18 as a freshman, but was the surprise of the nation last year, going 26-6 and finishing seventh in St. Louis.
"It is the same expectations, improve and get better," Foster said. "I'm not really results-based, I just want to be better than I was last year."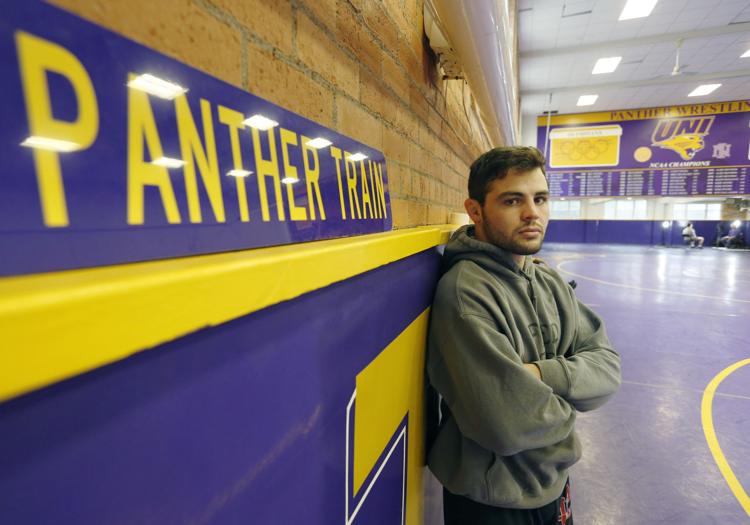 Both Thomsen and Foster will be representing UNI at the NWCA All-Star Classic Sunday in Princeton, N.J., while most of the rest of the Panthers will be at the Harold Nichols Open on Saturday in Ames.
Also returning are two-time NCAA qualifier Josh Alber, who will be making the jump from 133 to 141, sophomore Taylor Lujan at 174, and Jacob Holschlag at 197.
Jay Schwarm who went 15-10 as a fill in for Dylan Peters last season at 125, is the front-runner there, while redshirt freshman Jack Wagner and Rudy Yates are battling it out at 133.
Paden Moore is back at 157, while redshirt freshman Carter Isley is expected to man the heavyweight position.
"It is 100 percent realistic," Thomsen said of a top-10 national finish. "I like to look at our rank and think it is insult because I know we got a lot of guys returning and we are going to make a lot of noise. I'm not going to predict where we are going to end up, but we are going to shock a lot of people."
STEIERT TO REDSHIRT: Schwab announced Wednesday that two-time NCAA qualifier Bryce Steiert of Waverly will take a redshirt season.
It was a mutual decision by Steiert and Schwab, and Steiert says it will be good for him to take a step back.
"Evaluated my wrestling goals and my academic goals and everything kind of pointed toward redshirting," Steiert said. "Since I can remember I've gotten better every year as far as wrestling wise. Getting to have another year or two to get better ... this year is what I need to fully see my potential, see what I've always worked for.
"I think it will be good. I think it will be great."
Steiert has compiled a 45-17 record in his first two seasons after becoming the first true freshman to start for UNI in 2015 since 2010.
Several candidates are available to claim Steiert's spot at 165. Isaiah Patton and Dan Kelly appear to be out in front in that challenge.
MOVE TO THE BIG 12, TOUGH SCHEDULE: After a five-year run in the Mid-American Conference, UNI is entering its first season as an affiliate member of the Big 12.
"It is exciting to move to the Big 12," Schwab said. "From a regular fan you are part of the Big 12 now so it is a big deal. I don't look at it any different, it is still competitive but now we have Oklahoma State, Oklahoma, West Virginia and Iowa State and all those other teams.
"It will be good for us because we will be battle tested and ready for the national tournament."
Because it is in a transition year, the Panthers couldn't build a complete Big 12 schedule with just North Dakota State, South Dakota State, Oklahoma State and Iowa State on its schedule.
It will be a challenging schedule as UNI will travel to both the Cliff Keen Las Vegas Invitational and the Southern Scuffle in Chattanooga, Tenn.
"When you look at it we go to two of the top tournaments," Schwab said. "I don't think (anything) can duplicate the national tournament than something like that. Two, two-day events and we will get to see almost every team in the country."