CEDAR FALLS — Lisa Bluder raced across the McLeod Center court after Iowa point guard Tania Davis went down with a knee injury at the start of the second quarter during Sunday afternoon's game against Northern Iowa.
In the midst of a promising start to their 2017-18 season, Bluder's No. 25-ranked Hawkeyes couldn't help but play concerned for a teammate who has worked her way back from an ACL injury suffered last February at Michigan.
This time, it was Davis' other knee, and preliminary indications are she'll be OK.
Regaining focus in the locker room at intermission, Iowa continued to rely on talented center Megan Gustafson, who finished with 26 points and 10 rebounds, to pace the Hawkeyes past UNI, 71-47.
Iowa (11-1) connected on 16 of 27 shots after halftime and put UNI (3-7) in the rear-view mirror.
"We don't think it's anything serious," Bluder said, providing a post-game update on Davis' status. "But we'll re-evaluate when we get to Iowa City.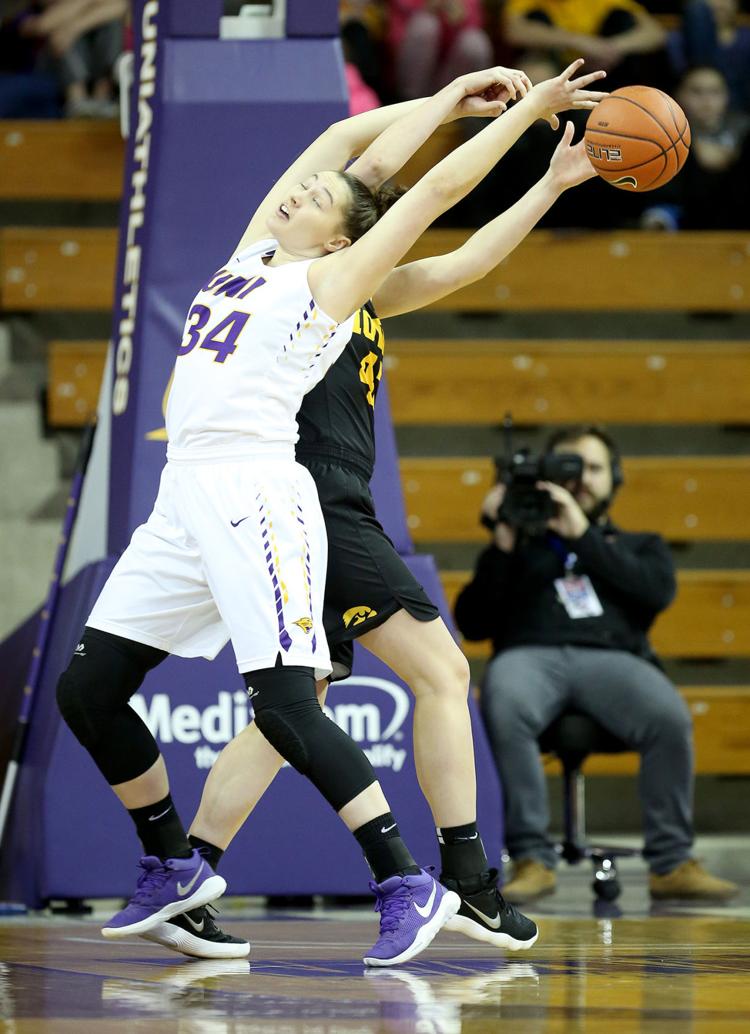 "We all lost our composure a bit when Tania went down. I think that was stressful for all of us. We regrouped at halftime. We came out and played a lot better basketball game and shot the ball a lot better."
Skilled inside the paint, Gustafson put on a clinic of post moves as she finished 11 of 15 from the field for her 11th double-double in the first 12 games of her junior season. It took a determined effort to match the intensity UNI sophomore Megan Maahs brought to the court with 12 points and 10 rebounds of her own.
"She was putting up a battle, definitely, inside," Gustafson said of Maahs. "For me, personally, it was just being able to stay positive through everything.
"There was a lot of doubling, too, so it was not just her. They had a lot of help coming inside. I think at the end of the day it was just being able to be strong in there."
A leader within a youthful team, Maahs knows Sunday's test will only make her stronger once Missouri Valley Conference play begins Dec. 29 against Loyola.
"It helps me grow individually," Maahs said. "You don't really get to go against that many girls like her in the Valley."
Sticking with true freshmen Karli Rucker and Nicole Kroeger in her starting five for a second home game, UNI coach Tanya Warren is still searching for some players to step up and knock down shots.
Iowa scored the game's first eight points, opened the second quarter on an 11-3 run and delivered a 12-2 knockout blow to start the third quarter. Hawkeye guard Alexis Sevillian converted all three of her 3-point attempts to complement Gustafson with 11 points.
UNI stayed in the game with six first-half 3-pointers, but struggled to hit shots throughout this contest. The Panthers finished 18 of 63 from the field and 8 of 30 from 3-point range.
Ellie Howell, the team's preseason all-conference guard, missed all 10 of her shots, and Maahs was the only UNI starter to convert multiple field goals.
"Ellie has been in and out of practice and she hasn't gotten the reps that she's used to getting," Warren said. "Once we get her back in practice and let her get into that flow, I think you will see the consistency and the old Ellie you're used to seeing."
UNI senior point guard Kennedy Kirkpatrick matched Maahs with 12 points on 5 of 10 shooting in 24 minutes off the bench, but her assist total was capped at three as teammates often struggled to convert open looks.
"I like our energy and I thought we defended well for the most part," Warren said. "But if you don't shoot the basketball better it's going to wear on your defense, and that's exactly what happened."
A coach who doesn't often change her starting five, Warren added this assessment of her lineup going forward, "Right now it's kind of hit and miss. There are a couple (positions) that are up for grabs. But here's the fact. We need all 14 kids to be ready and able to contribute if this team's going to continue to get better."
Iowa Mn FG-A FT-A Rb As PF TP
Gustafson 30 11-15 4-6 10 0 2 26
Sevillian 29 3-3 2-2 4 5 2 11
Stewart 15 2-6 1-2 3 0 1 5
Sanders 2 1-1 0-1 0 0 0 2
Valino Ramos 2 1-1 0-0 3 0 0 2
Ollinger 15 1-3 0-0 2 1 2 3
Totals 200 28-54 11-19 42 21 11 71
UNI Mn FG-A FT-A Rb As PF TP
Rucker 15 1-3 1-2 1 2 1 4
Kroeger 14 0-1 0-0 2 0 1 0
Howell 25 0-10 0-0 3 4 2 0
Hillyard 28 0-6 0-0 4 1 1 0
Maahs 32 5-14 0-0 10 2 2 12
Gunnels 5 0-2 0-0 1 0 2 0
Simon-Ressler 11 2-3 1-2 5 0 0 6
Kirkpatrick 24 5-10 1-1 2 3 1 12
Morgan 19 2-5 0-0 1 1 1 5
Gerrits 13 3-7 0-0 1 0 0 8
Totals 200 18-63 3-5 33 13 16 47
3-point goals—Iowa 4-9 (Meyer 0-2, Doyle 0-2, Sevillian 3-3, Ollinger 1-2), UNI 8-30 (Rucker 1-2, Howell 0-5, Hillyard 0-3, Maahs 2-7, Simon-Ressler 1-1, Kirkpatrick 1-3, Morgan 1-4, Gerrits 2-4, Robson 0-1). Blocks—Iowa 5 (five at 1), UNI 3 (three at 1). Turnovers—Iowa 15 (Doyle 6), UNI 15 (Kirkpatrick 4). Steals—Iowa 9 (Coley, Stewart 2), UNI 8 (Morgan 3).
Officials—Small, Brooks, Herriman-Camarota. Att.—3,008.