CEDAR FALLS — Ben Jacobson knows how difficult it is for mid-major teams to schedule quality, non-conference home games.
So when discussing his team's upcoming game, it's easy to understand why the Northern Iowa Coach has spent much of the week with a giddy, ear-to-ear smile plastered on his face.
For just the fourth time in program history, UNI will play host to a top-10 team, when ninth-ranked Xavier comes to the McLeod Center at 8 p.m. this evening.
The Panthers are 2-1 in previous top-10 home matchups. They beat No. 10 Iowa 84-78 in 1997 and No. 1 North Carolina 71-67 in 2015, while losing 82-73 to No. 4 Wichita State in 2014.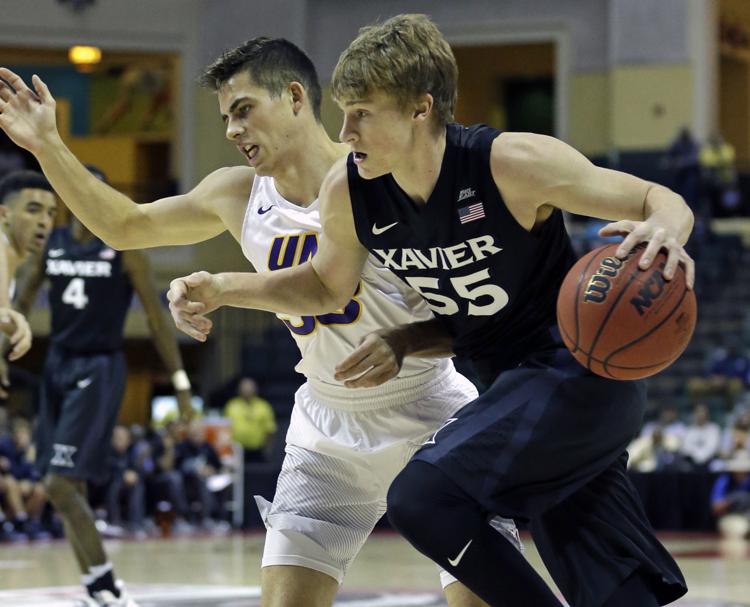 Considering the magnitude of the contest, Jacobson feels it should be an easy sell to local basketball fans.
"You can walk in here and get a $10 ticket to see a team that's (top 10) in the country and watch your own team who is 8-3 and beat good teams already and played some great teams," he said.
"There's no question that there's a different type of excitement level. This opportunity doesn't come around very often. There's a different feel to it and there should be. For our guys, for our program, for our fans, there should be a different feel to this game."
If Xavier's high ranking isn't enticing enough, a look at the stats also suggests that attendees can expect to get their money's worth.
UNI's fifth-ranked scoring defense will be put to the test by a Musketeer offense that ranks 15th in the country in scoring at 87.8 points per game. The attack is led by Trevon Bluiett and J.P. Macura, who Jacobson called "as good a tandem as there is" in college basketball.
Bluiett ranks fourth in the Big East in scoring at 20.4 points per game, with Macura chipping in 11.9. Bluiett had 21 points against UNI in the Tire Pros Invitational last year, while Macura scored 18 in a matchup in Cincinnati, both Xavier wins.
While Bluiett and Macura get most of the headlines, much of the Musketeers' offensive success is driven by their great balance, as six players are averaging between 7.5 and 9.8 points per game.
"When they're all healthy, it's a team that can play in the Final Four," Jacobson said.
Just how healthy Xavier will be this evening remains to be seen.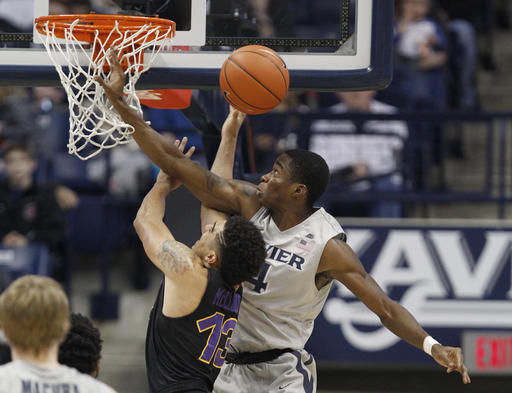 Starters Macura (blurred vision) and Kaiser Gates (dizziness) were held out of Tuesday's 81-77 win over Marshall, a game where replacement starter Naji Marshall was unable to play in the second half after taking a nasty fall in the first.
But even if the Musketeers do come into Cedar Falls short-handed, Jacobson says there's enough depth on their roster to ensure a grueling affair for his team.
"As you see with great teams, they find a way through it. And they've done that with the different injuries they've had," he said. "They're a team that can win when they haven't had everybody healthy."
Jacobson's enthusiasm for the game seems to have spread to his players.
Klint Carlson, one of eight Panthers who was on the roster for the 2015 upset of North Carolina, says there's been a palpable buzz in the locker room all week, as he and his teammates look to put an emphatic stamp on a strong non-conference season.
"For us it's a big challenge, a big opportunity and we're really looking forward to it," Carlson said. "It's fun to get them here.
"Obviously we don't want to let any team come in here and beat us. It's just fun to be able to come out here in front of the hometown fans and be able to play a good team."
HOMECOMING: UNI will take the court this evening with a familiar face looking down from the stands.
Jeremy Morgan, who paid a visit to a team practice Wednesday, returned to Iowa this week with the Memphis Hustle as they faced the Iowa Wolves in an NBA G-League game Tuesday. He led the Panthers in virtually every statistical category a season ago.
Morgan is in the midst of a rough patch at the moment, as a persistent ankle injury has kept him out of the Hustle lineup since Nov. 24. In seven games, with three starts, he's averaged 4.3 points and 1.7 rebounds this season.
Despite the setback, Morgan, who signed with the Memphis Grizzlies as an undrafted free agent in the summer, says he's been happy with his early professional playing experience and expects to see considerable growth once he's able to return to the floor.
"It's been a good transition just learning the game at that level and getting acclimated to everything that game has to offer," he said. "It's been a good experience so far and I can't wait to get back out there."