CEDAR FALLS — Isaiah Brown had a lot of work to do heading into the offseason.
An athletic, long, 6-foot-7 guard with strong outside shooting ability, Brown appeared to carve out a niche for himself early in his true freshman season at Northern Iowa. After putting up 10 points in 18 minutes in his first collegiate game against Coe, the Flower Mound, Texas, native worked his way into the starting lineup for two non-conference games.
But the early success didn't last. Brown eventually became a forgotten man in UNI's rotation and the reason was clear.
Once Missouri Valley Conference play began, Brown fell into a shooting funk and never came out of it. In MVC games, he hit just 5 of 29 from the field and went through a 12-game stretch where he made just one field goal.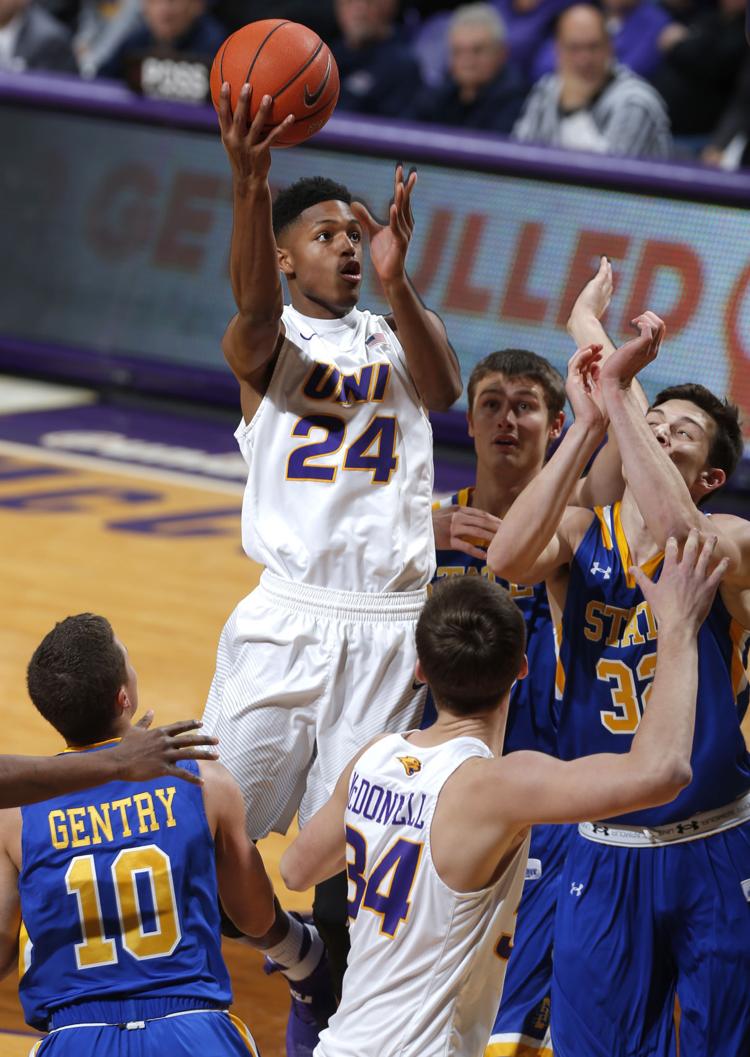 As a result, his playing time plummeted, as he played four minutes or less in seven games.
A 24-percent shooter for the entire season, Brown admits his confidence was shaken during the rocky 2016-17 campaign. Knowing he had major strides to make to avoid being lost in the shuffle again, he went into the offseason prepared to make whatever corrections necessary to see the floor more often.
The best way to do that? An overhaul of his shooting mechanics.
"The coaches' biggest focus for me this offseason was to work on my shot," Brown said. "Get it off a little faster, get it up a little higher."
Early results look positive.
Though his 4 of 11 performance from the field wasn't eye-popping, Brown did provide a spark from the outside in Friday's 86-69 season-opening loss to North Carolina.
Brown, who hit just three 3-pointers in MVC play a season ago, equaled that total in the first half Friday, eventually finishing with a career-high 13 points.
Knowing the jolt of energy strong outside shooting can provide, Brown is confident his fast start will re-energize him for the coming season, and help build a strong trust with his teammates and coaches.
"It felt so good when I saw that first one go in," Brown said. "It builds my confidence, builds the team's confidence. (The) team looks for me, I look for them right back. It feels great."
And with backcourt mates Wyatt Lohaus (toe) and Hunter Rhodes (foot) nursing injuries, opportunities to impress remain plentiful for Brown, who appears to be earning the trust of the man at the top.
"Isaiah's put in a lot of time. And you can see it, the way he's shooting the ball, you can see it in his confidence to step up and take those shots," UNI coach Ben Jacobson said. "But more important is his confidence, and that comes through hard work."
ALCORN STATE: Few teams would envy the early schedule played by tonight's UNI opponent.
Alcorn State comes into the McLeod Center for its third road game in the opening four days of the season. After suffering a 99-59 loss at LSU on opening night, the Braves fell 109-72 at Creighton Sunday.
But despite the rough start, Jacobson isn't expecting a poor effort from road-weary Alcorn.
"They've got some very talented guys," Jacobson said. "They've got a group of guys (that were) minutes away from going to the NCAA Tournament and a number of those guys are back."
The Braves, who fell 53-50 to Texas Southern in the Southwestern Athletic Conference title game last year, retain the services of Reginal Johnson, the preseason conference Player of the Year who was eighth in the SWAC in both scoring (16 points per game) and rebounding (6.7).
Reigning SWAC Coach of the Year Montez Robinson has others who earned preseason recognition by the conference in second-team guard A.J. Mosby and co-Defensive Player of the Year Yalen Reed.
After hitting 13 three-pointers at Chapel Hill Friday, Jacobson expects outside shooting to again be a big factor against a Braves defense that likes to mix up man-to-man and zone looks.
Happy with a lot he saw Friday, Jacobson remained critical of his team's effort on the glass and in transition defense, two things he and his staff spent the offseason trying to improve.
"We talked about the good plays we made and we really got into the guys about the plays we didn't make," he said. "We had a good chance to really point some things out to the guys and they came back with the right mentality. Now we've got to see that carry over to the game floor and not leave it in the film room and not leave it on the practice floor."