BROOKINGS, S.D. — Northern Iowa was a relaxed and focused football team confident in its abilities Saturday, not a squad feeling the pressure of a 2-3 start to the season or the odds stacked against it.
The Panthers put together their most determined, dogged, 60-minute effort and delivered a 38-18 Missouri Valley Football Conference beatdown of seventh-ranked South Dakota State with more than 14,000 homecoming fans on hand at Dykhouse Stadium.
"I thought they came with a great purpose," UNI head coach Mark Farley said. "We have been right there at the doorstep so many times it just needed to come together for them."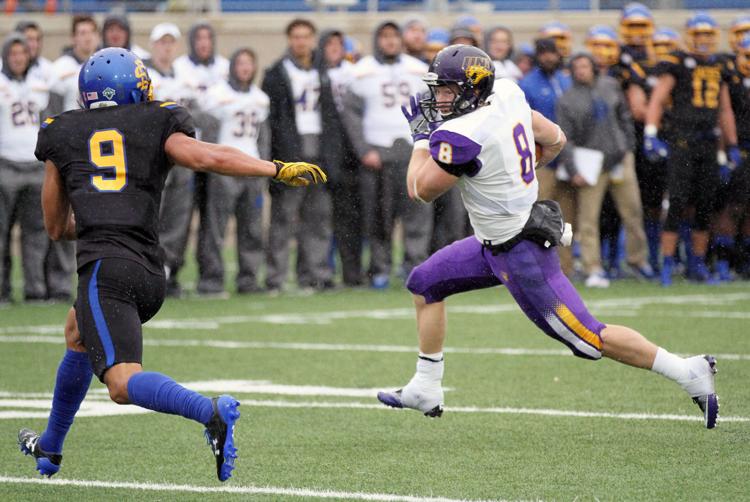 It was UNI early, often and late as the Panthers scored their largest victory over a ranked opponent since defeating No. 1 North Dakota State, 23-3, in 2014.
"The first step of many," offensive lineman Bryce Sweeney said. "We have a hard road coming up, but this boosts our confidence knowing the way we can play. I think it is a great booster."
The Panthers (3-3 overall, 2-1 MVFC) never trailed, jumping on a mistake-prone Jacks team to lead 17-0 after one quarter and never looking back.
Junior running back Marcus Weymiller, who had missed the last two games with injury, rushed for 170 yards and two scores on 42 carries as UNI rushed for 218 yards and three scores.
"It was huge," Weymiller said of the victory. "It is never fun when you are losing and you have such a good team, and feel like you are so close. It was a big win, and I felt like we played well for four quarters.
"We knew way back in winter we had something special if we executed, and I think we finally executed today."
UNI was coming off a loss to Western Illinois in a game it led with seven seconds left. SDSU (4-2, 1-2) demolished Southern Illinois 49-14 at home the week before. But in a game that was played in a steady rain and temperatures in the low 40s, the Panthers were better all day long.
"Tremendously disappointed in how we played and how we responded to adversity," SDSU head coach John Stiegelmeier said.
The Jacks, preseason league co-favorites with North Dakota State, had possibly the worst special teams half in program history in the first half, and UNI capitalized.
SDSU, which had outscored first-quarter opponents 56-7, missed a PAT and a field goal, botched another field goal attempt with a snap that sailed through the holder's hands, and lost fumbles on both a kickoff and punt return in the opening 30 minutes.
"I thought our offense did a tremendous job, and defense just as a unit we played very well, and special teams made an impact," Farley said.
The fumbled punt set up a 41-yard Sam Drysdale field goal that made it 3-0, then Elijah Campbell's 46-yard return of an interception to the Jacks' 3 set up a one-yard Christian Jegen touchdown leap that made it 10-0.
Weymiller then scored on an 11-yard run out of the wildcat formation to make it 17-0, and UNI had a chance to make it 24-0 following another SDSU turnover, but was stuffed on a fourth-and-one from the Jack 26 to open the second quarter.
SDSU responded with its best drive to that point, getting an 11-yard Jake Wienke touchdown reception that made it 17-6. Then with a chance to cut its deficit to less than a touchdown following a UNI fumble inside its own territory, Chase Vinateri was wide right on a 25-yard field goal.
"We wanted to limit the big plays, keep everything in front of us with short throws and the defense just played so well as a unit," defensive back Campbell said.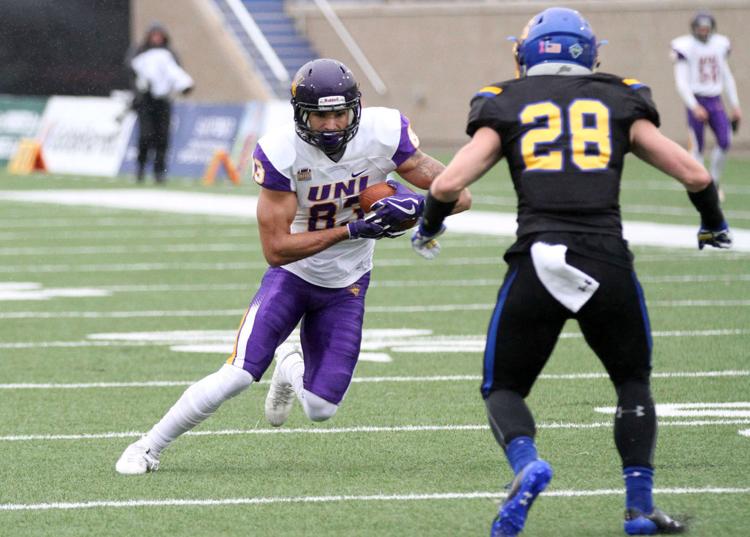 After the missed field goal, the Panthers responded by driving 80 yards, getting a huge 24-yard catch from Elias Nissen on a third-and-six play and a 31-yard pass to Daurice Fountain to set up Weymiller's 15-yard touchdown run that made it 24-6 with 4:09 left to half.
This time, UNI finished what it started.
In the second half, the Panthers controlled the clock, including 10:48 of the third quarter, and finished with a 19:02 advantage in time of possession.
"We have had good quarters and good halves, but we wanted to put together a full game and I think that is what happened," Weymiller said. "No one was thinking, 'Man, we are up 17-0.' It was, 'How can we keep playing better and get this win?'"
SDSU closed within 24-12 in the final minute of the third quarter, but Eli Dunne connected on touchdown passes of 18 yards to Fountain and 11 to Isaiah Weston in the fourth quarter to keep UNI firmly in control.
"That was a lot of fun," Weymiller said. "We played some great ball. It was just huge playing together, and having energy throughout the whole four quarters was big time."
The Panthers believe they made a statement they can now build on.
"We knew deep down inside the team we were," Campbell said. "Going into this game we knew we could compete with anybody in the league."
UNI 38, South Dakota St. 18
Northern Iowa 17 7 0 14 — 38
South Dakota St. 0 6 6 6 — 18
UNI — FG Drysdale 41, 7:35. (Drive: 9 plays, 15 yards, 4:02).
UNI — Jegen 1 run (Drysdale kick), 5:19. (Drive: 2 plays, 3 yards, :28).
UNI — Weymiller 11 run (Drysdale kick), 1:46. (Drive: 6 plays, 48 yards, 2:31).
SDSU — Wienke 11 pass from Christion (kick failed), 11:54. (Drive: 8 plays, 73 yards, 3:03).
UNI — Weymiller 15 run (Drysdale kick), 4:09. (Drive: 6 plays, 80 yards, 2:17).
SDSU — Goedert 19 pass from Christion (Ppss failed), :55. (Drive: 2 plays, 76 yards, :33).
UNI — Fountain 18 pass from Dunne (Drysdale kick), 11:52. (Drive: 9 plays, 75 yards, 4:03).
UNI — Weston 11 pass from Dunne (Drysdale kick), 8:21. (Drive: 5 plays, 28 yards, 2:52).
SDSU — Daniel 2 run (pass failed), 6:48. (Drive: 6 plays, 69 yards, 1:27).
Rushes-yards 60-218 23-52
Comp-att-int 13-22-0 14-35-1
Time of possession 40:29 19:31
UNI — M. Weymiller 42-170, T. Allen 13-44, E. Dunne 2-5, C. Jegen 1-1.
SOUTH DAKOTA ST. — B. Mengarelli 7-33, M. Daniel 6-22, I. Wallace 2-7, T. Christion 7-(minus 2).
UNI — E. Dunne 13-22-0, 169 yards.
SOUTH DAKOTA ST. — T. Christion 14-35-1, 280 yards.
UNI — D. Fountain 4-74, E. Nissen 2-38, A. Graham 1-21, I. Weston 1-11, B. Moore 1-10, J. James 2-7, T. Allen 1-6, C. Jegen 1-2.
SOUTH DAKOTA ST. — D. Goedert 4-120, C. Johnson 3-72, J. Wieneke 4-60, M. Lewis 1-17, J. Brown 1-14, B. Mengarelli 1-minus 3.
UNI — Farley 5-2-7, Brookins 4-1-5, A.J. Allen 4-0-4, Williams 3-0-3, Neal 2-1-3, Suntken 2-0-2, Ferch 2-0-2, S. Thomas 2-0-2, Campbell 1-1-2, B. Thomas 1-1-2, Jaghai 1-1-2, Woods 1-0-1, Washington 1-0-1, Sander 1-0-1, Errthum 1-0-1, Douglas 1-0-1, Reth 0-1-1.
SOUTH DAKOTA ST. — Rozeboom 9-5-14, Backhaus 6-1-7, Balster 5-2-7, Cox 5-1-6, Kleinschmit 5-0-5, Earith 2-3-5, Brown 4-0-4, Williams 3-1-4, Soulek 3-0-3, Hopp 2-1-3, Kern 2-1-3, Romenesko 1-2-3, Urbanek 1-1-2, Wilson 1-1-2, Barrett 1-1-2, Wilson 1-1-2, Farina 0-2-2, Stacker 1-0-1, Christion 1-0-1, Hildahl 1-0-1, Miosley 0-1-1, Harris 0-1-1, Callender 0-1-1.
UNI — Neal 2-15, Farley 1-3, Brookins 1-4, Woods 1-2, Sander 1-8, Douglas 1-4.
SOUTH DAKOTA ST. — Urbanek 1.5-2, Backhaus 1-3, Balster 1-1, Hopp 0.5-1, Barrett 0.5-3, Callender 0.5-2.
UNI — Neal 1-11, Brookins 1-4.
SOUTH DAKOTA ST. — Backhaus 1-3.