CEDAR FALLS — Nobody wants to be in the position Northern Iowa finds itself after five weeks of the college football regular season.
After a last-second loss to No. 15 Western Illinois Saturday, the Panthers (2-3 overall, 1-1 Missouri Valley Conference), find themselves with a losing record five games into the season for the fourth consecutive year.
Asked Monday if there is still a path to the FCS playoffs for his team, head coach Mark Farley said that isn't his primary focus.
"I'm just trying to get zeroed in for this afternoon," Farley said. "We will figure it out. But as I look at it, South Dakota just beat Youngstown State ... it's crazy what can happen right now because there is not a whole lot of difference between South Dakota and a Western, and a Western and whomever right now."
CEDAR FALLS — There is no question that the Northern Iowa football team was hurting after it…
In two of the last three seasons, UNI has rallied from a losing record almost halfway into its season to make the playoffs, including 2015 when it was 2-4 and won seven consecutive games before losing in the quarterfinals.
That win streak started with a 10-7 win over then No. 6 South Dakota State in Brookings, S.D., the opponent and venue UNI faces this Saturday.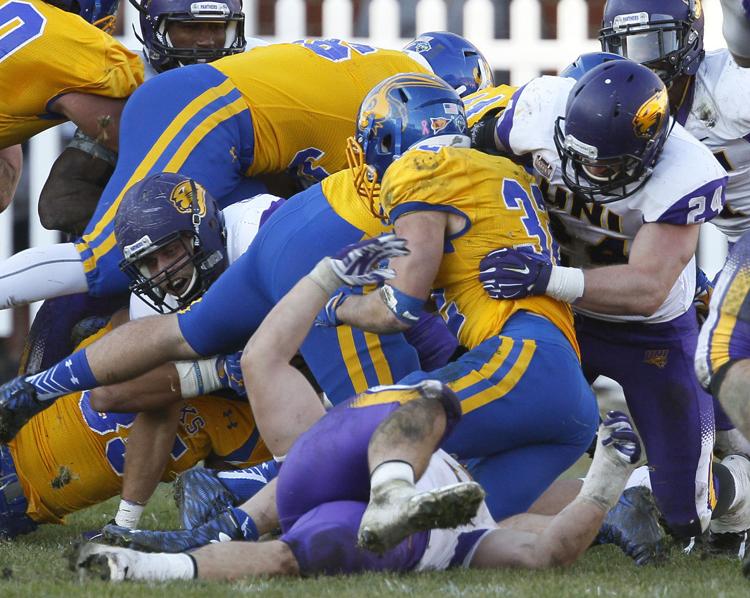 However, the path to the 2017 FCS playoffs appears to be far more treacherous than the one UNI traversed in 2015. In the five league victories the Panthers captured during that seven-game win streak, only two came against ranked opponents.
UNI's next four opponents are the No. 7 Jacks, No. 8 Youngstown State, at No. 2 North Dakota State, and No. 4 South Dakota at home before games with unranked Missouri State and Indiana State. It is a schedule that more mirrors the 2014 season when the Panthers beat No. 6 Illinois State, No. 1 North Dakota State and No. 22 Southern Illinois in consecutive weeks to reach the playoffs.
"We came in this morning and had some guys in the weightroom lifting, and one of the seniors pointed out there were a lot of sad faces," tight end Elias Nissen said. "But (that senior also said) imagine yourself if we had won five straight ... envision that and use that as motivation to go into these next six games because it can happen."
Another reason for optimism is the fact UNI is ranked 15th among all FCS schools in the Sagarin rankings, meaning if the Panthers can get to six victories a playoff spot is likely.
Farley said the focus leading up to the game with South Dakota State will be as much about the Jacks as it is figuring out what is keeping the Panthers from being a consistent team over four quarters of football.
"Can you be frustrated and mad about what happened, you bet you can," Farley said. "Can you let it get you down, hang over you, not at all. You can be as mad as you want to be. If you weren't I'd be worried, but you cannot be down.
"You have to find ways to correct, solve and move on and that is what we will take care of."
BROWN OUT: Farley didn't not have a complete update on the severity of right tackle Spencer Brown's injury suffered against Western Illinois although he did say he does not anticipate the redshirt freshman will be available Saturday.
"It is too bad. He's a good football player," Farley said. "He was versatile. He spun a lot of positions for us."