CEDAR FALLS — There is a running joke in the Northern Iowa football team's tight ends room initiated by position coach Nick Danielson that Panther Elias Nissen did not know how to get in a three-point stance when he arrived on campus.
"There were a couple of times in high school they would put me at the tight end position for some random reason, but there is some truth to it," admits Nissen. "We laugh about it."
UNI's 6-foot-4, 255-pound junior, who is coming off a three-touchdown game against Western Illinois, was a big-time 8-player star at Springville High School as a running back and linebacker.
During Nissen's senior season, he rushed for 2,218 yards and 48 touchdowns, earning all-state honors for the second time. His talent drew interest from multiple FCS programs — Western Illinois, North Dakota State and UNI — as well as Wyoming at the FBS level.
Most college coaches saw Nissen as an athlete, but few knew where he fit on the field. Nissen took visits to Western, NDSU and UNI, but all along felt UNI would be the right fit where he has followed in the footsteps of his grandfather, Ray Nissen, an Iowa State Teacher's College basketball player in the mid to late 1950s.
CEDAR FALLS — If there was an aspect that had been vacant from Northern Iowa's offense in re…
The Panther coaching staff saw potential in Nissen early, but also saw that he had a big step to take.
"I remember his first year here, and we didn't know if he was going to be a very good football player because he had never lined up in the tight end position," UNI head coach Mark Farley said.
Nissen admits his first year with the Panthers was a huge transition, but one he made quickly. His adaptation to playing with his hand on the ground and the coaching staff's trust allowed Nissen to appear in 10 games as a reserve tight end in 2015, and last fall he played in all 11, starting six.
"It was a big transition," Nissen said. "That first year was a huge development. The speed of the game, learning the game schematically, really, and getting used to the size of the defenders. Everything about that was a huge transition."
With help from then starting tight end Braden Lehman and Danielson, Nissen said he started to fully grasp schematically how to play tight end, especially with blocking.
However, Nissen was not a consistent threat in the passing game, having just six career receptions heading into this season. That has changed dramatically over the last two weeks, as Nissen has hauled in four touchdown receptions in two games — the most by a Panther tight end since Schuylar Oordt had five in 2009.
On the season, Nissen has 11 catches for 116 yards and the four scores.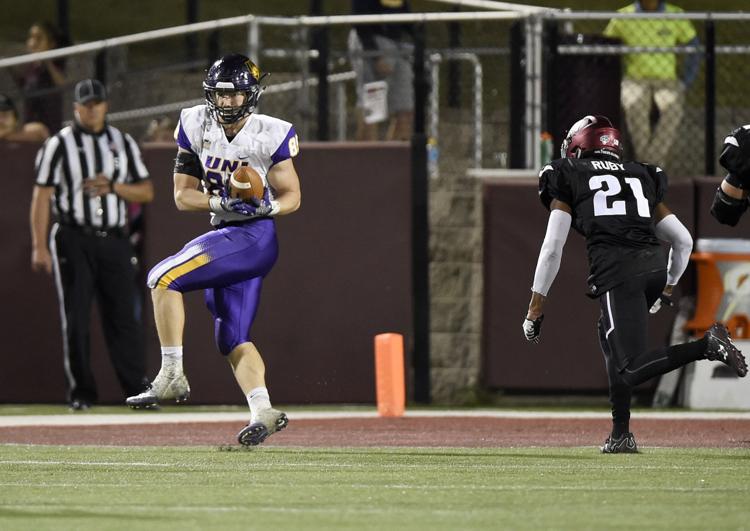 "I've definitely built up some confidence in getting that first touchdown," Nissen said. "Hopefully I can keep producing like this. The coaches have trusted me to block for a while now, but now they have that confidence in the other aspect of my game which is good, too."
CEDAR FALLS — Northern Iowa experienced emotions on both sides of the spectrum ... elation a…
Farley said Nissen has definitely blossomed in the pass game over the past two weeks and said it is a similar maturation that a lot of previous players from the 8-man game have experienced. That list includes last year's FCS Defensive Player of the Year, Karter Schult.
"As good as they can look on the field, what I found out is the transition is not easy for them," Farley said. "There is a transition from 8-man to 11-man to understand plays and concepts, not catching and running, but how you fit within a unit.
"When they get that, they really blossom."