CEDAR FALLS — Elijah Campbell was a key piece of Northern Iowa's defense last year and figures big in the Panthers' plans for 2017.
With that being said, UNI fans may have trouble finding Campbell on the field Saturday when the Panthers open at Jack Trice Stadium against Iowa State.
For one, Campbell is no longer playing free safety.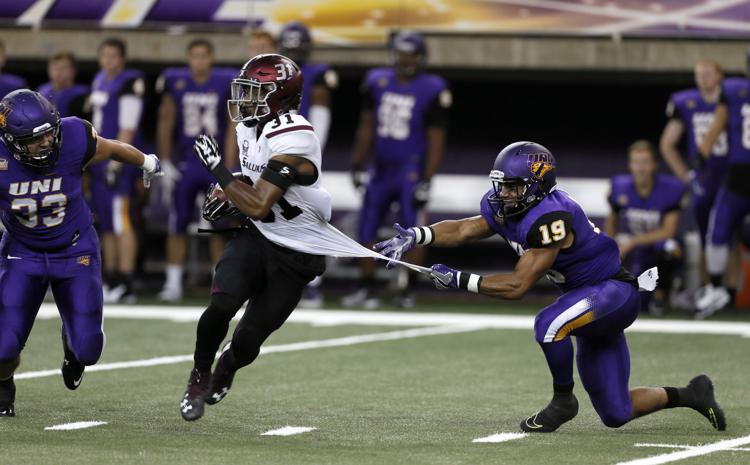 After lobbying with coaches to give him a crack at cornerback, the senior from St. Paul will be starting at left corner against the Cyclones one year after earning second-team all-Missouri Valley Conference Football honors at safety.
"I've was getting on the coaches since last year," Campbell said of the position switch. "I played corner in junior college (Iowa Western CC)."
However, Campbell hasn't played corner since he helped the Reivers reach the 2014 National Junior College Athletic Association national championship game. In his one season at Northern Illinois, Campbell played in 13 games, all at safety, before transferring to UNI last spring.
"I had a friend here, Marcus Montgomery, who is no longer on the team, he talked to Brandon Lynch (former UNI defensive backs coach)," Campbell said. "It literally took one day. He (Lynch) called me at night and the next day I was on my way here in the morning. I was looking for a new scene."
Current UNI cornerbacks coach Jeff Burris says Campbell has the right intangibles to play cornerback at a high level. The switch, however, wasn't made until Panther coaches felt they had built enough depth at safety to move Campbell over.
The emergence of redshirt freshman Isaiah Nimmers and the quick development of true freshman Suni Lane have alleviated some of those concerns. Plus, Wisconsin transfer Keelon Brookins and junior A.J. Allen both are experienced safeties and are listed at 1 and 2 at strong safety.
"One of the things is he is very instinctive at defensive back," Burris said of Campbell. "Just his football awareness makes him one of those guys at that position, besides the athleticism and instincts, that make him a candidate for it.
"We will see how it works out this weekend."
Another reason it may be hard to find Campbell on the field Saturday is his jersey number. He has switched from No. 19 to No. 1. In fact, Campbell is wearing his fifth different number since starting college. At Iowa Western he wore 15, and had 35 before landing the No. 9 jersey at Northern Illinois.
"I didn't want to get any bad juju or break the streak so I decided to go with No. 1," smiled Campbell. "I had to talk to Coach Farley a little about it. He said as long as I perform well I could wear whatever number I want."
Campbell , who had 36 tackles and finished second on the team last year with three interceptions, knows what it is like to play corner because of his days there in junior college. But he says playing corner for the first time in two years will present challenges, especially because the 5-foot-11 Campbell will be defending guys like 6-foot-5 Allen Lazard and 6-6 Hakeem Butler.
"The thing with me is I played safety so this is going to be a new experience at corner," Campbell said. "So it will be ... not necessarily harder ... I have to adjust."