CEDAR FALLS — Josh Alber put on a show late to lift 13th-ranked Northern Iowa to a 21-19 victory over North Dakota State Sunday at the West Gym in the Panthers' first Big 12 Conference dual meet.
Alber's 19-4 technical fall over Sam Hampton at 141 brought a capacity crowd to its feet in excitement after a dual that had five lead changes, including the last one.
UNI head coach Doug Schwab didn't share the crowd's excitement after what he felt was another uneven performance that followed a 30-13 loss at Cornell on Friday.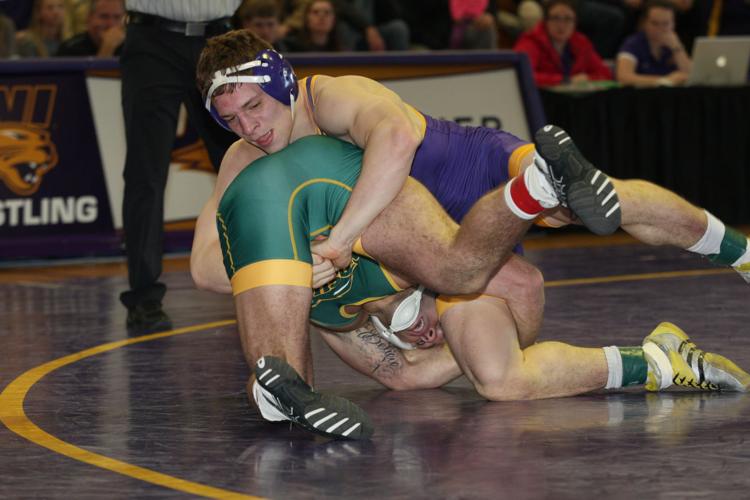 "Obviously, I believe in my team so I don't think it should come down to that, should come down to the last match," Schwab said. "You give up bonus points in multiple spots and that makes it really hard.
"You can't do that. We have to get off our back. We've gotten pinned four times in the first two duals. That is not acceptable."
Each team won five matches, and North Dakota State owned a 19-16 lead heading into the final match.
Alber took control of his match early and scored in multiple ways while building an 18-4 lead after two periods. He escaped early into the third to get the technical fall and earn the Panthers (1-1) the victory.
"It didn't matter where I was at in the lineup," Alber said. "I made up my mind this morning that I was going to come out and whatever happened I was going to try to score.
"It just happens I was in that part of the lineup where it seems like I won it, but to win a dual a lot of cogs have to fall into place. I was just fortunate to be the last guy."
Max Thomsen started the meet with a 6-1 decision over Kyle Gilva at 149, racking up 4 minutes, 9 seconds of riding time.
After the Bison surged into the lead, UNI got a pin from Taylor Lujan at 174 and Drew Foster's 11-6 decision at 184 for a 12-10 edge.
North Dakota State won the next two matches to jump back in front 16-12, but Jay Schwarm scored a 10-2 major decision at 125 to tie the dual at 16-16. McGwire Midkiff gave the lead back to the Bison at 133, setting up the final match.
Alber pulled out the win, but Schwab did not see enough of the right stuff overall to be satisfied.
"There has to be more effort up and down the lineup," Schwab said. "We can't put our head down. That is unacceptable. The guys know that, too. There were a few spots we did it. We did it the other night, and we did it again. We have to get that figured out.
"We expected it to be easy, and when you expect it to be easy you start to get frustrated, which can't happen."
UNI is off until the Dec. 1-2 Las Vegas Invitational.
149 — Max Thomsen (UNI) dec. Kyle Gilva 6-1, 157 — Clay Ream (NDSU) dec. Paden Moore 15-7, 165 — Andrew Fogarty (NDSU) pinned Isaiah Patton, 7:20, 174 — Taylor Lujan (UNI) pinned Dylan Urbach, 5:59, 184 — Drew Foster (UNI) dec. Tyler McNutt 11-6. 197 — Cordell Eaton (NDSU) dec. Izaak Shedenhelm 11-6, 285 — Dan Stibral (NDSU) dec. Carter Isley 7-1, 125 — Jay Schwarm (UNI) dec. Paul Bianchi 10-2 133 — McGwire Midkoff (NDSU) dec. Jack Wagner 11-6, 141 — Josh Alber (UNI) tech. fall over Sam Hampton 19-4.