To view the missing poster for the two girls, click here.
To view a map of where the girls were last seen, click here.
EVANSDALE, Iowa --- As the search for Elizabeth Collins, 8, and her cousin Lyric Cook-Morrissey, 10, enters its sixth day, law enforcement agencies continue to leave no stone unturned while seeking out clues to the girls' disappearance last Friday.
Several sources have confirmed that law enforcement officials have called for all residential and commercial trash in the city of Evansdale to be set aside in the Black Hawk County landfill to be searched through by those involved in the ongoing investigation.
Brett Vette, administrator of the Black Hawk County Solid Waste Management Commission, confirmed that law enforcement were searching through garbage dumped at the county landfill Monday. However, no such activity was reported on Tuesday.
Debbie Acklin of Black Hawk Waste Disposal has also confirmed such proceedings are taking place.
"I can confirm that all Evansdale trash is being segregated in the Black Hawk County Landfill for law enforcement to search if they so choose," Acklin said.
Acklin went on to say that no members of the search movement have searched through the trash on Wednesday.
More information on the Wednesday's search proceedings will be made available during today's press conference at 4 p.m.
---
Still, moral remains high for authorities investigating their disappearance despite few, if any, developments.
Misty Morrissey, mother of Lyric, says as the days go by, things only gets harder.
"Right now we are pretty emotional, pretty sad," Morrissey said Tuesday afternoon. "But we believe that God is going to bring a resolution to this."
The girls' bicycles and a purse were found on a trail behind Meyers Lake on Friday, and on Tuesday residents streamed into the adjacent park to watch as the water receded as part of a drawdown that is part of search operations.
City crews, who started draining the lake on Monday, removed docks on Tuesday, carrying them past brick retaining walls topped with the remains of candles, teddy bears and roses from earlier vigils.
Accompanied by an occasional duck, two firefighters in kayaks floated back and forth on the shrinking late, checking out anything that drew suspicion.
Crews added a pump to step up the drainage, and Capt. Rick Abben with the Black Hawk County Sheriff's Office said he wasn't sure how long it would be until the lake is empty.
Law enforcement taped off much of Meyers Lake early Tuesday afternoon, reasons for which are unclear.
Meanwhile, back on land, Daniel Morrissey, Lyric's father, said his daughter is a fair swimmer and doubts the possibility of a drowning.
"I don't think that they are in the lake, not at all, it's a dead end as far as we know," Daniel Morrissey said.
Investigators suspect as much, but the only way to be 100 percent sure the girls aren't in the water is to drain it, Abben said.
"We have their bicycles, and we have a purse. That's all that we have, and that doesn't tell me that they've been there, just that those items were there," Abben said.
Family members still have no guesses as to the true whereabouts of the girls.
"We have no theories," Misty Morrissey said. "Trying to remain positive, we have no idea. We are pretty confident that they aren't around here."
Despite any frustration the family feels towards the search, Misty Morrissey said they are aware and appreciate all the efforts put forth by the law enforcement in the search to find their daughter and niece.
"They are the professionals, they know what they are doing, they've got their processes, they have experience, so we trust that they are doing anything they can," she said.
Abben said morale is good for the officers from the several agencies investigating the disappearance.
"Right now we will have them here as long as we need them. We are still working this as a 24-7 operation," Abben said. "Nothing has been said that, if the lake is dry, that we are going home by any means, because we are not going to do that."
He said investigators continue to receive leads from the public but was tight-lipped about any developments.
Tips have come in that led police to areas outside of Evansdale.
"We have people who think they may have seen someone, and those tips are being followed up on," Abben said, but he declined to be specific or talk about any results.
"Every tip is being followed up on," said Abben, who encouraged anyone with information to call the tip hotline 319-232-6682.
He also declined to talk about the results of any tracking dogs that have been used during the search or what investigators have been able to tell from the girls' abandoned bicycles.
"They have been processed," Abben said. As for the results of any fingerprinting, Abben said he would just "leave it at that."
Abben said family members have been talking with investigators and cooperating with authorities.
Meyers Lake search expanding
---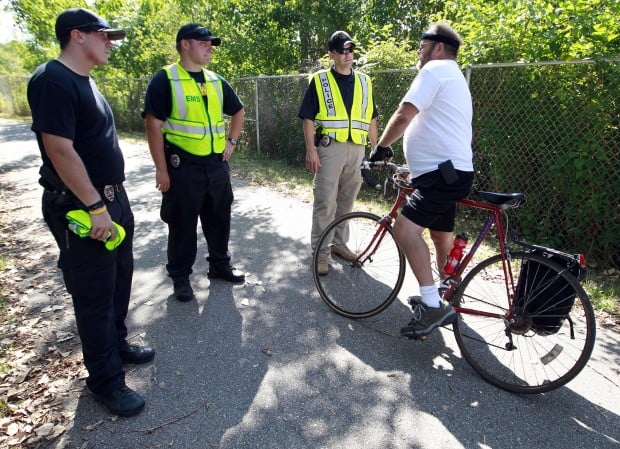 Ted Gamerdinger, right, talks with off-duty Cedar Rapids police officers helping in the search for Lyric Cook-Morrissey and Elizabeth Collins on the bike trail around Meyers Lake in Evansdale Monday, July 16, 2012. (BRANDON POLLOCK / Courier Staff Photographer)
11 a.m. Tuesday - EVANSDALE, Iowa --- Authorities taped off a larger section around the shoreline of Meyers Lake this morning, stepping up search efforts in the area around the lake for any sign of the two girls who disappeared Friday afternoon in Evansdale.
Earlier authorities had only marked off sections of the biking and hiking trail around the lake, where bicycles belonging to Elizabeth Collins, 8, and Lyric Cook-Morrissey, 10, and a purse were discovered Friday. The two girls haven't been spotted since then, leading to massive search efforts through the weekend and into this week.
The lake level had dropped several feet this morning, after authorities decided Monday to drain the lake, apparently to aid in a shoreline search. Officers on the scene would not comment about their activities, but it appeared they were planning a more intensive search in areas now uncovered by the dropping water.
Members of Cook-Morrissey's family are at the lake at Tuesday, appearing on national network news programs to talk about the search. Tammy Brousseau, the aunt of both girls, said the family is not expecting the draining of the lake to reveal any new information.
Family members said they agree with Evansdale firefighters that dragging operations should have uncovered any evidence of the girls in the lake, but said they do support the draining decision to support their assumptions.
The next news briefing for the media is set for Tuesday at 4 p.m.
Missing children spokesman remains hopeful in hunt for missing girls
---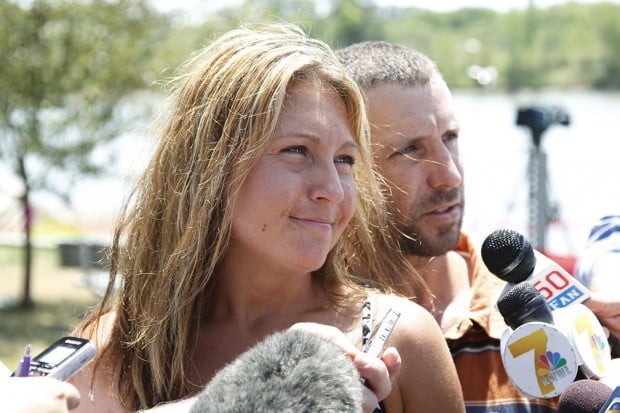 Misty Morrissey, left, and Dan Morrissey given press interviews Tuesday, July 17, 2012, about their daughter Lyric Cook-Morrissey, 10, who has been missing since Friday, July 13, 2012. (MATTHEW PUTNEY / Courier Photo Editor)
11:30 a.m. Tuesday - EVANSDALE, Iowa --- A volunteer with the National Center for Missing and Exploited Children said Tuesday the agency boasts a 98 percent to 99 percent recovery rate for missing children --- alive or dead.
Pat Farrell, who's been with the national nonprofit agency since 1998, has been helping local law enforcement find two girls that went missing in Evansdale last Friday. He's not giving up hope Lyric Cook-Morrissey, 10 of Waterloo and her 8-year-old cousin Elizabeth Collins will found alive.
The girls were last seen riding bikes near downtown Evansale by their grandmother at 12:15 p.m. Friday. There bikes were recovered on the southeast corner of Meyers Lake about four hours later. Extensive searches for the girls since have turned up nothing, officials said.
"For any missing person, the longer it (the search) goes, the more gloomy it gets," said Farrell, the retired chief of police in Rochester, Minn. "The chances of recovery diminishes, but doesn't disappear."
The center is based in Alexandria, Va.
Star 1 Search and Rescue, a nonprofit based in Story County, is also aiding in the seach. Jim Peters, a volunteer representing the group in Evansdale, said the group typically has a "better than 50 percent" rate of finding missing people alive or otherwise.
Speculating about the chances for recovery here is unwise, he said, but he's optimistic. A missing 8-year-old in Virginia was recently found by searchers after five nights.
A successful "recovery does happen. ... Conditions are hot but no cold enough at night to injure someone," Peters said.
Officials said the search continues today for Elizabeth and Lyric. Meyers Lake is being drained and about 30 law enforcement officers are searching wooded areas and abandoned buildings outside of Evansdale.