To view the missing poster for the two girls, click here.
To view a map of where the girls were last seen, click here.
EVANSDALE, Iowa --- Authorities are still searching for anyone who may have been at Meyers Lake before 3 p.m. on July 13, the day two cousins vanished from the community.
"Even if you think you don't have any information that is important to this case, investigators want to talk to you," said Sandra Breault, a FBI spokeswoman. "Don't assume we know what you know."
Breault said they are looking for anyone who might have been at the park, on the trails or on the water. Elizabeth Collins and Lyric Cook-Morrissey disappeared July 13.
"There was a gentleman who regularly runs around the lake. He didn't see either one of the girls ... but he did see their bikes and he was able to pinpoint the time of the day that he saw the bikes. Small details like this are really important to the investigation," she said.
Breault was asked several questions about possible raids, evidence collected, possible suspects and text messages, but she refused to divulge any details.
"Any specifics of the case, the premature release could impede the investigation," Breault said.
The girls' grandmother, Wylma Cook, said the girls left the Collins home late morning for a bike ride.
She saw them just a short time later behind Lederman's clothing store. Closed circuit cameras recorded them in that area about 12:15 p.m.
At about 4 p.m. their bikes and Collins' purse were found by a firefighter on the south side of Meyers Lake.
Officials and volunteers searched the wooded area and community throughout the weekend. Professionals searched the lake. Neither effort turned up any substantial clues to the girls whereabouts.
Crews began draining Meyers Lake early last week, but halted the operation so that a FBI dive crew could search the lake with sonar equipment.
That search ended midday Friday and by the end of the night authorities had reclassified the girls disappearance as an abduction. Saturday, officials said they believed the cousins were still alive.
On Sunday, Breault said she couldn't say what led them to that conclusion, but said they were still confident in that assertion.
Cook, who was watching the girls when they were abducted, said rumors that started late Saturday night on Facebook that the girls had been found alive were "unimaginable" for the family.
"For an hour and a half, it was just, you can't imagine," she said. "I called the sheriff's office. I called the police. I called the FBI and tried to get some verification of something and they said they don't know nothing, they hadn't heard nothing. I don't know who started these stories. ... That is so dirty whoever started this."
Cook also confirmed Misty Morrissey, her daughter and Cook-Morrissey's mother, will have to take another polygraph test after some results on the first one proved inconclusive. The polygraph has yet to be scheduled, Cook said.
"But it is going to be, nobody is going to scream at her before or after like they have before," Cook said. "She has cooperated fully all along, except for this other polygraph, with what they did to her with the screamin' for three hours."
Cook added that the family remains hopeful that the girls will be returned.
"We just want to bring them home safe. And soon," Cook said. "We are tired of waiting."
FBI: We believe girls are alive
---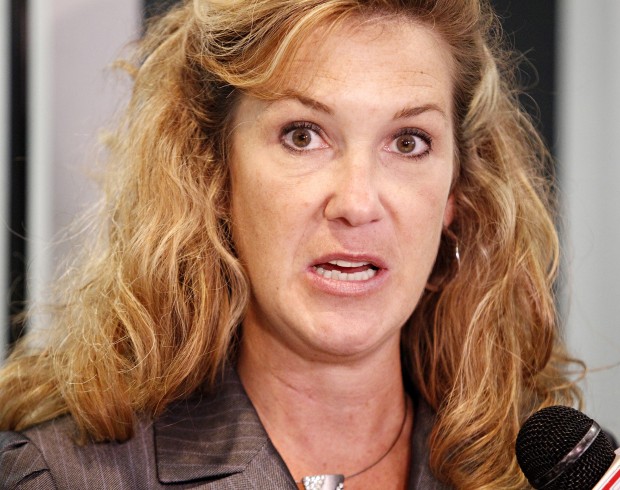 FBI spokeswoman Sandy Breault says the FBI has reason to believe that Lyric Cook-Morrissey, 10 and Elizabeth Collins, 8 are still alive, during a press conference held in Evansdale on Saturday, July 21, 2012.(DAWN J. SAGERT / Courier Staff Photograph)
3:30 p.m. Saturday - EVANSDALE, Iowa --- Investigators still wouldn't say they had any new leads Saturday afternoon, but stressed that they were "confident" both Elizabeth Collins and Lyric Cook-Morrissey are still alive.
FBI spokeswoman Sandy Breault wouldn't say what made them confident, even as statistics show that the longer someone goes missing, the less likely it is they will be found.
"We believe the girls are alive, and we are not discouraged by the passage of time," Breault told reporters at the Evansdale Community Response Center Saturday.
Officials said no arrest warrants had been issued but wouldn't comment on any search warrants.
Hindering the investigation, Breault said, was a lack of cooperation from "all" of the two missing girls' family and friends. She wouldn't release details on who that person or persons may be.
"It's a roadblock," she said.
Police will only say that "physical evidence" was found relating to the girls, but wouldn't say if it was found by police, the dive teams or by the search dogs brought in to canvass the area near Meyers Lake, where the two went missing July 13.
Breault said investigators are still following every tip that comes into the FBI or the Cedar Valley Crimestoppers hotlines and that it was a "top priority for the FBI."
"I can't stress enough that we truly believe the girls are out there," Breault said. "We believe someone out there has information."
Authorities say case reclassified as abduction
---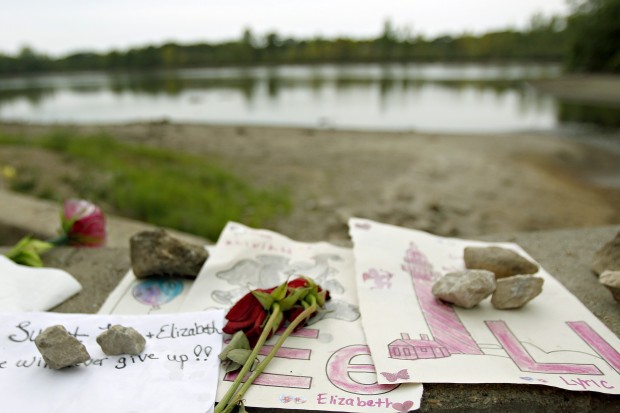 Rocks and flowers are used to secure drawings left at Meyers Lake in honor of Lyric Cook-Morrissey, 10, of Waterloo, and Elizabeth Collins, 8, of Evansdale, who have been missing for over a week.(DAWN J. SAGERT / Courier Staff Photographer)
5 p.m. Friday - EVANSDALE, Iowa --- Authorities said Friday they are now classifying the week-old disappearance of Elizabeth Collins and Lyric Cook-Morrissey as an abduction.
Capt. Rick Abben said a $50,000 reward is being offered for information that leads to the arrest and conviction of the person or persons responsible in this case.
"Investigators are confident that the two girls are not in Meyers Lake," Abben said.
Abben said investigators have also "obtained evidence" that was forwarded to the Iowa Division of Criminal Investigation lab in Ankeny.
He would not say when or how the evidence was obtained. He also said there are no suspects.
FBI-requested sonar equipment searched the lake Friday, but the 10-person dive team was not needed, said Sandy Breault, a FBI spokesperson.
FBI agents were at Meyers Lake around 10 a.m. Friday. They left around 2 p.m. and re-opened the parking lot.
By 5 p.m., police tape that had surrounded the lake was already being taken down by authorities.
Abben said there will be less of a police presence at the lake and it should be open to the public again after police and draining equipment is removed.
Abben said despite Dan and Misty Morrissey's criminal backgrounds, no one set of parents is being targeted.
"Now that it is an abduction everyone is a suspect until we find these people, these two young girls. We look at everybody not just one set of parents over the other," he said. "... Everything has to be considered."
He did however say that they requested the court put Dan Morrissey under supervision in connection with a pending drug trial so they "could have closer supervision."
Dan Morrissey has been out on bond since May 11 in connection with two methamphetamine arrests in December 2011.
"We are not looking at anyone. Everybody is being checked into," Abben said. "It was originally supposed to be done because of the charge he was under. I think it was an oversight and something that was supposed to be done anyway to be put out on pretrial like that."
Abben said there are no specific areas of concentration in the search efforts now that the lake has been cleared. House-to-house searches may be done again.
He also said that area families should continue to be vigilante and report any suspicious behaviors, though there is no evidence that anyone else may be in danger.
"Nothing else has happened in this area in the last week," Abben said.
Anyone who thinks they have information about the case is being encouraged to call:
- Tipline at (319) 232-6682
- Crime Stoppers Hotline at (855) 300-8477
- FBI tipline at (402) 493-8688
- DCI tipline at (515) 725-6010