CEDAR FALLS — Dr. Claudia Vicetti is seeing a lot of sick children right now — and thinks she'll see more as January wears on.
That's because flu season — with all of those coughing, sniffling and feverish kids — usually doesn't peak until February, and the rest of the country is seeing a spike in flu cases that hasn't yet made it to Iowa.
"I think — from what I've been hearing from colleagues out of town — it seems like people are starting to see serious complications from influenza," Vicetti, a pediatrician at UnityPoint Clinic Pediatrics in Cedar Falls, said. "We might not have seen it yet, but we're starting to see more of these severe cases across the country."
What Vicetti has been hearing is in line with the data on flu cases in the United States, according to the Centers for Disease Control.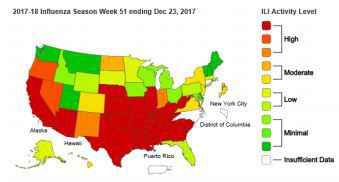 The CDC's latest report, for the week ending Dec. 23, showed most of the country with a high amount of flu cases, while Iowa has low or minimal flu activity. And Iowa is one of only a handful of states not yet experiencing "widespread" influenza activity.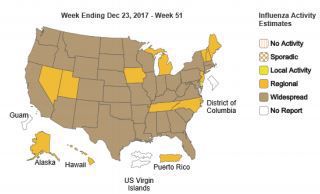 Nonetheless, the Iowa Department of Public Health noted in its latest report influenza activity "continues to increase" statewide. On Friday, it said flu deaths were "on the rise," with six deaths so far attributed to the virus -- one of those in northeast Iowa. The average age for those deaths was 86 years old, with three of the six having "underlying conditions or contributing factors" in addition to the flu.
Seven schools have reported more than 10 percent of students out with illness, and five long-term care facilities have reported flu outbreaks to the state health department.
At UnityPoint's hospital and clinics, 921 cases of influenza were seen in 2017, compared to just 300 cases in 2016. For the months of November and December, 158 cases were diagnosed in 2017 compared to just 13 the previous year, suggesting a flu season that already started off much stronger.
But it's not inevitable that the flu virus will hit us all. For one, Vicetti said news reports claiming the influenza vaccine is only 10 percent effective against this year's flu are inaccurate.
"That's based on data from Australia for the previous season," she said. "I don't know if that holds true for us now. Last year in the U.S., (the effectiveness of the vaccine) was closer to 35 to 40 percent."
Vicetti advised everyone over the age of 6 months old to get vaccinated if they hadn't already. Specifically, the majority of the population being inoculated prevents deaths in vulnerable populations like children and the elderly.
"If I can prevent you from dying from flu or preventing ICU care, that to me is enough," she said.
If the flu's already hit — you'll know if you have a fever, fatigue and muscle aches as well as respiratory symptoms like a cough or congestion — the best thing to do is stay home from work or other activities, or keep your children home from school, to prevent its spread.
"It's best to keep them out of school until they're fever-free, and then teaching them how to cover their cough and sneeze to prevent the infection spreading," Vicetti said.
This story was updated Jan. 5, 2018, with the latest numbers from IDPH and UnityPoint.