WATERLOO – A Waterloo man who was released from federal prison in September after serving time for weapons charges was arrested again on Tuesday morning when he allegedly ran from police while carrying a gun.
Dreyan Rashad Anderson, 21, of 1738 Fowler St., was arrested for carrying weapons, interference while armed, felon with a firearm and third-offense public intoxication.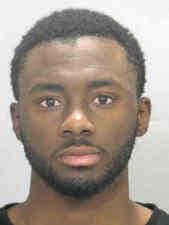 Police said he was a passenger during a 1:20 a.m. traffic stop at West Fourth and Denver streets, and he bolted from the vehicle and tossed a 9mm Hi Point handgun with a round in the chamber and a loaded magazine before he was detained.
WATERLOO | Police have taken two people into custody and seized four handguns in connection …
U.S. Bureau of Prisons records indicate that Anderson was released from federal prison on Sept. 5 after serving about 18 months in connection with a 2015 incident where a .32-caliber revolver was found in his waistband during a traffic stop that came as police were investigating a string of shootings.