IOWA CITY — Some Iowa sheriffs say an increase in the number of non-professional permits to carry handguns, coupled with new or recent gun laws in the state, have increased safety risks in their counties.
They point to provisions in the new Iowa Omnibus Gun Law, adopted this year, that decreases the punishment for carrying a firearm while intoxicated and increases the ability to use a stand-your-ground defense when firing a gun at someone else.
That law followed one in 2011, in Iowa Code Ch. 724.11, that changed a sheriff's right to issue non-professional permits to carry from "may issue" to "shall issue," taking away much of the discretion sheriffs had when issuing non-professional permits to carry.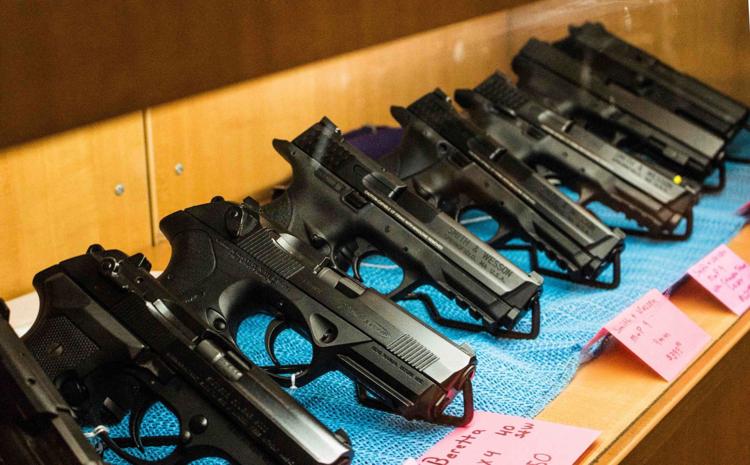 Several sheriffs IowaWatch interviewed also expressed concern about the lack of training required to receive a permit.
Since the 2011 law took affect, the number of non-professional permits to carry issued has grown exponentially. From just 2010 to 2011, 29 Iowa counties saw more than a 380 percent increase in permits issued. The overall state increase was 158 percent.
In 2016, sheriff's offices in Iowa's 99 counties issued 108,221 nonprofessional permits to carry a handgun.
No state data exists that details the number of individuals with permits to carry with previous criminal records, nor the number of permits that have been revoked in a given year, because the state does not require keeping those records.
People with criminal records that do not include felony convictions may get a permit to carry. Felons are barred from possessing a gun in Iowa.
In Black Hawk County, Sheriff Tony Thompson said he has issued permits to carry to individuals who later committed crimes, such as driving while intoxicated, dealing drugs while carrying their firearm and displaying their gun in a road rage incident.
"That permit does not mean: one, they are a good person; two, they are trained; and three, are aware of the law," Thompson said.
Sen. Matt Windschitl, R-Missouri Valley, said sheriffs continually have expressed discontent over not having the discretion they once had. As floor manager of Iowa's 2017 gun-related bill, HF 517, which was passed into law and went into effect July 1, 2017, Windschitl said he works with the Iowa State Sheriffs' and Deputies' Association often to address issues.
However, he said, changing the law to "shall issue" in 2011 was necessary in order to eliminate any inequities across the state.
"Your rights should not be limited by someone's individual interpretation of whether you are a good person or a bad person," Windschitl said.
Before the law changed in 2011, sheriffs could deny permits for reasons beyond past criminal activity or mental health issues.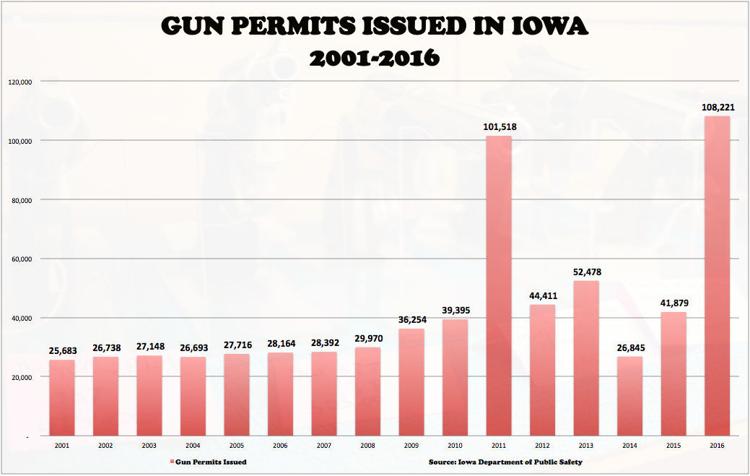 Story County Sheriff Paul Fitzgerald, a former Waterloo police officer, who issued 1,956 permits in 2011 after issuing 390 in 2010, said he has had similar experiences.
He cited one permit request, in which a background check showed the person had suicidal tendencies. While Iowa law states a person who has been involuntarily hospitalized can be denied a permit to carry, simply being told by other community members or family members of the person applying for the permit does not meet the threshold for denial.
Fitzgerald said he is not aware of the person committing suicide or hurting anyone else since receiving the permit.
Dan Belleau, a sales associate at G & G Retailers of Davenport, which sells firearms, said he favors Iowa's gun law changes. He said stricter gun laws do not make for a safer society.
He said he didn't have to worry in his hometown of Buffalo, Iowa, about gun violence or robberies, despite a high prevalence of guns.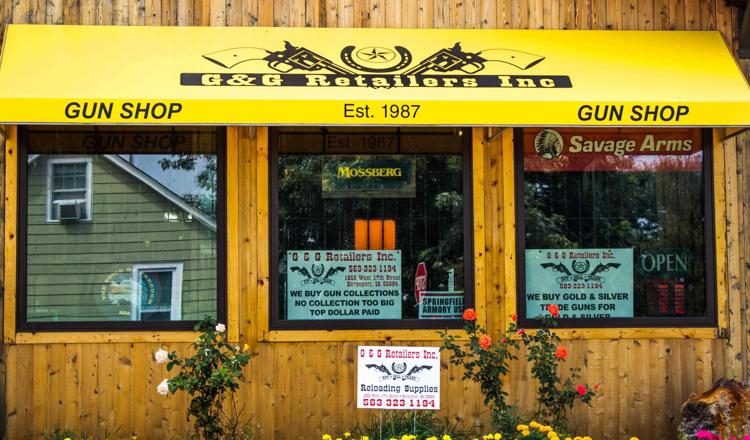 "Everybody has a gun, multiple guns. People leave their doors unlocked. I can go over to my neighbor's house while they're not home, get some sugar or borrow a pop or something and leave a note, and they don't give a shit," Belleau, 34, said.
"People say, 'Well if you ban guns, then nobody has any guns, then you can't get shot,'" he said. "Well you can't carry a gun in Chicago, and that's where the most shootings happen."
"Why?" Belleau asked. "It's a mentality thing."
Required training
Another law change made in 2011, with Iowa Code Ch. 724.9, eliminated a sheriff's right to require certain types of firearms training in order to be granted a permit. Previously, many sheriffs, like Black Hawk County's Thompson, required a proficiency qualification to be met.
Operating as a "shall-issue" sheriff since his election in 2009, Thompson said his only requirements for receiving a permit were a face-to-face interview and a training course offered by his department in conjunction with the community college that required individuals to demonstrate they could load and fire a handgun correctly. The course also informed individuals on Iowa's gun laws.
"It was a bad move negating training and watering down training to the degree that there really was no value in it," Thompson said.
Since 2011, Thompson said the number of suspensions and revocations of permits he has issued in Black Hawk County has increased, with a total of 95 as of the end of 2016. "Some of these are happening due to ignorance of the laws, and of training," he said.
Delaware County Sheriff John LeClere, who issued 558 permits in 2011 after issuing only 110 in 2010, said he supports more required training. He said the state's current training requirement for permits does not guarantee a person has any proficiency with a firearm.
"As a law enforcement officer, we're required to demonstrate proficiency with a firearm before we can carry it on duty," LeClere said. "I would hate to see someone who has never fired a weapon take a training course that doesn't require firing a weapon and go out and not understand what will happen when they shoot."
Taking an online training course is an option, but Kim Smithe, owner of the Davenport gun shop G & G Retailers, said those courses are not sufficient.
"These are people that have never even held a handgun before," she said.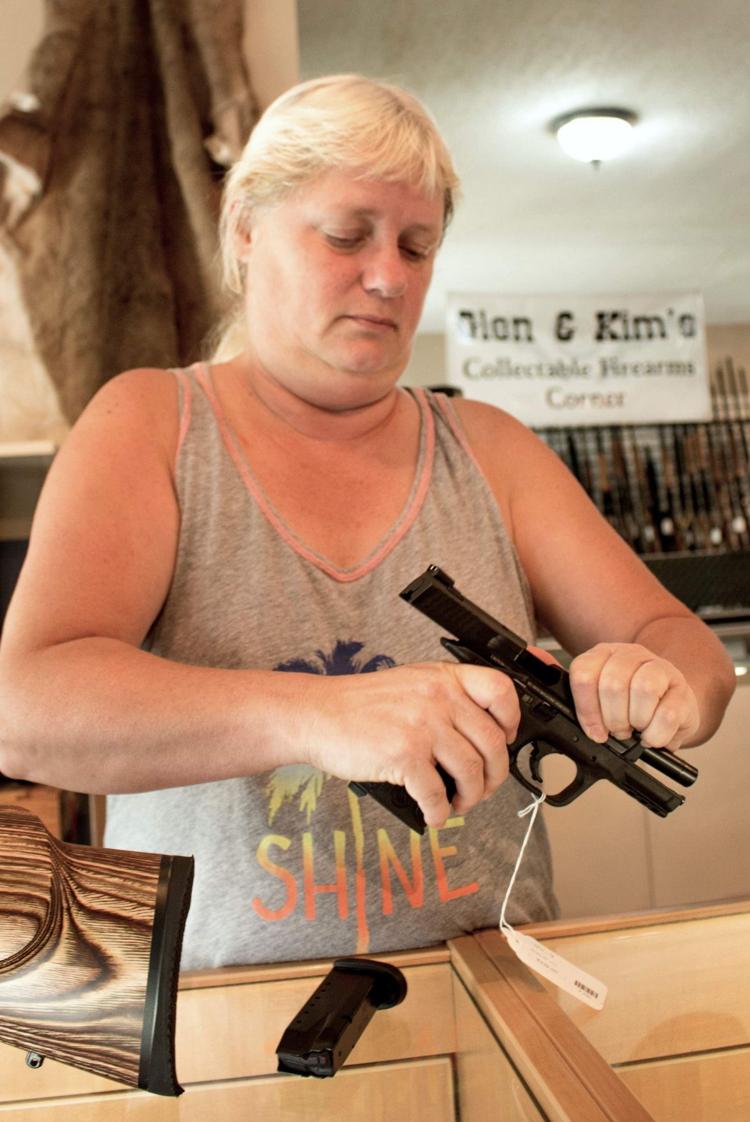 "I've had customers come in here that have taken an online (course) and gotten their permit and they pick that handgun up, with their finger on the trigger, looking down the barrel. Both of those are the first things you learn that are big no-no's, you don't do either one of those. So those online courses are not teaching anyone anything," Smithe, 51, said.
"I do believe in the right to carry a firearm but I do think there needs to be stricter regulations," Smithe said, who has had her permit to carry since 1988. "I think you need to be able to prove that you can handle that firearm and you have that knowledge, and if you don't, you shouldn't be able to carry, period."
Intoxication
One change made by Iowa's Omnibus Gun Law was decreasing the severity of the punishment for carrying a firearm while intoxicated. Previously, this crime was considered an aggravated misdemeanor, punishable by up to two years in prison. Since July 1, the crime has been considered a serious misdemeanor, punishable by up to one year in jail.
Additionally, carrying while intoxicated is no longer always term for revocation of a permit. Other factors must be present, such as previous alcohol related offenses that could indicate an alcohol addiction, which is grounds for revocation.
Thompson said, "I'm not sure what the driving force was behind watering that down."
He said he's baffled state legislators recognize the dangers of operating a vehicle or heavy machinery while intoxicated, but not while carrying a firearm.
"We know alcohol consumption blurs judgment," he said. "We're looking for people in the state that can carry firearms responsibly, that don't infringe on the rights of other citizens."
Stand Your Ground
Before the Ominbus Gun Law, Iowa's stand-your-ground law stated individuals who felt threatened in a public space, outside of their home or place of employment were required to retreat if possible before defending themselves.
Now, the law allows individuals who feel threatened to lawfully shoot.
While he said he understands sheriffs' concerns, Windschitl said Iowa's previous stand-your-ground law was not adequate. In particular, he said placing the burden of proof on the individual who claimed self-defense was wrong.
"That shouldn't be the case," he said. "We have an inherent right to life and part of that is defending that life. You shouldn't have to prove that you were defending yourself."
This story was produced by the Iowa Center for Public Affairs Journalism-IowaWatch.org, a nonprofit, online news website that collaborates with Iowa news organizations to produce explanatory and investigative reporting.