LAKE SEMINOLE — Jay Jung of Charles City had been out on a boat with two guides looking for alligators since dawn on Lake Seminole in Georgia.
They had hooked two smaller gators that came unhooked before Jung caught the big one Aug. 19.
The weather was gorgeous in the morning.
"When we hooked it, the sun was starting to get hot," Jung said.
Since they were in a swamp, it was humid, muggy and buggy out, but Jung didn't seem to mind.
After a two-hour fight with the gator, Jung was able to bring in an 11-foot, 2-inch male alligator weighing in at more than 400 pounds.
"It was surreal. ... It's like a dinosaur," Jung said. "It didn't really hit you until it was in the boat."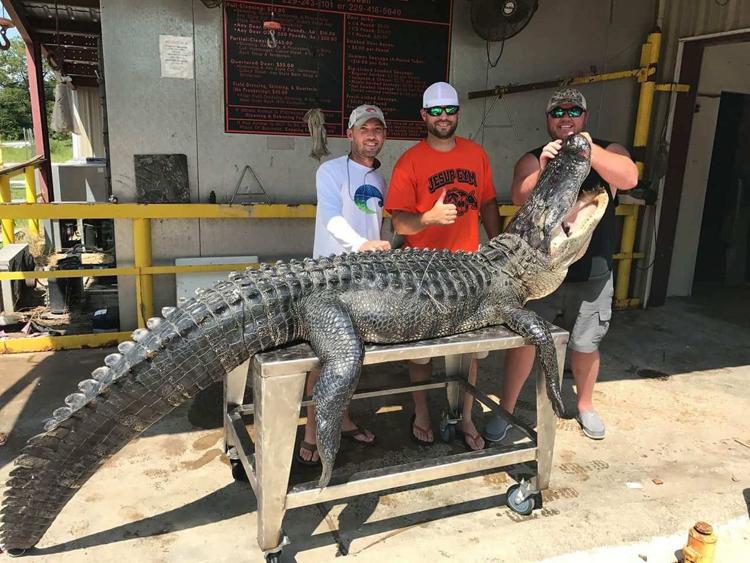 The scale was not the most accurate and Jung said he was told the gator was probably closer to 500 pounds.
"It was like, 'I can't believe I just killed that,'" Jung said. "It gets your adrenaline pumping."
Jung was told the 11-foot gator was one of the biggest caught on the lake this year and the biggest gator his two guides caught on that lake.
Jung went down to Georgia at the opening of gator season.
"It was quite an adventure," Jung said.
Jung and his two guides, Fred Fielder and Lee Nunnally, spotted the gator before he went back under. He popped back up about 30 feet from the boat. Once they hooked him, it took about two hours of fighting and getting other hooks in him.
"We were able to get him close enough to the boat to shoot him," Jung said. "He's probably about 50 years old, but it's hard to tell."
The gator meat will be split between Jung and his two guides who live in Georgia.
"I've had it before, and it is wonderful," Jung said.
The gator hide was sent to a tannery where the process will take about a year, Jung said. After that, hes not sure what to do with the hide. He has considered having the hide turned into boots, but the process could cost $3,000.
"That's one expensive pair of boots," Jung said. "I don't even know if I could wear them."
Jung, an agent for Farm Bureau Insurance, hunts deer, pheasant and turkeys typically.
"I've had a couple of opportunities to hunt other game," Jung said.
Last year, he hunted feral hogs in Texas.
"I'm not a crazy, crazy all kinds of exotic game hunter," Jung said.
His cousin went to school at University of Georgia-Athens and once caught a nine-foot gator. Interested in the hunt, Jung applied for a gator tag. It takes about five years to draw a tag to hunt alligators in Georgia.
One of the guides had come up to Iowa to go deer hunting, and they sort of had a bargain as guides.
"I can't hunt gators up here and he can't hunt big white tails down there," Jung said.
Jung said he would love to hunt alligators again.
"Next year, I'll put in for another tag," he said.